4
minute read
Walking out to an empty space where you parked your car is a situation we hope to never find ourselves in. After ensuring that you're in the right place and that you didn't park where you shouldn't have, reality quickly sets in: your car was stolen. Now what?
According to the National Insurance Crime Bureau (NICB), over 1 million vehicles were stolen in 2022, representing a 7% increase over 2021. If you find yourself a victim of auto theft, the first thing to do is try to remain calm. Although a stolen car is a stressful situation, understanding what steps to take will help you retrieve or replace your vehicle as soon as possible. Here's what to do if your car has been stolen or vandalized.
Key Takeaways:
Report a stolen car to local law enforcement as soon as possible. According to the NICB, 45% of stolen vehicles are found within two days.
You'll need comprehensive coverage in order for your insurer to cover the repair or replacement costs of a stolen car.
You can use your renters or homeowners insurance to cover personal items that were inside your car at the time of theft.
Essential Steps to Take If Your Car Is Stolen
1. Contact Law Enforcement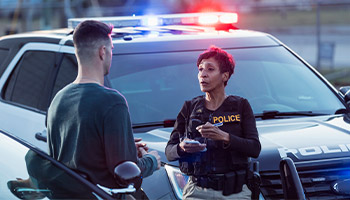 It's important that you report a stolen car to local law enforcement as soon as possible. Although there is no guarantee that notifying the police will get your car back, the sooner you report the crime, the sooner it can be recovered. According to the NICB, 34% of stolen vehicles are recovered on the same day as the theft, and 45% are recovered within the first two days. Additionally, you'll likely need to have a police report filed for your insurer to honor an auto theft claim.
You should still immediately contact the police even if your car was broken into but wasn't stolen. Having a police report on file establishes a clear timeline of when and where a crime took place, which will be helpful during the claims process.
To report a vehicle stolen, law enforcement will typically need to know the following information:
Your vehicle's make, model, and color
License plate number and VIN
When and where you last parked your car
Information on your car's GPS tracking system, if applicable
Your contact details
2. Call Your Insurance Provider
After contacting and filing a report with the police, your next step should be calling your insurance provider. In some cases, you may only be able to file a claim with your insurer for a stolen car once you have a police report. Additionally, keep in mind that not all policies cover stolen vehicles.
You will need comprehensive insurance to cover the cost of a stolen vehicle's replacement (up to your policy's limits). If you only carry your state's minimum required coverage, your insurer won't cover replacement costs. Even if you don't have comprehensive insurance, it is still wise to contact your insurance company so that you won't be liable for damage the thief causes with your car.
3. Take Pictures and Make a List
After making all necessary phone calls, document the scene of the crime. Police reports are great for setting a timeline, but you'll want to have as much evidence as possible. For example, there could be leftover signs indicating how your car was stolen, such as broken glass. If your car was vandalized, your insurer will want to see any photos you take of the damage, so be as thorough as possible.
Although comprehensive insurance will cover replacement costs up to your policy's limits, it won't cover personal items in the vehicle at the time of theft. Suppose your laptop was inside your stolen car. In that case, you can file a claim through your renters or homeowners insurance to replace stolen items.
4. Contact Your Lender
If you are financing or leasing your car, don't forget to inform your lender about the theft. Since lenders have a legal claim to the vehicle, they can work with the insurance company directly, which can help speed up the claims process.
Unfortunately, are still responsible for your car's payments even if it is stolen. That's why lenders typically require you to carry comprehensive coverage when leasing or financing a vehicle.
What If My Stolen Car Is Found?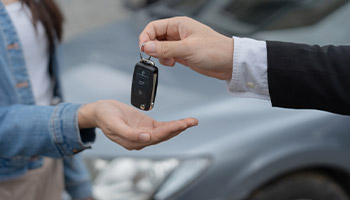 Hooray, your car was found! In most cases, law enforcement will typically impound your vehicle when it is located and contact you so that you can pick it up. Once notified that your car has been found, contact your insurance company right away. If your claim has already been settled, your insurance company owns the car. However, if the claim has yet to settle, your insurer will want you to inspect the vehicle to repair any damages that may have occurred.
What If My Car Isn't Recovered?
Although reporting your car stolen will increase the likelihood of it being found, it isn't a guarantee that it will. So, what happens if a stolen car isn't recovered?
After filing a claim using your comprehensive coverage, you'll receive a payout equal to your vehicle's actual cash value (ACV) at the time of theft, up to your policy's limits and minus your plan's deductible. For example, if your car is worth $20,000 at the time of theft and you have a $1,000 deductible, you'll receive a payout of $19,000.
The Top 10 Most Stolen Cars Nationwide
Although any car can be susceptible to auto theft, thieves tend to target some models more than others. According to the NICB, here are the top 10 most stolen cars nationwide.
| | | |
| --- | --- | --- |
| Vehicle Make and Model | Total Thefts in 2022 | Model Year Most Often Stolen |
| 1. Chevrolet Pickup (Full Size) | 49,903 | 2004 |
| 2. Ford Pickup | 48,175 | 2006 |
| 3. Honda Civic | 27,113 | 2000 |
| 4. Honda Accord | 27,089 | 1997 |
| 5. Hyundai Sonata | 21,707 | 2013 |
| 6. Hyundai Elantra | 19,602 | 2017 |
| 7. Kia Optima | 18,221 | 2015 |
| 8. Toyota Camry | 17,094 | 2021 |
| 9. GMC Pickup (Full Size) | 16,622 | 2005 |
| 10. Honda CR-V | 13,832 | 2001 |
Speak With an Insurance Specialist Today
If your car is stolen, having the right amount of coverage will keep you financially protected. Although comprehensive insurance costs more than standard liability coverage, the coverage could help you avoid a hefty out-of-pocket bill after a covered incident. If you aren't sure of which auto insurance coverages work best for you, AIS can help. Our insurance specialists can guide you along your search and know the questions to ask to help build your ideal policy. Plus, we'll use our network of trusted insurance partners to find you auto quotes that align with your budget. Contact us today by calling (888) 772-4247, or starting a quote online.
---
The information in this article is obtained from various sources and offered for educational purposes only. Furthermore, it should not replace the advice of a qualified professional. The definitions, terms, and coverage in a given policy may be different than those suggested here. No warranty or appropriateness for a specific purpose is expressed or implied.