3
minute read
Car theft is on the rise across the country. According to the National Insurance Crime Bureau, over 1 million vehicles were stolen in 2022, representing a 7% increase from 2021. If your car is stolen or vandalized, will your car insurance cover replacement or repair costs? Whether or not your car insurance covers theft will depend on the type of coverage you carry.
Although required in nearly every state, liability insurance does not cover car theft. In these situations, you'll need comprehensive coverage, which is typically optional when buying a policy. Let's explore these coverages and how insurers handle theft so that you're prepared for the unexpected.
Does My Car Insurance Cover Theft and Vandalism?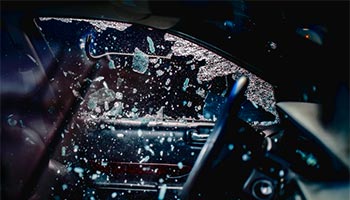 If your car is stolen or vandalized, you'll need a type of coverage called "comprehensive" to cover repair or replacement costs. With comprehensive coverage, you'll receive a payout equal to your vehicle's actual cash value (ACV) at the time of theft if your car is stolen and not recovered. If your car is recovered but with some damage, your insurer will pay up to your vehicle's ACV for repairs.
Comprehensive coverage will also cover stolen or vandalized car parts installed on your vehicle from the manufacturer, such as catalytic converters and key ignitions. However, it won't cover custom or aftermarket parts you install yourself, such as a high-tech sound system or custom rims. To cover custom parts or equipment, most insurers offer a separate type of coverage exclusively for custom add-ons.
When you file a comprehensive coverage claim for a stolen or vandalized vehicle, you'll have to pay a deductible. A car insurance deductible is an out-of-pocket amount you must pay towards an insurance claim before an insurer covers the rest (up to your policy's limits).
Does Car Insurance Cover Stolen Personal Belongings from My Car?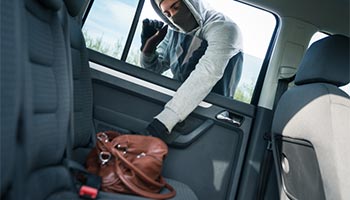 Unfortunately, a comprehensive claim will not cover any personal belongings inside a stolen vehicle, such as a laptop, purse, or cell phone. However, you can file a claim for personal property stolen from your car through your homeowners or renters insurance policy.
Personal property coverage through residential insurance can apply in a wide range of scenarios, both in and outside of your residence. Still, coverage limits and deductibles may apply, so always double-check with your policy or agent.
Insurance Coverages and Auto Theft
Here's a summary of insurance coverages and how they apply if your car is stolen or vandalized:
Insurance type
What it covers
Comprehensive insurance
– Damage to your car not caused by an accident.
– Stolen car and vandalism.
– Stolen stock car parts, such as catalytic converters.
– Damage to your vehicle due to theft.
Homeowners or renters insurance
– Can cover personal property that was inside a stolen car.
Gap insurance
– Will cover the difference between what your car is worth and how much you have remaining on your car loan.
Rental car reimbursement coverage
– Will cover rental car costs while you wait for your vehicle to be recovered or repaired, up to your policy's limits.
What to Do When Your Car is Stolen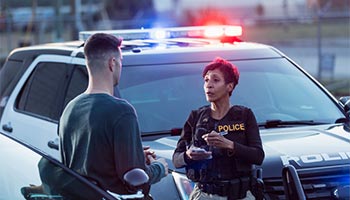 Walking out to an empty space where you expected your car to be is scary. However, before contacting the police, you'll need to confirm it was stolen and not towed or repossessed. If you're on top of your payments, you can rule out repossession, but were you parked illegally? Most parking lots and private locations have signs that list a phone number you can call to find out if your car was towed.
Once you rule out all other possibilities, contact the police to file a police report immediately. The sooner you provide the police with your vehicle's information, the better your chance of it being recovered. After filing a police report, contact your insurance provider to begin the claim process. If possible, obtain a copy of the police report for your insurer.
Speak to A Car Insurance Specialist
With so many coverage types available, car insurance can sometimes seem a bit confusing. Thankfully, AIS insurance specialists are here to help. Whether you're purchasing a new car or want to review your current coverage, our team can answer any insurance questions you may have, including whether you are eligible for an anti-theft device discount on your rates. With over 55 years of experience, we'll work with you to build a policy that meets your budget and needs. Call us today at (888) 772-4247 to learn more.
---
The information in this article is obtained from various sources and offered for educational purposes only. Furthermore, it should not replace the advice of a qualified professional. The definitions, terms, and coverage in a given policy may be different than those suggested here. No warranty or appropriateness for a specific purpose is expressed or implied.