4
minute read
When shopping for car insurance or filling a claim, you've likely heard the term deductible. Still, you may have questions regarding what it is and how it works. In short, a car insurance deductible is an out-of-pocket payment you must put toward a claim before your insurer steps in. Additionally, the amount you choose for your deductible can directly impact your insurance premium, so it's important to understand a few basics. Let's dive deeper into car insurance deductibles and how they work.
What is a Car Insurance Deductible?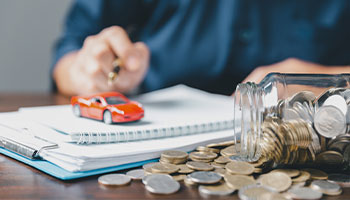 As stated, a car insurance deductible is an out-of-pocket amount you must pay toward an insurance claim before your insurer covers the rest—up to your policy's limits.
Unlike a health insurance deductible, which is on an annual basis, you must pay a car insurance deductible every time you file a claim when applicable. For example, both comprehensive and collision insurance coverage typically involve a deductible.
Once you pay the deductible amount stated on your insurance policy, your insurer will cover the rest (up to your policy's limits). Because you're responsible for your deductible each time you file a claim, it's vital to select an amount you'll be comfortable paying in the event of an accident.
How Do Car Insurance Deductibles Work?
A car insurance deductible allows insurance providers to share the cost of claims with their policyholders. For example, let's say you have collision coverage with a $500 deductible and get in a car accident that results in $2,000 worth of damage to your vehicle. To file a claim and repair your car, you will pay $500 out-of-pocket before your insurer covers the remaining $1,500.
Do All Car Insurance Coverages Have a Deductible?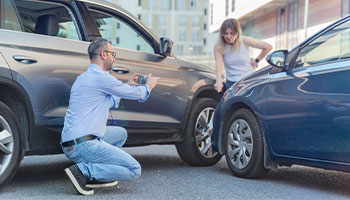 So, what types of auto coverages use a deductible? Typically, the following coverages are subject to a deductible:
Comprehensive coverage – Comprehensive coverage covers your vehicle from damages outside your control, such as fire, falling objects, vandalism, or theft. Comprehensive coverage will almost certainly come with a deductible.
Collision coverage – Collision coverage will protect your vehicle if it is involved in an accident with another car or object, regardless of fault. Collision coverage is subject to a deductible.
Personal Injury Protection (PIP) – Personal injury protection covers medical costs and associated expenses for you and your passengers, regardless of fault. PIP is only mandatory in 12 states; of those, only Delaware, Florida, Hawaii, Kentucky, Massachusetts, New Jersey, New York, and Oregon offer a deductible.
Uninsured/Underinsured Motorist Coverage – Uninsured/underinsured motorist coverage helps cover medical costs (bodily injury) or property damage after an accident with an uninsured or underinsured driver. Although a deductible isn't required for bodily injury, some states may require one for uninsured motorist property damage claims.
Keep in mind that auto insurance deductibles work the same way regardless of the coverage type.
How Does a Deductible Affect My Insurance Rate?
You can usually choose your deductible amount for each coverage type. A $500 deductible is standard for most coverages, but they can range anywhere from $100 to $2,000. No matter the amount you select, there are a few factors to consider before making your decision.
First, you want to select a dollar amount you'll be comfortable paying out-of-pocket in the event of an accident. Because you are responsible for your own deductible, choosing a high amount is unwise if you'll have difficulty paying.
Second, consider how the deductible amount you choose will affect your car insurance premium. Because a deductible is a way to share risk with policyholders, a higher deductible typically results in a lower coverage rate. Conversely, a lower deductible typically results in a higher premium. Think of it as a trade-off:
High deductible = higher out-of-pocket expenses but lower insurance rates.
Low deductible = lower out-of-pocket expenses but higher insurance rates.
Suppose you can afford to cover a high expense in the event of an accident. In that case, a high deductible may be worth considering to reduce your premium costs. However, if you have multiple claims on your driving history and commute through heavy traffic, your likelihood of filing another claim may be high, making a lower deductible more favorable.
Do I Have to Pay a Deductible If Someone Hits My Car?
In most scenarios, you will not have to pay a deductible if an insured driver hits you and is responsible for the accident. In these situations, the other driver's liability insurance should pay for your property damage. However, if you choose to go through your collision insurer while the fault is being determined, you will be required to pay your deductible in the short term. In this case, your insurer will later seek reimbursement from the other party's insurance provider, including your deductible amount.
In some states, you may be required to pay a deductible for an uninsured/underinsured motorist property damage claim after being involved in an accident with an uninsured/underinsured driver.
What about a Hit-and-Run?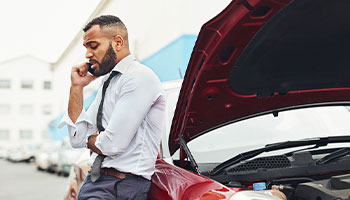 A hit-and-run is when a driver purposefully leaves the scene of an accident without providing any information to the other drivers involved. In these situations, collision coverage will help repair damage to your vehicle.
If you are a victim of a hit-and-run and cannot identify the other driver involved, you will, unfortunately, be responsible for paying your deductible to file a collision claim, even if you weren't at fault. If you do not carry collision coverage and live in a state where you can file a hit-and-run claim using uninsured motorist property damage coverage, a deductible may also apply.

After a hit-and-run, always relay any new information regarding the other driver involved to your insurer.
What If Someone Files a Liability Claim with My Insurance Provider?
Liability insurance is not subject to a deductible, so you will not have out-of-pocket costs if your insurer pays for damages/injuries caused to another person. However, your rates may increase if you are found responsible for an accident.
Get Help Selecting a Deductible with an Insurance Specialist
Deductibles are an integral part of any auto insurance policy, so it's important to select an amount that works best for you. If you are searching for a new auto insurance provider, our team of specialists can help. We work with a network of trusted insurance partners to make it easy for you to compare quotes and find the best combination of coverage and price. To learn more about the coverage types available to you, give us a call at (888) 772-4247, or start a quote online.
---
The information in this article is obtained from various sources and offered for educational purposes only. Furthermore, it should not replace the advice of a qualified professional. The definitions, terms, and coverage in a given policy may be different than those suggested here. No warranty or appropriateness for a specific purpose is expressed or implied.