4
minute read
As a driver, you most likely understand that auto insurance is designed to protect you financially in the event of an accident. However, although it is a requirement in nearly every state, auto insurance can sometimes get a bit confusing—but it doesn't have to be.
At AIS, we pride ourselves on being a helpful resource to guide you through your insurance needs. So, to help you understand the basics of auto insurance, we put together this guide to review some common insurance coverages and how an insurance policy works.
What is Auto Insurance and Do I Need It?  
Auto insurance covers damage to a vehicle and offers financial protection if you're found liable for an individual's injuries or property damage. Exactly what is covered depends on the details of the policy.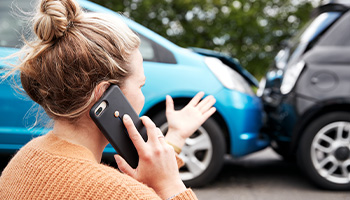 To provide you with this type of coverage, insurance companies charge a premium, often paid monthly, bi-annually, or annually depending on your provider. In addition, your auto policy may include uninsured or underinsured driver coverage, which will help pay for expenses if involved in an accident with an uninsured/underinsured driver. After a covered accident, your policy will provide financial assistance up to the limits you and your provider agreed upon.
Auto insurance is legally required in every state except New Hampshire. However, New Hampshire still mandates all drivers to meet their financial responsibilities if they cause an accident, so having auto insurance is highly recommended.
Each state has its own requirements when it comes to auto insurance. When shopping for an auto policy, your insurance provider will ensure you meet your state's minimum insurance requirements. For a quick rundown of each state, click here.
Suppose you're caught driving without auto insurance. In that case, you could be forced to pay a fine, have your license suspended, or may even face jail time in certain situations.
What Does Auto Insurance Cover?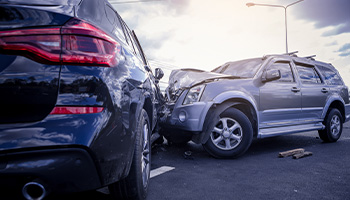 Your auto policy is a combination of various coverage types. Some are required by law—others are optional. This allows you to customize your policy to meet your needs and, most importantly, your budget. Here are some common insurance coverage types you can expect to see on most auto insurance policies:
1. Liability Coverage
Nearly every state requires liability coverage. Liability coverage covers the cost of repairing the damage done to another's vehicle or property. It can also cover the medical expenses of injured drivers and their passengers. You'll typically see this coverage type separated as "bodily injury liability" and "property damage liability" in an auto policy.
2. Collision Coverage
As the name suggests, collision coverage covers damage caused to your vehicle in the event of a collision. How does this differ from property damage liability? Property damage liability covers the cost of damage to someone else's property/vehicle. Collision coverage applies to your vehicle.
3. Comprehensive Coverage
Comprehensive coverage provides protection against damage to your car from events outside your control, such as theft, windshield/glass damage, vandalism, weather accidents, and more.
4. Medical Payments Coverage
Medical payments coverage can cover medical bills for you or your passengers after an accident, regardless of fault.
5. Personal Injury Protection (PIP)
Similar to medical payments coverage, personal injury protection (PIP) can also cover medical expenses for you or your passengers regardless of fault. However, PIP can also cover additional documented losses such as lost wages.
The following 12 states require PIP: Delaware, Florida, Hawaii, Kansas, Massachusetts, Michigan, Minnesota, New Jersey, New York, North Dakota, Oregon, and Utah.
6. Uninsured/Underinsured Motorist Bodily Injury and Property Damage
Unfortunately, not everyone drives with the required amount of auto insurance. To protect yourself in these situations, insurers offer uninsured or underinsured motorist coverage. This coverage pays for damages or injuries caused by an accident with an uninsured or underinsured driver.
7. Optional Coverages
Insurance providers may offer a wide range of optional coverage types, which can help customize your policy to your specific needs. Optional coverages include rental car reimbursement, gap coverage, roadside assistance, towing, and more.
What is an Auto Insurance Deductible?
To cover an insurance claim after an accident, you may first be required to pay a deductible. In an auto policy, your deductible is an out-of-pocket expense you must pay before your insurance provider pays on a covered claim. Deductibles typically apply only to comprehensive and collision losses and not to liability claims.
For example, let's say your auto policy comes with a $500 deductible, and you're involved in an accident resulting in $2,500 worth of damage. To have your provider pay for the damage, you'll need to pay $500 first, and then your insurer will pay the remaining $2,000.
Deductible amounts are set when signing up for a new policy. Generally, having higher deductibles may result in having lower premiums, and vice versa.
How is Auto Insurance Priced?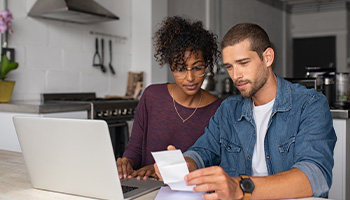 Insurance providers consider various factors to set your auto insurance premium. Rating factors used varies state to state. Here are a few typical factors and how they're used to set your rate:
Driving history: A clean driving record results in the best rates. Multiple traffic violations and accidents could result in providers considering you "high-risk," which could lead to higher premiums.
Age: The older you are, the more driving experience you likely have—and insurers agree. Insurers will usually ask when you were first licensed to calculate your years of driving experience when rating. California uses years of driving experience as a rating factor in lieu of age.
Zip code data: Where you live can also impact your insurance rate. For example, if you're in a busy metropolitan area, there's a higher chance that you'll be involved in an accident or be the victim of theft, which could result in higher premiums.
Vehicle make and model: Some cars are cheaper to insure than others due to their repair costs. For example, heavy-duty trucks tend to be more expensive to insure than smaller sedans.
Save on Auto Insurance by Comparing Rates with AIS
Understanding how auto insurance policies and coverage types work will help you find a policy that performs best for you. However, when it comes to saving, you may be able to reduce your premium significantly by shopping and comparing different quotes. A good insurance agent can help you navigate insurance providers and will understand what questions to ask to help you find potential savings.
If you're ready to learn more about your different insurance options, call one of our specialists today at (888) 772-4247, or start your quote online.
---
The information in this article is obtained from various sources and offered for educational purposes only. Furthermore, it should not replace the advice of a qualified professional. The definitions, terms, and coverage in a given policy may be different than those suggested here. No warranty or appropriateness for a specific purpose is expressed or implied.