5
minute read
When shopping for auto insurance, the minimum coverage you need will depend on multiple factors. For example, the state you live in, the value of the car you drive, and whether you own or lease can all influence your insurance requirements. So how do you determine how much car insurance you need? The key is to understand your state requirements and your personal coverage preferences.
How Much Car Insurance Do I Need?
Before we go into details, it's important to understand that the questions how much car insurance do I need and how much car insurance does my state require can have two completely different answers. That's because the amount of insurance you need will ultimately vary from driver to driver. On the other hand, how much insurance you're legally required to have will depend on your state and whether you own or lease your vehicle.
Understanding State Liability Insurance Requirements
Liability insurance coverage is required in nearly every state except for New Hampshire and Virginia. Even in those two states, however, proof of financial responsibility is still necessary in some form.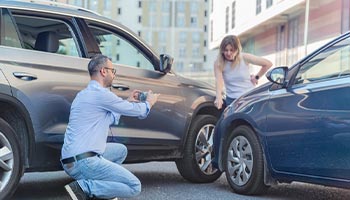 Liability coverage pays for injuries and property damage you cause to others in an accident up to set "limits". Limits are usually expressed as a series of numbers, such as 25/50/25, which represent the following:
$25,000 in bodily injury per person
$50,000 in total bodily injury per accident
$25,000 in property damage per accident
Keep in mind that coverage limits vary significantly from state to state. For example, currently, California requires liability limits of 15/30/5, whereas Kansas requires limits of 25/50/25. In addition, some states like Kansas also mandate additional coverage types like personal injury protection and uninsured motorist coverage.
For a quick rundown of each state's minimum liability requirements, visit our Insurance Guidelines by State page.
Note that although your state may require a certain amount of coverage, your state's minimum limits may not provide adequate protection should you be found financially responsible for an accident. Therefore, consider purchasing higher limits when possible to avoid paying for any differences out of pocket.
How Much Liability Insurance Do I Need?
As mentioned, some states, such as California, have low liability requirements. Although low requirements can help you save on your premium, they can leave you with a hefty out-of-pocket bill after an accident. Of course, $15,000 is a lot of money. However, medical bills and property damage can quickly exceed those amounts.
As a general rule of thumb, consider purchasing liability insurance with coverage limits that exceed the value of your assets or net worth. That way, you don't risk losing assets in a lawsuit against you for an at-fault accident.
For states with low requirements like California, a good alternative to the state minimums is 50/100/50. This gives you $100,000 in total bodily injury coverage per accident and $50,000 in property damage per accident. You may also choose to go beyond and purchase limits of 100/300/100 for even more coverage.
Need help deciding how much coverage you need? Our insurance specialists can help you choose limits that work best for you.
Do I Need Comprehensive and Collision Insurance?
Liability insurance covers the cost of another person's medical bills and property damage when you're found responsible for an accident. In other words, it provides no coverage or reimbursement for damage to your own vehicle. To cover the repair or replacement of your car after a covered accident, you'll need collision and comprehensive insurance.
No state requires you to carry collision and comprehensive insurance. However, if you lease or finance a vehicle, your lender may require the additional coverage. Still, the extra coverage is typically worth it for vehicles worth more than a couple thousand dollars. Additionally, consider purchasing collision and comprehensive insurance if you cannot financially cover a significant repair or replacement vehicle.
What's the Difference Between Comprehensive and Collision Insurance?
Comprehensive coverage protects your vehicle against damage from events outside of your control, such as theft, vandalism, weather accidents, and glass damage from falling debris.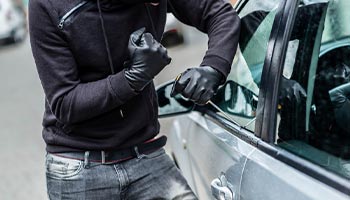 As the name suggests, collision coverage covers damage caused to your vehicle (regardless of fault) after a collision with another car, a collision with a stationary object, or a single-vehicle accident like a rollover.
Comprehensive and collision insurance are typically bundled together when purchasing a new policy and are based on a deductible that you set. Generally, a high deductible will result in a lower premium and vice versa. When selecting your deductible, pick an amount you'll be comfortable paying out of pocket should you need to file a claim.
Additional Auto Insurance Coverage Options
Uninsured/Underinsured Motorist Bodily Injury and Property Damage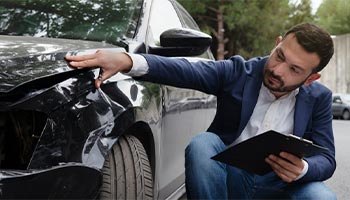 Uninsured motorist insurance (UM) provides coverage if you're involved in an accident with an uninsured driver. Underinsured motorist insurance (UIM) provides coverage if an at-fault driver hits you but doesn't carry enough insurance to cover all your medical expenses and property damage.
Some states do require drivers to purchase UM/UIM coverage. However, most do not. If required in your state, UM/UIM coverage limits will typically mirror your liability insurance limits.
Even if not required, carrying equal UM/UIM and liability limits can be a good idea. For one, it's not a costly addition. Additionally, you'll have equal protection when you're at fault in an accident or when another driver hits you.
Personal Injury Protection Coverage
Personal injury protection (PIP) is a type of auto insurance that covers expenses such as medical bills, lost wages, funeral expenses, and more for you and your passengers. Only 12 states require you to purchase PIP, whereas most don't even offer it to drivers. The 12 states that require PIP include Delaware, Florida, Hawaii, Kansas, Massachusetts, Michigan, Minnesota, New Jersey, New York, North Dakota, Oregon, and Utah.
PIP coverage limits can vary greatly depending on the state. For example, Utah requires a PIP minimum of $3,000. On the other hand, New York requires a minimum of $50,000.
If offered in your state, PIP may be worth it for drivers with low health insurance limits, gaps in medical coverage, or high deductibles.
Medical Payments Coverage
Medical payments coverage, also called MedPay, covers medical expenses for you and your passengers after an accident, regardless of fault. Only two states require MedPay coverage: Maine and New Hampshire.
Coverage limits for MedPay typically fall between the $1,000 and $5,000 range, but some insurers may offer higher limits of up to $25,000.
If offered in your state, MedPay can be worth it for drivers without health insurance or if you have a high deductible plan. However, if both PIP and MedPay are offered in your state, PIP tends to be the better choice because it provides a wider range of coverage.
Speak to an Insurance Specialist Today
When it comes to auto insurance, understanding the difference between the various coverage types can help you craft a policy that works best for you. However, navigating and setting coverage limits can sometimes be tricky, especially when dealing with low-state minimum requirements. A good insurance agent can guide you through the various options available and will understand the right questions to ask to get you the best deal.
If you'd like to learn more about how much auto insurance you need, call one of our specialists today at (888) 772-4247.
---
The information in this article is obtained from various sources and offered for educational purposes only. Furthermore, it should not replace the advice of a qualified professional. The definitions, terms, and coverage in a given policy may be different than those suggested here. No warranty or appropriateness for a specific purpose is expressed or implied.