4
minute read
To receive insurance benefits after an accident, you'll need to file a claim. An auto insurance claim is a report you file with your insurance provider after your vehicle has been involved in a damage-causing accident. Depending on your coverage, a claim will typically result in a payout from your insurer after meeting any policy deductibles. Understanding how claims work can help make the overall process much less stressful.
How to File an Auto Insurance Claim
According to the National Highway Traffic Safety Administration, over 5 million auto accidents are reported annually. Although every insurance provider handles claims differently, many of the key steps involved will be similar to those below. Here's what you need to know.
Step 1: Safety First
When involved in an accident, the first thing you should prioritize is your safety. Your body may react and want to run outside to assess the damage immediately. However, doing so too quickly may put you at risk of being injured by oncoming traffic or other hazards.
After ensuring the scene is safe, call the police. A police officer at the scene will aid in emergency services and conduct a police report, which will ensure your insurance provider obtains an official account of the accident. In the case of theft or vandalism, the police will also need to investigate to find the person responsible for the criminal act.
Step 2: Gather Important Information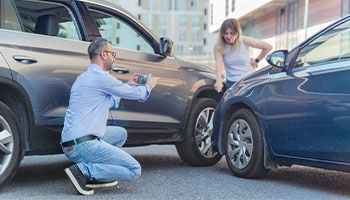 While at the scene of the accident, your next step is to gather all relevant information to help your auto insurance claim.
Begin by taking photos and video evidence of the accident. Photograph any damage done to all vehicles and property involved. In addition, write down the location and time of the accident. It's important to photograph as many details of the accident as possible, so be thorough. If you're filing an auto insurance claim due to a natural disaster, such as a fire or earthquake, wait until conditions are safe before collecting evidence.
Next, collect the information of any other drivers and individuals involved. This includes obtaining the following:
Driver's contact information
Driver's insurance information (provider and policy number)
Make and model of all cars involved
License plate numbers of all cars involved
If any witnesses to the accident can provide further details, get their contact information as well. Additionally, collect the contact information of any police officers that respond, which will make it easier for you to receive a copy of the police report.
You've likely been told before never to admit fault at the scene of a car accident—which is good advice. That being said, it's best to let the professionals handle determining fault.
3. Contact Your Provider to File an Auto Insurance Claim
Once you're safe and have all the necessary information, contact your insurance provider immediately. Depending on your provider, you may be able to file a claim directly through your smartphone app or carrier's website. Once in contact, explain to your insurer what occurred and hand over any information you collected at the scene.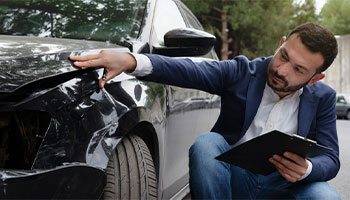 Next, your provider will assign a claims adjuster who will review the accident and assist you throughout the claims process. The role of the claims adjuster is to determine the value of damage caused by the accident and what the appropriate compensation should be based on your policy. They may also assist with coordinating a vehicle inspection with an associated mechanic. The claims adjuster is your point of contact regarding your claim, so don't hesitate to ask any questions you may have.
It's important not to delay contacting your insurance provider or agent after an accident, as some providers may have strict deadlines for filing claims.
4. Your Options for Getting Back on the Road
Once your vehicle has been inspected, you'll better understand what your next step will be.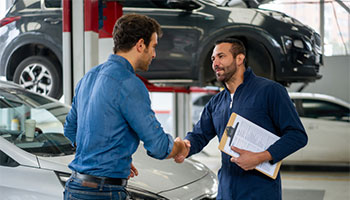 If the damage is repairable, the claims adjuster will put you in contact with body shops to repair your vehicle. Insurance providers may pay the auto body shop directly or provide you with the funds to handle the bill. Any payouts will ultimately depend on your policy, the specifics of the accident, and damage sustained.
If the cost to repair your vehicle exceeds the car's value, your car will be classified as a total loss. With collision insurance, your insurer will compensate you—or the lienholder if financing or leasing the vehicle—for the actual cash value, which is the car's market value at the time of the accident.
If you have rental reimbursement coverage, your provider will help cover the cost of a rental car while your vehicle is repaired, up to the coverage limits
Will My Auto Insurance Rate Increase After a Claim?
After filing a claim, your insurance rate could increase. Any rate increase will depend on various factors, such as driving history and who was at fault in the accident.
If you were found not at fault, you'll likely see little to no change in your rate. However, you can expect a rate increase if you were found at fault in an accident. Should your rate increase, you could use the opportunity to compare quotes to find a new auto policy.
AIS Is Here to Help
Although some aspects may differ depending on your insurer, the basic steps for filing an insurance claim are typically similar across carriers. However, how much damage is covered and who pays for the damage will depend on where you live and the specifics of your policy.
While the claims process is handled between you and the insurance company, your agent is there to assist if needed, whether you need to replace your vehicle or have trouble reaching your adjuster. Even if you haven't been involved in an accident, it's important to routinely review your insurance policy to ensure you're getting the best combination of coverage and price. At AIS, we make it easy to compare auto quotes from our network of insurance partners, helping you benefit from any potential saving opportunities.
To learn more about the coverages available to you, give our insurance specialists a call today at (888) 772-4247.
---
The information in this article is obtained from various sources and offered for educational purposes only. Furthermore, it should not replace the advice of a qualified professional. The definitions, terms, and coverage in a given policy may be different than those suggested here. No warranty or appropriateness for a specific purpose is expressed or implied.