3
minute read
Getting into an accident is already stressful enough, but being left without a car while your vehicle is repaired only makes the situation worse. Depending on the damage to your vehicle, the repair time can range from a few days to a few weeks. That's because auto body shops across the nation are reporting increased turnaround times as they continue to struggle with auto part shortages.
So how does all this affect your auto insurance? If you have rental reimbursement coverage, now is a good time to review your policy, as ongoing market conditions may have affected how well you're covered.
What Is Rental Reimbursement Coverage, and How Does It Work?
Rental reimbursement coverage is an optional insurance meant to cover the cost of a rental car while your primary vehicle is repaired after an accident. Most insurance providers typically require you to carry comprehensive and collision coverage in order to add rental reimbursement coverage.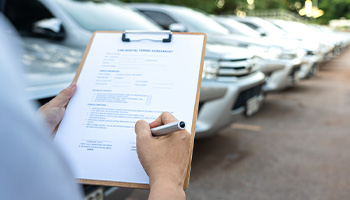 Depending on your policy, rental reimbursement coverage will usually cover the price of a rental car up to a certain dollar amount per day. Most insurance providers require you to cover the cost out of pocket and then submit receipts to be reimbursed. If you decide to rent a car above your allotted amount, you'll be responsible for paying the difference. Some providers may also allow the rental company to bill them directly, but this isn't as common.
Remember, rental reimbursement coverage only applies to a covered car in a covered accident. Rental reimbursement does not apply for routine car maintenance. Additionally, rental coverage is per vehicle, so it will only apply to cars on the policy with the additional coverage.
As with most insurance policies, coverage can vary depending on multiple factors, so always speak with an insurance specialist before making any changes to your policy.
How Long Will My Insurance Provider Pay for a Rental Car After an Accident?
There are three key numbers that make up rental reimbursement coverage:
A daily rental cost limit.
A limit on the number of days you are covered.
An overall rental limit.
As always, exact coverage limits will vary depending on your insurer. Typically, daily limits range anywhere from $30 – $100 per day for a total of 30 days. For example, suppose your rental benefit is $50 a day, and your vehicle took ten days to repair. In that case, your provider will reimburse you for $500.
However, with inflation at a 40-year high and ongoing rental car shortages, your current rental reimbursement coverage limits may not be enough to cover the costs of a rental car.
Why Are Rental Cars So Expensive?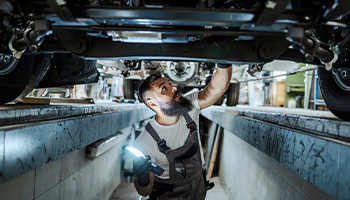 If you've tried to rent a car within the last year, you may have noticed how difficult it's become due to limited inventory. Early on into the pandemic, many companies sold off large amounts of their rental fleets to offset business expenses. Unfortunately, rental companies have yet to catch up due to car part shortages and supply chain issues. This has caused rental prices to skyrocket.
According to data from Hopper, the national average rental car rate during January 2022 was $56.12 per day. In March, that number reached $85.87 per day.
Under current market conditions, it's best to review your policy to ensure you will be adequately covered after an accident. Unfortunately, a $30 daily rental car limit won't go as far today as it did a few years ago. While prices can fluctuate, most experts agree that the ongoing chip shortage affecting the car industry will continue throughout 2022.
Should I Purchase Rental Reimbursement Coverage?
Rental reimbursement coverage is entirely optional, so the decision to add it is completely up to you. However, renting a car because of an accident can quickly become expensive, especially now with current supply chain issues increasing repair turnaround time.
With how affordable rental reimbursement coverage is, paying a bit extra for protection against a large, unexpected expense down the line may make sense. For example, $40/day, 30-day coverage runs about $5/month for $1,200 of reimbursement in the event of a covered claim. Upping that to $70/day is only a few dollars a month more.
Review Your Coverage Options with an Insurance Specialist
Want to add or increase rental reimbursement coverage, but not sure where to start? AIS can help! Our insurance specialists are available to answer any questions you may have regarding your auto insurance and specific policies—they may even be able to help you find additional savings. So, if you're ready to review your auto insurance policy, give our specialists a call at (888) 772-4247.
---
The information in this article is obtained from various sources and offered for educational purposes only. Furthermore, it should not replace the advice of a qualified professional. The definitions, terms, and coverage in a given policy may be different than those suggested here. No warranty or appropriateness for a specific purpose is expressed or implied.