4
minute read
Getting into an accident is a stressful situation. For one, there can be many steps involved depending on the damage. Regardless of the circumstances, you'll need to file a car insurance claim to repair your car—but what happens next? Can you take your car to any auto body repair shop after an accident? 
To repair your vehicle, you'll typically have two options: using a repair shop recommended by an insurer or finding your own. Let's explore the pros of both and what to consider when choosing where to repair your car after an accident.
Can I Choose Which Auto Body Shop Repairs My Car After an Accident?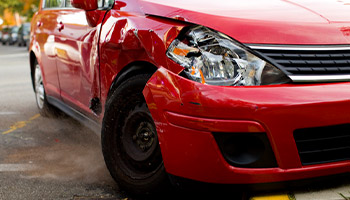 To repair your vehicle after an accident, insurance providers will likely hand you a list of recommended professionals that can fix your vehicle. Although the list may include several options, you have the right to take your vehicle anywhere you'd like. Under California law, for example, insurance companies cannot require your to take your car to a specific auto body repair shop.
Following an accident, fault typically determines which party's insurance will cover repairs. Suppose you are at fault for the accident. In that case, you'll need collision coverage to file a collision claim to repair your vehicle. If you are not at fault for the accident, the other driver's liability insurance will cover your repair costs.
Why Should I Use an Auto Body Repair Shop Recommended by an Insurer?
Although you aren't required to use a repair shop recommended by an insurer, there are advantages to doing so.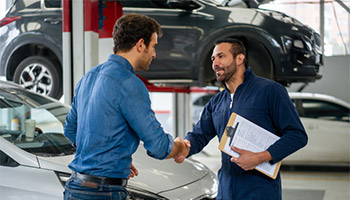 Saving yourself time and money — Going to an auto body repair shop within an insurance provider's network can often save you time and money. For starters, you save time by not having to independently ask around or search for repair shops. Plus, because they have an ongoing relationship, you won't likely have any issues regarding your repair cost estimate from either party, which will reduce your out-of-pocket expenses. Finally, by saving time at the start, working with a recommended specialist may also help you get your vehicle back sooner.
Less Back and Forth — Working with a repair shop within an insurer's network can also limit the overall amount of paperwork you have to deal with. If you choose an insurer-preferred repair shop, the two parties will likely complete most of the back-and-forth paperwork for you. Additionally, insurance providers typically require auto repair shops they work with to guarantee their workmanship, so if there's a problem with the repair down the line, you'll have an easier time rectifying the issue than if you choose a shop on your own.
Why Should I Shop Around for an Independent Auto Body Repair Shop?
Although there are advantages to selecting a repair shop recommended by an insurer, shopping around for others may be worth it for some.
Using a Shop You Trust — Without knowing much about cars and how they run, it can be challenging to understand the full scope of damage and what needs to be repaired. If you have a prior relationship with an auto repair shop, you may feel more comfortable having them work on your vehicle.
You Have Greater Control — Although any auto body repair shop can fix your vehicle after an accident, the quality of the work may vary. If you have specific parts you'd like installed, you may opt to search for a specialty shop. By finding your own repair shop, you'll work with the repair technicians directly and could have greater control of the parts installed on your vehicle. 
Lack of Options — If you own a new or electric car, finding a reputable in-network repair shop certified to work on your vehicle may not be that easy. Plus, if you don't live in a major city, finding approved local shops may be difficult. Doing your own research and going outside an insurer's network may provide you with further options, helping you find the best deal.
What to Consider When Deciding on a Repair Shop
You may have additional out-of-pocket expenses if you go out of network to repair your car. That's because an insurer's repair cost estimate may vary from the repair quote provided by a repair shop, especially if you're requesting specific parts. In these situations, you may need to further negotiate between the two parties.
It's important to remember that you won't be left alone by going to a repair shop out of network, but you will likely have to handle more of the back and forth yourself.
Tips for Choosing a Car Repair Shop
1. Ask for Recommendations — Finding a body shop you can trust may be challenging. One of the best ways to find quality repair shops is by asking around to see what experiences your friends and family have had.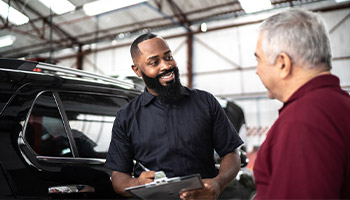 2. Locate Specialty Shops — If you have a type of car that requires additional training, such as an electric or European car, searching for specialty shops can help you connect with workers experienced in your make and model.
3. Consider Online Reviews — When researching, consider online reviews from multiple sources to get a basic overview of a shop's past work. Sites such as Yelp, Google reviews, and the Better Business Bureau should give you a general feel of a shop's quality of work. However, it's more common for individuals to leave negative reviews rather than positive ones, so you may not want to rely on reviews alone.
4. Look for Certifications — Good repair shops will employ qualified professionals certified by associations such as the Inter-Industry Conference on Auto Collision Repair (I-CAR), which highlights their experience. Additional certifications can include those for specific make and models, such as a Tesla-Approved External Body Shop certification.
5. Ask the Right Questions — When searching for a new repair shop, it's important to ask a few questions. Consider asking some of the following:
Do you provide written estimates?
Do you offer any warranties on your repairs?
What lot security measures do you have in place?
How often do you work on these types of repairs?
Do you use factory-authorized or aftermarket parts?
Carry the Proper Car Insurance
Accidents can happen at any time, so it's important to ensure you carry the proper insurance to protect yourself. Although liability insurance will cover injuries you cause to others or their property, it won't cover your vehicle's repair costs. To repair your car following an accident, you'll need collision coverage. Not sure what coverages you should carry? AIS insurance specialists can help. Our team will help you find the best coverage options available for you. Call us today at (888) 772-4247 to learn more.
---
The information in this article is obtained from various sources and is offered for educational purposes. Furthermore, it should not replace manuals or instructions provided by the manufacturer or the advice of a qualified professional. No warranty or appropriateness for a specific purpose is expressed or implied.