4
minute read
When purchasing car insurance, many drivers believe they can save by only buying what is legally required in their state. However, doing so could leave you with a large expense if your car is damaged in an event outside your control, such as theft, vandalism, or an act of nature. To have peace of mind knowing you are covered in these situations, you'll need comprehensive coverage.
Comprehensive coverage pays for your vehicle's repair or replacement costs if it is damaged in a covered non-collision event, up to your policy's limits. Comprehensive car insurance isn't required in any state, but a lender may require it as a condition of your finance contract or lease.
In the blog:
What Does Comprehensive Car Insurance Cover?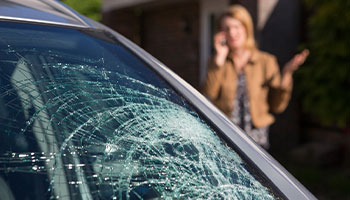 Comprehensive coverage will cover the cost to repair or replace your vehicle (up to your policy's limits) if it is damaged from…
Car theft
Vandalism, including catalytic converter theft
Fire and explosions
Falling trees, debris, and other objects
Windshield damage from rocks or objects kicked up by other cars
Storms, hail, wind, lightning, and earthquakes
Interactions with a wild animal
Comprehensive car insurance will not cover any of the following incidents:
Damage to your vehicle that was caused by a collision with an object, or another vehicle regardless of fault (covered by collision insurance)
Damage to someone else's vehicle or property (covered by property liability insurance)
Medical bills for another motorist as a result of an accident you caused (covered by bodily injury liability insurance)
Does Comprehensive Insurance Involve a Deductible?
When you purchase comprehensive coverage, you'll have the option of choosing your set deductible. In car insurance, a deductible represents the amount you must pay out of pocket towards a claim before your insurer handles the rest, up to your policy's limits.
Most insurers allow you to select your deductible amount, with the most common deductibles being $250, $500, or $1,000. As a general rule of thumb, the higher your deductible is, the lower your coverage premium will be. Think of it as a trade-off:
A lower comprehensive coverage deductible = a higher comprehensive coverage premium
A higher comprehensive coverage deductible = a lower comprehensive coverage premium
Will Comprehensive Car Insurance Replace My Vehicle?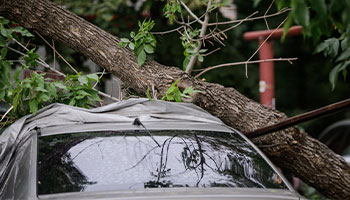 Comprehensive coverage will pay repair and replacement costs for your vehicle, but only up to your policy's limits. Exact limits may vary, but most providers cap payouts at your vehicle's market value right before the accident. This is also called your vehicle's actual cash value (ACV).
For example, let's say your car's ACV is $20,000, and you carry comprehensive coverage with a $500 deductible. One morning, you wake up to find that a tree branch has fallen onto your car, which causes significant damage. You contact your insurance provider, settle your $500 deductible, and wait to see if your vehicle can be repaired. If an auto shop can repair your vehicle, your insurance will cover repair costs up to your vehicle's ACV minus the deductible. If your car cannot be repaired, your insurance will reimburse you for your car's ACV minus the deductible, or $19,500, for you to put towards the cost of a replacement vehicle.
Do I Need to Purchase Comprehensive Coverage?
As mentioned, comprehensive coverage isn't typically required unless you finance or lease a car. If you own your car outright, you can decide whether comprehensive insurance is worth purchasing.
If you're not sure whether comprehensive coverage is right for you, consider the following:
Your car's value: The value of your car plays a significant role in comprehensive coverage because limits are usually capped at your vehicle's ACV. If you have an expensive car, the add-on coverage is most likely worth it to help pay for any repairs or replacement costs down the line. However, purchasing comprehensive coverage is not worth it if your vehicle is worth less than your plan's deductible plus the cost of coverage.
Your financial situation: If you had to replace your vehicle tomorrow, could you cover the cost? If not, comprehensive coverage could give you peace of mind knowing you are protected against unforeseen events.
What's the Difference Between Comprehensive and Collision Coverage?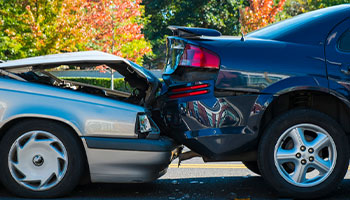 You will typically see comprehensive coverage bundled alongside collision coverage when shopping for car insurance. Although both coverages pay for damage to your vehicle, the two cover different scenarios.
Unlike comprehensive coverage, collision coverage covers repair or replacement costs for your vehicle after a collision with another car or object, regardless of fault. Examples of covered collision events include crashing into another motorist, a single-car rollover, or a collision with a light pole. Collision insurance is also optional but may be required by a lender when financing or leasing.
Speak with an Insurance Specialist to Learn More
It's important to look for auto insurance savings whenever possible, but rejecting certain add-on coverages could cause you to pay more for a repair or replacement in the future. If you're unsure which add-on insurance coverages are right for you, AIS can help.
Our team of insurance specialists can guide you through the options available and know what questions to ask to ensure you're fully covered. To speak with an AIS specialist today, call (888) 772-4247.
---
The information in this article is obtained from various sources and offered for educational purposes only. Furthermore, it should not replace the advice of a qualified professional. The definitions, terms, and coverage in a given policy may be different than those suggested here. No warranty or appropriateness for a specific purpose is expressed or implied.