4
minute read
Your car's windshield plays a critical role in keeping you safe from outside elements and debris when driving. Although durable, windshields are made of glass, which can eventually break or crack. Not only is driving with a cracked windshield a hazard, but it may also be illegal in some situations. If you have a damaged windshield, you may ask yourself, does my insurance cover windshield replacement? Let's explore different coverage options and how they relate to windshield repairs and replacements.
Will My Car Insurance Cover Windshield Replacement?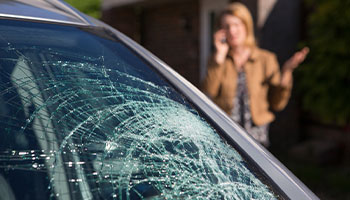 You'll need comprehensive or collision coverage to replace a damaged windshield in most cases.
Comprehensive coverage will apply if your windshield is damaged due to accidents that do not involve a collision, such as falling debris, weather incidents, or vandalism.
Collision coverage will apply if your windshield is damaged following a car crash, regardless of fault.
Remember that depending on your state, you'll typically need to pay a deductible before your insurer handles any repairs through your comprehensive and collision coverage.
If you were involved in an accident and the other driver was found at fault, you could also file a claim against their insurance to cover the cost of your vehicle's repairs, including your windshield.
States with Zero Dollar Glass Deductibles
You must typically pay a deductible before you file a claim through your comprehensive insurance. However, some states impose restrictions on insurance companies that prevent them from charging a deductible on repairs involving glass. This is referred to as a zero-dollar glass deductible. 
The following states have insurance laws that either mandate or give insurers the option to offer glass coverage without a deductible for drivers with comprehensive insurance.
It's important to note that although glass repair/replacement may not be subject to a deductible in your state, you'll still have to pay your comprehensive coverage premium as usual. Additionally, some states that offer zero-dollar glass deductible require you to opt-in, which may cost extra.
What If My Insurance Doesn't Cover Glass Repairs?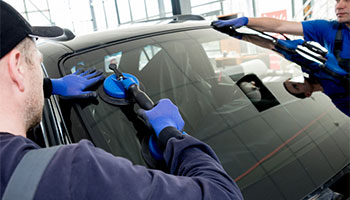 You should still replace a damaged windshield even if you don't have collision or comprehensive coverage. Not only is it dangerous to drive with a damaged windshield, but many states also have laws against doing so. That's because it is harder to see objects in front of you with a cracked windshield. Plus, it also increases the likelihood of your windshield shattering if another object hits it.
How Much Does It Cost to Replace a Windshield?
The amount you pay to replace a broken windshield will depend on multiple factors. Examples of potential factors include your vehicle's make and model and the type of glass used. On average, it can cost about $400 to replace a windshield on most car models. Suppose your windshield has a small crack or minimal damage. In that case, repairing the crack may be possible rather than replacing the entire component. By catching a chip early, you could save yourself from an expensive full windshield replacement if it worsens over time. A general rule of thumb is that you can typically repair chips smaller than a quarter. If a crack is over 3.5 inches, you'll likely have to get a new windshield.
Depending on your deductible amount, filing a claim may or may not be worth it. Generally, filing a claim is worth it if the cost to repair the damage is higher than your car insurance deductible. If repair costs are below your deductible amount, filing a claim may not be worth it.
How Do I File a Claim for My Damaged Windshield?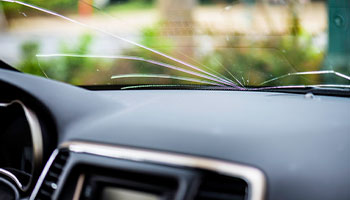 It is important that you fix a cracked windshield or file a claim with your auto insurance provider right away. A small crack may not seem like a big deal, but it can quickly spread and affect a greater area. Plus, a cracked windshield is more likely to break than one without any damage. Here are the steps for filing a windshield claim:
First, photograph and assess the damage to determine if you need a repair or replacement.
File a claim online, over the phone, or in person through your insurance company.
Provide photographs and details of the damage to your claims adjuster.
Choose from a list of service options your insurance company provides that can repair or replace your windshield.
If you use your comprehensive coverage to repair your windshield, it's unlikely that your rate will increase. However, all policies differ, so be sure to speak with your insurance agent for further details. Although your rate won't increase by filing a comprehensive claim, you may lose access to claims-free discounts that are available through your insurer.
Learn More About Your Coverage Options
No matter where you live, carrying sufficient car insurance will help protect you financially against car damage. Although a requirement in most states, liability insurance does not cover windshield replacement or damage to your car. In these situations, you'll need comprehensive and collision coverage. At AIS, our specialists can help you compare quotes from our network of insurance providers to find you the best rates available. Begin your quote online or call us today at (888) 772-4247.
---
The information in this article is obtained from various sources and offered for educational purposes only. Furthermore, it should not replace the advice of a qualified professional. The definitions, terms, and coverage in a given policy may be different than those suggested here. No warranty or appropriateness for a specific purpose is expressed or implied.