3
minute read
With its endless coastlines, barren deserts, and breathtaking mountain tops, it's no secret that California is one of the best states for coasting on your motorcycle. No matter your bike experience, the Golden State offers a wide range of roads everyone can enjoy. With sunny days ahead, we compiled a list of five of California's best scenic motorcycle rides for your next adventure.
1. Angeles Crest Highway – 66 miles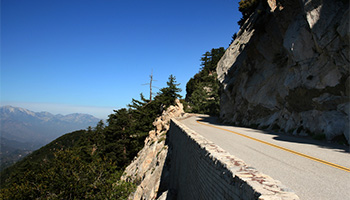 Starting off the list is the Angeles Crest Highway, located in Southern California. Running between the Los Angeles and San Bernardino counties, Angeles Crest Highway is a motorcycle haven for those looking for a quick escape from the city.
Consisting of winding roads through the mountains, cruising Angeles Crest Highway will take riders up to around 7,000 feet. Bikers can enjoy stellar views of the San Gabriel mountains and the Mojave Desert throughout their ride. At 66 miles long, this road is perfect for adventure seekers with only a few hours to spare.
2. Avenue of the Giants – 32 miles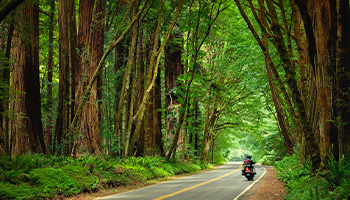 If you're looking for scenic motorcycle rides in California that are unlike any other, look no further than the Avenue of the Giants. Located in Northern California within the Humboldt Redwoods State Park, Avenue of the Giants takes you on a ride between immense coastal redwood trees that can grow as tall as 300 feet.
When visiting Avenue of the Giants, there are multiple groves and attractions you can stop at to enhance your experience. We recommend heading to Founders Grove, where you can visit the Dyerville Giant. Believed to have been the park's largest tree (362 ft. tall) before its fall in 1991, the Dyerville Giant is a must-see when in the area. Visitors can stand beside its massive roots, which stretch some 52 ft. in circumference and walk the length of the fallen tree to marvel at its size.
3. Joshua Tree National Park – 70 miles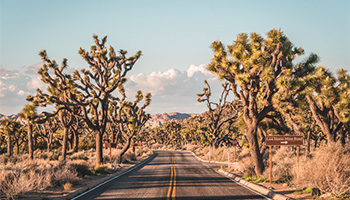 With its beautiful desert landscape, Joshua Tree National Park should be on any rider's must-ride list. Located just about two hours from LA, the Joshua Tree area offers a mixture of freeways and rural highways that are perfect for a day's ride.
At 70 miles long, a loop through the desert will take riders around 90 minutes or so to complete. Pro tip: this route is best during the cooler winter months. During summer, we recommend making the trek early in the morning or in the evening. During the height of summer, temperatures in Joshua Tree can easily reach up to 120 degrees Fahrenheit. Whenever riding through Joshua Tree, be sure to have plenty of water.
4. Dante's View Road – 24 miles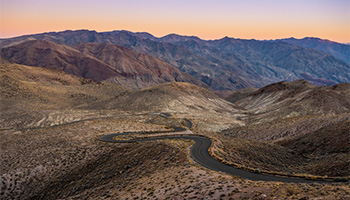 Located in Death Valley National Park is Dante's View Road. This unique road begins at the Badwater Basin, which is one of North America's lowest elevation points at 282 feet below sea level. When visiting, riders will experience an endless sea of thick salt that almost appears like fresh snow.
After taking the landscape in, riders can begin their trek up Dante's View Road. The path up Dante's View is relatively straight with paved roads, but the ride may be a bit difficult for novice riders. Towards the last five miles of the road, riders will experience steep climbs of up to a 13% maximum gradient. However, the climb will be well worth it as riders reach 5,476 feet and experience breathtaking views of the Badwater Basin and Death Valley.
5. Pacific Coast Highway – 655 miles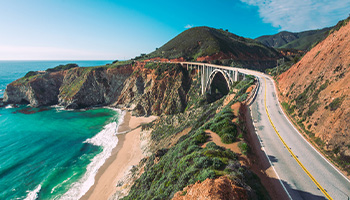 No list of scenic motorcycle rides in California is complete without mentioning Pacific Coast Highway. At over 655 miles long, PCH is one of America's most famous roads, and for a good reason—it's beautiful! Whether traveling from the north or down south, PCH has something to experience no matter where you are located.
Running through the western coast of California, PCH puts some of California's notable areas in the spotlight while serving up endless ocean views. If traveling throughout the northern section, be sure to visit the Golden Gate Bridge in San Francisco or the Bixby Creek Bridge just north of Big Sur. When traveling the southern portion, cruise from Santa Barbara into Los Angeles for a leisurely drive alongside the coast.
Keep Your Rides Safe with Motorcycle Insurance
Practicing safe driving will reduce your chances of being involved in a motorcycle accident whenever on the road. However, having the proper motorcycle insurance will keep you and your bike covered if an incident does occur. And in most states, insurance is also required by law.
In California, all riders must carry the following levels of liability insurance: $15,000 for bodily injury for one person and $30,000 per accident, as well as $5,000 for property damage. Additional coverage may be recommended. If you're looking to save on motorcycle insurance, comparing quotes from multiple companies could help. Not sure where to start? AIS can help! To speak with one of our Insurance Specialists, call (888) 772-4247 or get a free quote online. 
---
The information in this article is obtained from various sources and is offered for educational purposes. Furthermore, it should not replace manuals or instructions provided by the manufacturer or the advice of a qualified professional. No warranty or appropriateness for a specific purpose is expressed or implied.