4
minute read
Ah, spring is in the air. And if you've had your motorcycle in storage since winter, you're likely itching for a good highway cruise. From sunny California to the Florida Keys, plenty of scenic routes begin to shine this time of year. So, if your gear is packed and your tank is full, here are some of the best motorcycle routes to coast on this spring.
1. Jacinto Reyes Scenic Byway (State Route 33), California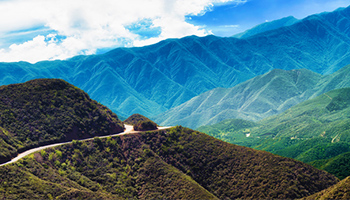 Starting off our spring motorcycle road trip list is the Jacinto Reyes Scenic Byway, which takes riders through the Los Padres National Forest just two hours north of Los Angeles. Named after one of the area's first Hispanic national park rangers, the Jacinto Reyes Scenic Byway links the state's Golden Coast to the forested interiors of Los Padres.
Route 33 begins in Ventura and ends in Northern California, just shy of Tracy. The scenic byway segment, however, is only around 36 miles in length, making it a quick ride. Heading out from Ojai Valley, the road is full of twists, picturesque landscapes, and endless forested mountains. And despite being so close to Los Angeles, you'll find no traffic when riding here.
Due to its location in the mountains, the area can experience heavy rain or rockslides, which may lead to road closures. Consider planning your trip during late April or early May to avoid any issues.
Nearby Pit Stops:
2. The Twisted Sisters (FM 335, 336, & 337), Texas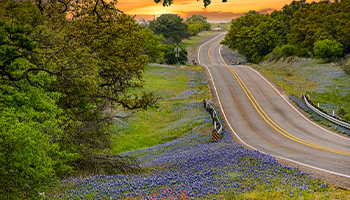 If you think Texas roads are flat and strictly straight, the Twisted Sisters ride will definitely change your mind. Located west of Austin, you'll find the Twisted Sisters, which are three farm-to-market roads—FM 335, 336, and 337—in the Texas Hill Country. Together, these three roads form a loop known by riders in and out of the state for its twists and steep climbs.
Due to its many twists and turns, this spring motorcycle route is best meant for seasoned riders. You can explore these roads in any way you'd like, but most riders tend to start in the town of Medina. If you choose this destination as your start and end point, the total trip will be approximately 170 miles. There are gas stations around but be sure you have a full tank before heading out.
Nearby Pit Stops:
3. Scenic Byway 12 (State Route 12), Utah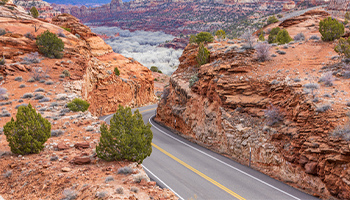 Also referred to as "A Journey Through Time Scenic Byway," Scenic Byway 12, located in Utah, is a ride like no other. As one of the top scenic highways in the nation, State Route 12 takes riders through some of the most diverse, rugged, and unforgettable Utah landscapes. Spanning a total length of around 124 miles, the route will take you around three hours complete if you're solely passing through. However, once in the area, you'll surely want to pull over and marvel at the natural landscape.
Scenic Byway 12 begins just southeast of Panguitch and ends to the north in Torrey. Along the way, riders will see ancient seabed remains, high alpine forests, and endless scenic overlooks. Scenic Byway 12 is typically open year-round, but road closures can happen after a heavy storm. We recommend making the trek in late spring when the area receives less rain and warmer temperatures.
Nearby Pit Stops:
4. Overseas Highway (U.S. Route 1), Florida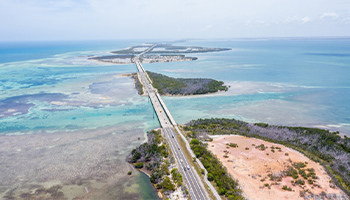 If you're searching for a spring motorcycle route that combines clear skies with beautiful scenery, there's no better option than the Overseas Highway, located in Southern Florida. The Overseas Highway begins in Key Largo, encompassing around 110 miles of U.S. Route 1, the highway that runs along the entirety of the East Coast. When heading south towards the Keys, riders will cross over 40 different bridges surrounded by endless Atlantic views.
Although you can start your journey anywhere along U.S. Route 1, beginning in Miami will set the tone for the ocean drive. From Miami, the total trip south is around 160 miles. Although completing the journey in a single day is possible, you won't want to leave once you arrive in Key West.
Nearby Pit Stops:
5. Joshua Tree National Park Loop (State Route 62 & I-10), California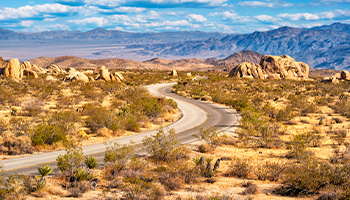 Do you prefer a desert landscape over forested areas? If so, head toward Joshua Tree National Park for a quick spring motorcycle trip. Located two hours outside Los Angeles, Joshua Tree offers riders a perfect mix of well-paved roads and desert terrain. In addition, visiting during spring can help you avoid harsh summer temperatures.
This loop begins just north of Palm Springs on I-10. From here, you head east until turning onto Cottonwood Spring Road, heading towards Park Blvd, which will take you directly into the national park. Finally, after reaching State Route 62, head west until you meet the I-10 again. This loop is around 150 miles long, making it a nice day route with plenty of sights to see.
Nearby Pit Stops:
Keep Yourself Protected on the Road
No matter where the road takes you, always practice safe riding habits to reduce your chances of being involved in a motorcycle accident. In addition, review weather conditions and research any possible road closures if you're heading somewhere new. If you are involved in an accident, having a proper motorcycle insurance policy will protect you and your bike.
Like auto insurance, nearly every state requires riders to have liability insurance for their motorcycle. However, additional coverages may be worth considering, such as roadside assistance or comprehensive and collision coverage. Not sure where to start? Our insurance specialists can help. Give us a call today at (888) 772-4247 to learn more, or start your quote online.
---
The information in this article is obtained from various sources and is offered for educational purposes. Furthermore, it should not replace manuals or instructions provided by the manufacturer or the advice of a qualified professional. No warranty or appropriateness for a specific purpose is expressed or implied.