4
minute read
Spring is finally here, which means warmer weather perfect for a scenic bike ride. Although riding a motorcycle is an exhilarating thrill, it can also be a dangerous activity without the proper precautions. To spread awareness and reduce accidents, the National Highway Traffic Safety Administration has deemed May as Motorcycle Safety Awareness Month.
Why is Motorcycle Safety Awareness Month Important?
In the 1980s, the American Motorcyclist Association (AMA) launched a campaign to increase motorcycle safety awareness to reduce accidents. Since then, multiple organizations have recognized the effort, and May is now known as Motorcycle Safety Awareness Month.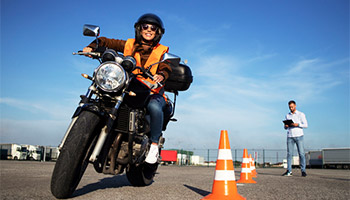 According to the Department of Transportation, motorcyclists are significantly overrepresented in traffic crashes and fatalities each year. In fact, during 2020, motorcyclists were approximately 28 times more likely to perish in an accident and 4 times more likely to be injured (per vehicle mile traveled) when compared to motorists.
Motorcycle safety is everyone's responsibility. As a motorcyclist, it is your responsibility to be aware of the steps you can take to keep yourself out of harm's way. Likewise, as a motorist, it is your responsibility to be mindful of your surroundings and others on the road. While following safety habits is essential year-round, this month provides us the perfect chance to refresh our minds on the best practices.
Now, let's explore essential safety tips for both motorcyclists and motorists.
Safe Riding Tips for Motorcyclists
1. Gear Up
Wearing the proper gear can protect you from injury and the elements when riding. Although not every state requires you to wear a helmet, it is recommended that you always ride with one on.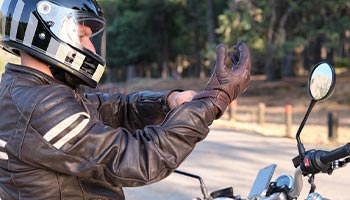 When shopping for a helmet, look for ones with a "DOT" label on the back, which signifies that it meets safety standards set by the Department of Transportation. If your helmet is open-faced, glasses or goggles are a must to protect your face and eyes.
Additionally, having the right pair of gloves could help you effectively maneuver in an emergency and protect your skin from road rash should you go down. Consider opting for heavy leather garments as these can provide more protection than thin cotton materials.
2. Perform Proper Bike Maintenance
Before heading off on your next adventure, inspect your motorcycle for any signs of potential issues. Double-checking your tire pressure and ensuring that your lights are functioning could help you avoid any accidents down the road, especially if on a long ride. Of course, the easiest way to keep your bike in its best condition is to perform regular maintenance and fix mechanical issues as they arise.
3. Know the Weather
Sudden changes in the weather can be hazardous for motorcyclists. Furthermore, the dangers of wet or icy roads multiply whenever on a motorcycle—not only are you more exposed to the elements, but you also have less stability than a regular automobile. Therefore, it is recommended to always research your route ahead of time and prepare for any weather changes.
4. Be Visible
Unfortunately for motorcyclists, motorcycles are significantly smaller than automobiles, making them hard to see at times. Consider wearing bright colors such as red, yellow, or orange to easily stand out to other drivers on the road. Furthermore, avoid cruising in people's blind spots and drive with your headlights on to increase visibility.
5. Drive Defensively
Motorcycle safety is all about following road rules and safe driving habits. When riding your motorcycle, do so defensively. This means always traveling at a safe distance from the vehicle ahead of you to give yourself ample reaction time. Also, whenever changing lanes or making turns, be sure to do so at a safe speed. You shouldn't recklessly cut in front of other cars as this could lead to an accident.
Motorcycle Safety Tips for Motorists
1. Beware of Blind Spots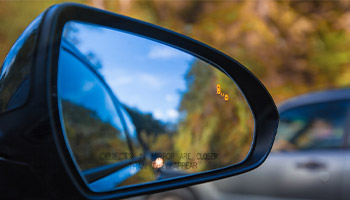 As a driver, you should always be wary of your vehicle's blind spots. Doing so enables you to have a greater understanding of your surroundings, but it can also help you spot any motorcyclists on the road. When driving, use a combination of visual checks and your mirrors when turning or merging onto a lane. As the saying goes, "Look twice. Save a life."
2. Use Turn Signals
Regardless of whether motorcyclists are on the road, you should always be using turn signals appropriately. Just because you know you are about to merge doesn't mean everyone else does. Using turn signals helps others anticipate your next move, reducing the risk of collisions.
3. Don't Tailgate
It's no secret that motorcycles are vastly different than automobiles. While bikes are lighter and smaller than cars, they still need ample time to stop and maneuver away from hazards on the road safely. So when driving behind a motorcycle, maintain a safe distance between the two of you to avoid any accidents.
4. Share the Road, Not the Lane
Remember, the road doesn't only belong to cars and trucks. Motorcyclists have the same rights of the road as any other motorist does, regardless of their size. Always allow motorcyclists the entire width of a lane and never lane share.
Stay Protected with the Right Motorcycle Coverage
Practicing safe driving can help reduce your risk of being involved in a motorcycle accident. However, it's also important to protect your bike and yourself by maintaining a motorcycle insurance policy—it's also required by law in most states.
Some coverages that may be available or are optional in some states are still a good idea, like collision, comprehensive, Medical Payments (Med Pay) or Personal Injury Protection (PIP). Some others to consider are an OEM and/or Custom Parts endorsement, Total Loss Coverage or Roadside Assistance.
Not sure what motorcycle coverage is best for you? AIS can help! To learn more about motorcycle insurance requirements in your state, give our insurance specialists a call today at (888) 772-4247, or get a free quote online.
---
The information in this article is obtained from various sources and is offered for educational purposes. Furthermore, it should not replace manuals or instructions provided by the manufacturer or the advice of a qualified professional. No warranty or appropriateness for a specific purpose is expressed or implied.