4
minute read
Calling all leaf peepers! Fall is almost here, which means it's time for some stunning motorcycle rides this September, October, and November. Rev your engines and make your way across the country for the most scenic motorcycle drives this autumn. There are many beautiful places you can ride to experience the change of seasons, no matter where you are in the U.S.
If you proclaim yourself a leaf peeper, then check out the fall-foliage list we've compiled for you. You and your bike deserve a breathtaking ride before settling in for the holidays. There's no better way to embrace fall like zooming down an open road with vibrant reds, oranges and yellows above you.
1. Shenandoah National Park, VA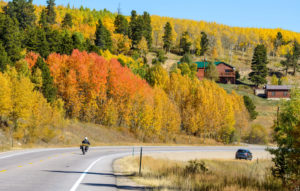 Looking for epic motorcycle rides through the mountains? Head to Shenandoah National Park, located in the Blue Ridge Mountains of Virginia. You can explore Skyline Drive within the park and witness a display of some of the most scenic fall foliage in the state. You can ride beneath a canopy of violet dogwoods, red Virginia creeper vines and yellow-orange hickories. It will be a sight like you've never seen before!
2. The Driftless Region, WI
The Driftless Region of Wisconsin in the Midwest also holds stunning leaf peeping motorcycle routes. Starting and ending at Mineral Point, take your bike on a winding loop to see spectacular sumac and maples leaves streaked across the hillsides. The twisted oak and wild hickory leaves are autumn sights you don't want to miss as you make your way along the loop's river valleys.
3. Olympic Peninsula, WA
If you thought fall only happens in the Midwest and on the East Coast, think again. Ride your bike along the northern coast of the Olympic Peninsula in Washington for a 350-mile motorcycle route. You'll pass elk, cranes and sea otters in between the colorful fall foliage. If you have extra time, hike to the 90-foot Marymere Falls or head to Cape Flattery to admire the Sitka spruces.
4. Lake Michigan, MI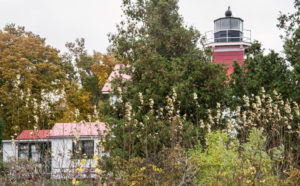 This 100-mile motorcycle ride takes you along Grand Traverse Bay. Here you'll be amazed by the crimson-hued oak and maple leaves contrasting against green spruce, fir and pine trees. Lake Michigan's northeastern shores are home to charming coves, small fishing towns and heaping sand dunes. A few pit stops along the way include the Grand Traverse Lighthouse, the Sleeping Bear Dunes National Lakeshore and Inspiration Point. Your bike may also take you to Kilcherman's Christmas Cove Farm to pick over 250 varieties of apples at the end of the autumn season.
5. Gunnison-Crested Butte, CO
If you're looking for the country's largest aspen grove, go no farther than Gunnison-Crested Butte in Colorado. Full of crimson, orange and gold changing leaves, Colorado displays an autumn spectacle like no other. Take the West Elk Loop and ride south past the Black Canyon of Gunnison National Park. Your motorcycle will take you through stunning foliage, as well as magnificent mountain views and canyon drop-offs.
6. Moosehead Lake Region, ME
Make your way around Maine's largest lake, Moosehead Lake, for an extraordinary view of the Moose River Valley at Attean Overlook. Located on the shores of the lake, you can stop at Rockwood before spending the night in Greenville. In the morning, take motorcycle rides beneath the stunning tree canopies along Greenville's logging roads. Be sure to check out Maine's foliage updates ahead of time to ensure you catch the leaves changing along Moosehead's coast.
7. Great Smoky Mountains National Park, TN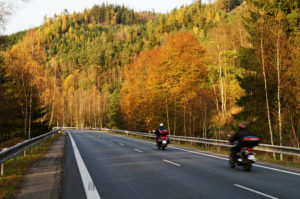 For one of the best leaf peeping motorcycle rides, start at the top of "Ole Smoky" in Great Smoky Mountains National Park. As the most visited national park in the U.S., you'll have a great experience speeding down the mountainside to Cades Cove. Go past the golden-yellow beech and birch trees and through fiery red mountain ash, cherry and mountain maples. Once you reach Cades Cove, take the 11-mile loop that will be brimming with bright foliage. You'll be sure to spot waterfalls and other stunning panoramic views as soon as autumn rolls around.
8. Eastern Sierras, CA
California tends to be overlooked during the fall season, but leaf peepers should know that the Eastern Sierras hold spectacular autumn views and motorcycle rides. Between the peaks of the Eastern Sierras, you will find gorgeous alpine lakes, gushing waterfalls and striking displays of yellow willows, red cottonwoods and orange aspens. Want to know the best way to see a whole new side of California's lush landscape? Then ride your bike from Lundy Lake to Mono Lake to the Mammoth Lakes for truly epic scenery.
9. The Enchanted Circle Scenic Byway, NM
The Southwest also holds leaf peeping opportunities you won't want to miss this fall. Head toward the Enchanted Circle Scenic Byway in New Mexico to see aspens changing from lush green and vibrant gold to burnt orange. Continue in a loop from Taos to Eagle Nest to Angel Fire. Then head back again for roads with the best fall foliage sightseeing. As you ride, you'll pass under purple cinquefoil and maroon cottonwoods. And if you're lucky, you might even spot a black bear or elk along the way.
Motorcycle Insurance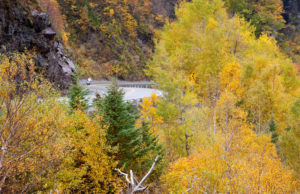 As leaf peeping season approaches, you'll want to make sure you have the right Motorcycle Insurance before taking any rides beneath the trees. It's important you're covered in case of an accident, especially if you're traveling in another state. Speak with an Insurance Specialist at (866) 501-7335 to make sure you have the right motorcycle coverage.
---
The information in this article is obtained from various sources. This content is offered for educational purposes only and does not represent contractual agreements. The definitions, terms, and coverage in a given policy may be different from those suggested here and such policy will be governed by the language contained therein. No warranty or appropriateness for a specific purpose is expressed or implied.