5
minute read
Planning your summer motorcycle road trip already? We're here to make sure you have the best trip ever. Whether you're looking for an easy, breezy ride or something with a few more twists and turns, you've come to the right place. We've compiled a list of some of the best destinations in this U.S. to for your motorcycle road trip this summer. Gear up, riders! Where will you ride next?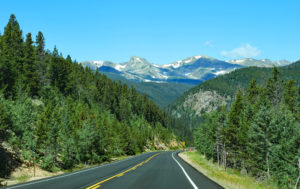 We'll start this thing off with a short ride that's just about 60 miles long. It's called Peak to Peak Highway and it consists of fun twists and epic scenery. Your journey should begin at Highway 119 and extend north along Highways 72 and 7 before reaching Estes Park. You'll zoom through the heart of Rocky Mountain National Park, past mountain vistas and amidst the Continental Divide. The road's thick forests and blooming meadows will enchant you as spring turns to summer. Also, keep an eye out for elk and moose so you can avoid crashing into one on the road.
Starting at Highway 12, this 202-mile long byway allows you to follow the route that Lewis and Clark traveled through Idaho. When you get to Kooskia, you'll come to a fork in the road. We recommend heading east along the Middle Fork of the Clearwater River, past the Lochsa Wild and Scenic River. Continue through the lush greenery, rocky canyons and crystal waterways before reaching the Lolo Pass in Montana. This road will take you past so many breathtaking views, you'll never want your summer motorcycle ride to end.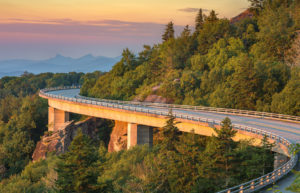 Regardless of the season, Blue Ridge Parkway is on every motorcyclist's bucket list and for a good reason. It's an iconic mountain route that runs 469 miles long, leads through the Great Smoky Mountains in Virginia and ends in Shenandoah National Park in North Carolina. The road is smooth and curvy with stunning views running along both sides of it. Just make sure to stick to the 45-miles per hour speed limit, which allows you to take in the scenery around you. You'll probably need about two days to really enjoy the historic sites, hiking trails and beautiful overlooks.
With a crystal blue backdrop beside it, Coastal Route 1 is the true summer motorcycle ride you've been looking for. The 526-mile long road winds alongside breezy ocean views of the Atlantic, starting in Portsmouth, New Hampshire and ending in Fort Kent, Maine. This ride sticks to the coastline, but that doesn't mean you have to. For a true road trip adventure, stop by unique shipyards, historic lighthouses and shacks with delicious lobster unlike any other in the country. Save this trip for the beginning or the end of the summer season when the roads are less crowded.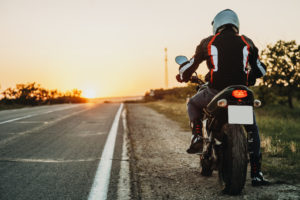 Spanning 124 miles through some of the most diverse, rugged and memorable Utah landscapes, Scenic Byway 12 is a ride like no other. Take your motorcycle through the remains of ancient sea beds, one of the world's highest alpine forests and open sagebrush flats. Multicolored buttes, cliffs, canyons and mesas will surround you on this motorcycle road trip full of rich culture and history. For the complete experience, stay overnight to take in the stunning colors of both the sunset and the sunrise. You can start your journey from either the Highway 89 or the Highway 24 entrance.
It's usually only open during June and July, but this road is a one-of-a-kind 50-mile stretch that will take you at least 2 hours to get through its crazy twists and turns. Let your bike lead you through Glacier National Park, up past Lake McDonald and all the way to the 6,646-foot peak of Logan Pass. Between Logan Pass and St. Mary, stop at Jackson Glacier Overlook for breathtaking views of the summer scenery. Once you reach Logan Pass, you might spot mountain goats and Bighorn sheep grazing amongst the lush greenery. This motorcycle road trip is like nothing you've experienced in the U.S. before.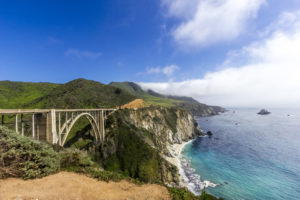 By now, every motorcyclist has heard of Pacific Coast Highway 1 which runs along the entire sunny coast of California. In fact, many people have road tripped along this highway whether they're California natives or visitors from out of state. Stretching a long 655 miles, you can really start anywhere on PCH for an epic motorcycle road trip this summer. The Big Sur area up north is popular for its white-water surf, redwood forests and cliff-hugging curves. Travel even farther north toward San Francisco to see the Golden Gate Bridge. Alternatively, head south past Hearst Castle, Santa Barbara, Malibu and all the way to San Diego if you have the time.
This may be one of the most historical motorcycle rides on our list with over 10,000 years of history. Consisting of 444 miles of recreational road through 3 states, Natchez Trace Parkway follows the travel corridor used in the past by Native Americans, European settlers, soldiers, future presidents and more. This scenic drive will take you past Civil War battle sites, ghost towns and scenic overlooks. Trucks aren't allowed on the road and there are no stop signs, so you'll be free to enjoy the undulating farmland and cypress swamp around you without interruption.
Motorcycle Road Trip Essentials
Before you zoom off a new adventure, make sure your packing list includes all the essentials you'll need for a successful summer road trip. Of course, you should always check the weather before your trip to know exactly what you'll need. However, below is a list of items we can almost guarantee you should take with you:
Synthetic T-shirts and underwear that can be washed and dried overnight. You can roll your clothes instead of folding them to make more room in your bag.
Rain gear and clothing for cold weather, specifically waterproof gloves. It always rains when you don't want it to, even in the summer when you're expecting sunny temperatures.
A GPS and map so you always know where you're going. A flashlight and extra batteries can be useful if you have to navigate at night. However, this is not recommended.
A motorcycle travel tool kit for general maintenance or to fix any small problems that may arise on your trip. Expect the unexpected by being prepared for anything.
A battery pack or Mobile Power Station. GPS and cell service are pretty crucial in a new location, especially if you're traveling with other riders you need to stay in contact with.
Ear plugs are another essential because they drown out the constant noise that occurs inside your helmet while you're riding at high speeds.
Wet wipes for those dirty moments you're guaranteed to encounter in the great outdoors. Travel sized shampoo, body wash and toothpaste are great to have handy, too.
Motorcycle Insurance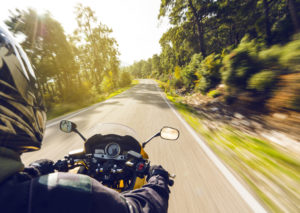 Another motorcycle road trip essential that should be on your list is proof of insurance. You're required to carry your Motorcycle Insurance information with you when you ride your bike. If you get pulled over without it, you'll be stuck with a fine. That's a surefire way to ruin your summer adventure. Your best bet is to keep your Motorcycle Insurance card in your wallet, as you'll typically always have that on you while riding.
Also, it's important to make sure that your Motorcycle Insurance policy covers you in the destinations you plan to ride to. If you're unsure about what coverage you have, speak with an Insurance Specialist at (855) 919-4247 before you begin your trip. Don't forget to ask about Collision/Comprehensive Coverage, Uninsured/Underinsured Motorist Coverage, and discounts you may be eligible for. You may also be able to bundle your insurance policies for even greater savings, so give us a call today to find out your options.
---
The information in this article is obtained from various sources. This content is offered for educational purposes only and it does not represent contractual agreements. It should not replace manuals or instructions provided by the manufacturer or the advice of a qualified professional. The definitions, terms and coverage in a given policy may be different than those suggested here. No warranty or appropriateness for a specific purpose is expressed or implied.