3
minute read
According to an American Pet Products Association survey, 66% of U.S. households have at least one pet. As a pet owner in a rental property, you likely already carry renters insurance but may wonder if your coverage extends to your pets. Thankfully, a standard renters policy should provide some liability protection for your furry friend in specific situations. Still, a renters insurance policy won't cover your pet in the same way as a specialized pet insurance policy. Let's explore some differences between these two insurance types and how they can work together to keep you and your pet protected.   
What's the Difference Between Renters Insurance and Pet Insurance?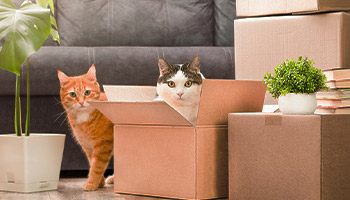 As a renter, renters insurance provides you with liability protection and covers your personal property from unexpected events or covered perils. Although not legally required, renters insurance is often an inexpensive way to safeguard your belongings and liability exposure.
Like human health insurance, pet insurance helps cover medical expenses related to your pet's healthcare. Although a pet can be any animal, most providers typically only have coverage options for cats and dogs. Still, it's possible to find specialty insurers that can cover additional animals such as horses and reptiles. Pet insurance usually relies on a reimbursement-based model, meaning you must pay the vet bill out of pocket before submitting a claim.
You may not think about renters insurance when discussing pets, but there is a connection between the two, especially for dog owners.
How Does Renters Insurance Cover Pets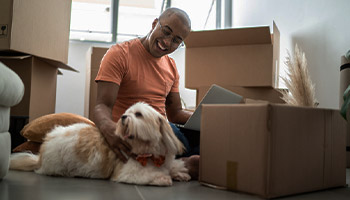 A standard renters policy typically includes the following four coverage types:
Personal property: covers your personal belongings from covered perils like theft, fire, and vandalism.
Loss of use: pays for additional living expenses, including temporary housing, if your rental home is deemed uninhabitable due to a covered peril.
Liability: covers third-party injuries or property damage you are responsible for.
Medical payments: pays for medical expenses if someone injures themselves at your rental home, regardless of fault.
Although a renters insurance policy won't pay your pet's veterinary bills, it can protect your liability as the owner. Because a standard renters insurance policy includes liability, you'll likely have coverage if your pet injures someone or their property. Always remember that policies can vary between insurers. In fact, some may even have restrictions on certain dog breeds.
Does Renters Insurance Cover Dog Bites?
In most cases, your liability protection through a renters insurance policy should provide coverage if your dog bites someone on or off your property. However, this isn't always true. Some insurance providers aren't as pet friendly as others and may have coverage restrictions on larger dog breeds. Although the complete list can vary between insurers, the following dog breeds are typically excluded from coverage:
| | | |
| --- | --- | --- |
| Akita | Chow Chow | Doberman Pinscher |
| German Shepherd | Great Dane | American Pit Bill |
| Rottweiler | Siberian Husky | Staffordshire Bull Terrier |
Suppose your renters insurance provider does not cover the dog breed that you own. In that case, you can purchase a separate pet liability policy from another insurer to fill any gaps in coverage.
Aside from insurance companies, rental properties may also have their own breed or size restrictions for certain pets. Always refer to your lease agreement before getting a new pet to avoid potential issues.
Will Renters Insurance Cover Pet Damage?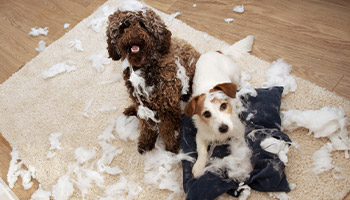 Generally, a standard renters insurance policy will not cover personal property damage caused by your pets. For example, renters insurance will protect you in the event of named perils, such as a fire or vandalism, but won't help pay for a new sofa if your cat rips the cushions apart.
If a pet damages your personal property or property that is rented to you by a landlord, you'll likely have to pay for damages out of pocket or through a security deposit. However, if your dog runs outside and knocks over your neighbor's expensive statue, you may be able to file a claim using your policy's property damage liability coverage.
Keeping Your Household Protected
Neither pet insurance nor renters insurance is required by law. Still, both insurance types can play a role in keeping you and your four-legged friend protected in various situations. You can start a free renters insurance quote here. And, if you don't already carry pet insurance, AIS partners with Embrace to offer pet owners fully personalized coverage options for their pets. Plus, with multiple plans to choose from and the industry's only diminishing deductible feature, Embrace can easily fit with any budget. Start your quote online today, or call our insurance specialists at (888) 772-4247 to learn more.
---
The information in this article is obtained from various sources and is offered for educational purposes. Furthermore, it should not replace manuals or instructions provided by the manufacturer or the advice of a qualified professional. No warranty or appropriateness for a specific purpose is expressed or implied.