6
minute read
Has your car been making a weird noise lately? Then, it might be time to trade it in for a newer model. Depending on just how long you've owned your car, you may have already paid it off. That's a nice feeling. But it's not a nice feeling to have to fork over a few thousand dollars every six months to get a different car part fixed. In fact, the nicest feeling would be to get a new car instead.
Think about the total of all the repair expenses you pay in order to keep your car running reliably. Sometimes it simply makes more sense to sell your car and put that money down on a new one. We can help you determine whether you should sell your current car for an upgrade or continue trying to fix it to make it last a little longer.
1. Your Car is Leaking
There are many fluids that a car requires to run smoothly. Vital fluids include the oil, coolant, brake and power steering fluid. So, if you have to fill any of these fluids up frequently—like once a month—then something is bound to go wrong soon.
Here's the average frequency in which you should change your car's fluids:
Oil — Your car needs an oil change every six months or every 5,000 miles.
Coolant — Flush out and replace the coolant in your car about every three years. Check your car manual for specific recommendations regarding your model.
Brake Fluid — It's recommended to change this fluid every two years.
Power Steering Fluid — The rule of thumb is to change this fluid every three years or 30,000 miles. However, if you have an electric steering system, this doesn't apply to your vehicle.
2. The Acceleration and Brakes are Jerky
Have you noticed more aggressive acceleration or braking while driving your car? Does a weird grinding noise accompany these movements? That most likely means bad news for the transmission. Another indicator that there's something wrong with the transmission is if it starts slipping when you switch gears. Unfortunately, transmission issues are expensive to fix, so it's probably a good idea to start looking around for a new car.
3. The Lights on Your Dashboard are Blinking
In general, you should never ignore any lights that pop up on your car's dashboard. These lights indicate when something wrong is going on with your car. If your check engine light flashes on, you need to take your car to the mechanic immediately. Did you just take your car in and spend lots of money to get one of those lights to turn off? Then it's probably time for a new car.
Here are some of the different types of lights on your car's dashboard:
Oil Pressure Light — This symbol typically indicates either that your car's oil is low or that there's an issue with the oil pressure in your car. This requires attention immediately because either of these problems can wear out your engine.
Tire Pressure Warning — When this light turns on, it signals that your tire pressure is too low or too high. Driving with either type of tire pressure is dangerous and can cause damage to your vehicle. Typically, you want your car's tire pressure between 30 and 35 psi.
Engine Temperature Warning — When this symbol lights up, it means your engine is overheating. In this case, you should pull over immediately to let your engine cool down. You probably need more coolant, but you should take your car into the mechanic to get it thoroughly checked out.
Check Engine Light — This light is the most ambiguous. It could indicate a serious issue like low oil pressure or overheating, but it also appears if your gas cap is open, loose or cracked. If this light is flashing, you should pull over immediately because this most likely means something is seriously wrong.
Battery Alert — When this light comes on, it may actually not signal an issue with your car's battery. Instead, it may indicate that you have a loose or damaged battery cable or alternator belt. However, if it an issue with your battery, then your clock and headlights may start fading out. You should pull over immediately and will probably require a jumpstart from another vehicle.
Other lights you should know about include traction control, anti-lock brake warning, low fuel indicator, automatic shift lock/engine start indicator, seat belt reminder, airbag indicator, security warning, fog lamp indicator, and washer fluid indicator lights.
4. There's Smoke Coming Out of Your Car
There are two types of smoke that may be coming out of your car's tailpipe. Blue smoke means that your car is burning oil. White smoke means your car is evaporating coolant. As mentioned above, both of these fluids are essential to keep your car running. If you fail to keep adding these fluids to your vehicle, then the smoke will start billowing under the hood. That means it's time for an expensive repair or a new car.
5. Your Car Has Rust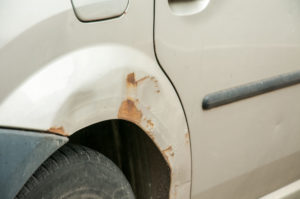 Rust is one of those pesky problems that spreads quickly and is expensive to fix. Rust on the surface of your car is caused by mechanical or UV damage and ruins the car's paint. This may be a fix you can afford if your car simply needs a new paint job to get rid of the rust. However, once the rust gets below the surface and into any important components, removing it will be costly.
6. Your Car Warranty is Up
If your car was brand new when you bought it, then it most likely came with a manufacturer warranty. This warranty provides you with peace of mind and some financial protection. These warranties typically last anywhere from 3-6 years or 30,000-60,000 miles. If you're about to hit those numbers, then you should look into purchasing an extended warranty from the manufacturer or adding Mechanical Breakdown coverage to your Auto Insurance policy. Whichever you decide to do, just make sure you read the fine print.
You can learn more about our Mechanical Breakdown coverage here. It's usually a better value and a less expensive version of your manufacturer's extended warranty.
7. Your Car Has Reached 100,000 Miles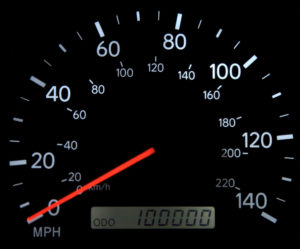 Maybe you're way past 60,000 miles and have hit that 100,000-mile mark. If you bought the car brand new, then it might still have a good number of miles left on it. And if you've taken good care of your car over the years, then it could see double that amount of miles and run just fine. However, a used car may not last as long, especially if the previous owner didn't care for it as well. If bad things start happening once you reach 100,000 miles—like low fluids, jerky braking, blinking lights, etc.—it's time to get a new car.
8. You Don't Want to Let Your Car Go
We get it. Your car holds a special place in your heart. It's been there for so many of your life's pivotal moments. Maybe it took you on your first date, to your new job, or on a memorable road trip. But it doesn't make sense to continue funneling money into a car that needs repair after repair. Ask yourself how much you can get out of your car now if you sell it and see if it makes sense to combine that with some money in your savings for a down payment on a new car. You may be heartbroken now, but your wallet will thank you later.
The Least Reliable Car Models of 2019
If you have decided that it is time to invest in a new car this year, you'll want to make sure it's reliable and long-lasting. There's a lot of questions you have to ask yourself before buying a car and it's hard to narrow down your search with so many options out there. While we can't tell you which car to buy, we can help you eliminate some unreliable vehicles off your list.
Consumer Reports gathered data using responses from over 420,000 vehicles to rank the most and least reliable cars of 2019. They looked at 17 trouble areas ranging from squeaky brakes to major repairs.
Here are the top 5 least reliable cars of 2019, with the Chevy Colorado being the worst:
Chevrolet Colorado
Chevrolet Camaro
Jeep Wrangler
Alfa Romeo Giulia
Volkswagen Atlas
For some alternative options to the models above, Consumer Reports recommends these 2020 car models instead:
Toyota Corolla Hatchback
Nissan Rogue Sport
Kia Telluride
Ford Ranger
Honda Ridgeline
Let's Talk About Auto Insurance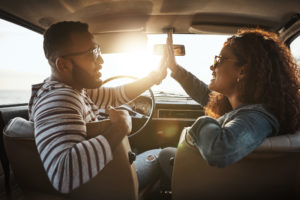 When it's time to get a new car, it's also time to get a new Auto Insurance quote. Thinking about Car Insurance might be your least favorite part of buying a new car. Luckily, we can make it easier for you. We can provide you with a free Auto Insurance quote before you buy a car, so you can get an estimate of how much it will cost to insure.
Finding out the cost of your insurance may sway your decision on which car to buy. Before buying a car, the best thing you can do is speak with one of our agents at (919) 855-4247 or start your free online quote here. Our Insurance Specialists can talk you through coverage options, discounts, Gap Insurance and more.
Want to learn more before you make the call? Check these articles out:
---
The information in this article is obtained from various sources. This content is offered for educational purposes only. It should not replace the advice of a qualified professional. The definitions, terms and coverage in a given policy may be different than those suggested here. Such policy will be governed by the language contained therein, and no warranty or appropriateness for a specific purpose is expressed or implied.