5
minute read
Have you always wondered if timing truly matters when it comes to buying a car? You may also wonder if you'll actually receive bigger savings on a certain day of the week or time of the year. To put it simply, the answer is yes. When it comes to buying a car, timing is everything. Certain days do make a difference in how much you'll pay for a new car before walking out of a dealership. In fact, there are several times of the year when you should buy a car.
Several factors determine why one day might be better than another in regards to getting a good deal on a car. Below are some of the more common days and times of the year when you may receive more savings on a car purchase.
Mondays
It's actually not a myth that you should shop for a car on a Monday, or at least earlier in the week. The reason is that most people don't have time to go into a car dealership on a weekday because they're at work. That means Mondays are pretty slow. Therefore, car sales are pretty slow. So, a car salesperson won't want to let you leave without buying a car. In fact, they might be more willing to negotiate a lower price to get the sale.
Going in on a Monday, Tuesday or Wednesday to buy a car should also give you more of a salesperson's undivided attention. Weekends are typically more crowded at a dealership. Shopping for a car on a Saturday or Sunday may result in less personal attention. This can make negotiating more difficult.
End of the Month or Quarter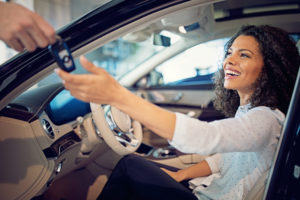 Like most people in sales, a car salesperson, and the dealership as a whole, has a quota they must meet at the end of each month. Therefore, shopping for a car during this time is a good idea because a salesperson may be trying to get in last-minute sales before the month is over. If they are short of their quota, they might be willing to give you a more significant discount on a car. However, if they've already met their quota for the month, they may be less motivated to hand out deals. Of course, you won't know how many sales they've made in any given month so read your salesperson carefully. If they do offer you a super low price, it could be because they're trying to reach their sales goal. If that's the case, consider yourself a lucky bargain shopper.
The same reasoning applies to shopping for a car at the end of the quarter (end of March, June, September or December). Typically, a dealer will have a quarterly sales goal they want to reach too. Once again, going in to buy a car at the end of one of these months could equate to big savings.
Spring has been labeled as a bad time to buy a car. This is because the weather warms up and people's tax returns come in. However, if you shop around at the end of March you can still score a deal. Or, if you can wait until the end of May then you can take advantage of Memorial Day sales.
Holidays
Are holiday car deals and offers actually legitimate? It seems as though there are always car commercials on TV claiming huge holiday discounts. Well, some of them are actually true. In fact, there are several holidays that can result in great car deals. Under the right circumstances, you can save a lot on a new car during a holiday sale compared to other times of the year. Just remember that three-day weekends are more crowded. We recommend test-driving the vehicle you want beforehand. Then, go in during the holiday for the car you already have your eye on.
Holidays when dealerships may be offering car deals:
President's Day. Some dealerships will have President's Day deals to kick-start the year. Sales may be slow since people haven't received their tax returns yet, so you could score a discount. You'll also have a good selection of the previous year's cars which may be marked down.
Memorial Day. This holiday is the start of the summer season, so it's possible to find a great deal. Prices of current car models might also be reduced as next year's car models start to trickle in.
Fourth of July. You'll have a large selection of both this year's and next year's car models to choose from during this holiday. It's also an excellent time to compare both versions of the car you want before making a decision. It's worth a try to haggle for a deal for the older model, too.
Labor Day. You might consider this the sweet spot in terms of competitive prices and model selection. You won't necessarily receive the big end-of-the-year savings, but you can still find great car deals on many options.
Black Friday. Yep, car dealerships participate in the crazy Black Friday sales, too. Many offer incentives, discounts and doorbusters. Black Friday marks the end of the model year, so a lot of deals will be going on to make room for incoming car models. This also means that it will be crowded. Remember, read the fine print of any Black Friday deal that seems too good to be true.
New Year's Eve. If you can, buy a car on New Year's Eve to reap the most savings. Salespeople will be facing monthly, quarterly and/or yearly quotas. Meeting their end-of-the-year sales goals usually means they get a big bonus. And that means they're more likely to give you a deal on a car.
End of the Year
If you and your current car can hold out this long, the end of the year is typically the most affordable time to buy a car. By most affordable, we mean that there a lot more deals, discounts and incentives going around.
October
Shopping for a new car at the end of its model year is a good time to snatch a deal. The end of the summer through October is when many dealerships transition to next year's model. This gives salespeople more of an incentive to move the current year's inventory of the lot. Dealerships have limited space, after all. Buying in late October is even better if you're negotiating with a salesperson who hasn't met their quota for the month yet. In fact, TrueCar found that buyers can expect up to 8% off MSRP when they buy a car in late October.
November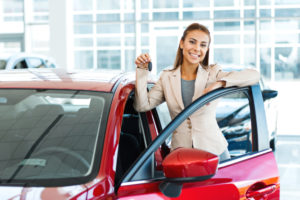 Deals become even more common in November as salespeople's set their sights on their end of the year sales goals. They're also more aggressively trying to get the current year's inventory off the lot. This month also hosts dealerships' Black Friday deals and offers to car buyers. Knowing which car you want before November rolls around can be helpful when trying to avoid Black Friday crowds and still negotiate a good price.
December
Dealerships want to end the calendar year with strong sales numbers. December is a particularly good time to buy a car that's in its outgoing model year and comes with generous incentives. December is also when salespeople are most motivated to move the last of current year's model off the lot. That means you can find some of the best savings during this month. One downside is that you may not have as much of a selection to choose from.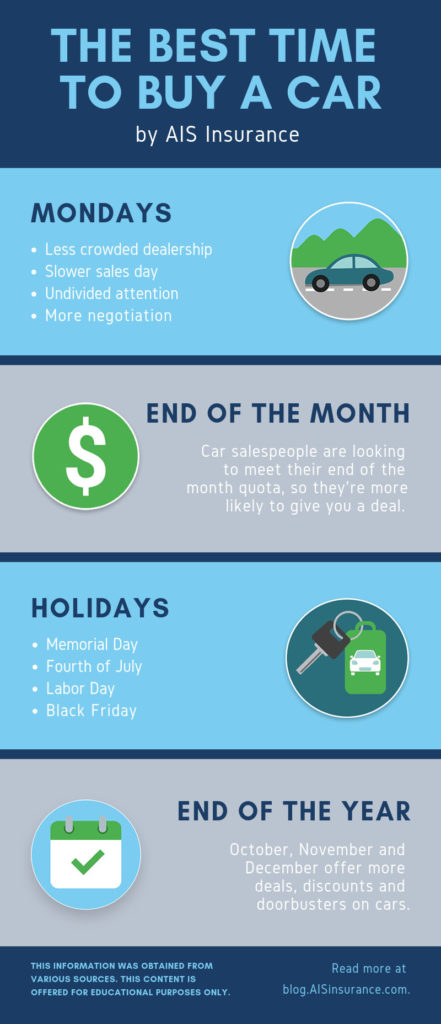 Get A Car Insurance Quote
If you're planning to buy a new car this year, you should first see if your Car Insurance rate will change. You can get a free online quote from AIS Insurance for any car model up to 2020. Or, you can speak with an Auto Insurance Specialist at (855) 919-4247 for a free quote over the phone. Whichever method you choose, AIS will compare low rates from multiple carriers in minutes so you'll be able to determine if your rate will change when you a buy a new car.
---
The information in this article was obtained from various sources. This content is offered for educational purposes only and does not represent contractual agreements, nor is it intended to replace manuals, instructions or the advice of a qualified professional. The definitions, terms and coverage in a given policy may be different than those suggested here. Such policy will be governed by the language contained therein.