4
minute read
As a business owner, you know that the end of the year is a busy time. But it's also an important time to take a step back and assess your business performance, set goals for the new year, and make sure you're on track for success. While it may not be the most exciting task, completing a year-end checklist is a great way to ensure that you've covered all your bases and are prepared for the new year.
Bookkeeping and Accounting Checklist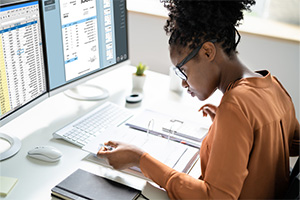 Before the end of the year, make sure your bookkeeping is accurate and up-to-date so you can assess your financial health and make informed decisions for the following year. Here are a few accounting and finance tasks to tackle before the year ends:
Reconcile Accounts Receivable
Take some time to reconcile your accounts receivable to keep your cash flow positive. This means matching your sales invoices to your customers' payments to ensure you have collected all outstanding payments.
Review and Generate Financial Statements
This includes profit and loss statements, cash flow analyses, income statements, balance sheets, and other reports that provide insights into your business's financial performance. These reports can help you make informed decisions for the coming year.
Consult With an Accountant or Tax Advisor
If you have any complex accounting or tax questions, or if you need help developing a tax strategy for the following year, consult with a tax advisor. These professionals can also help you identify future tax liability or deductions and credits, which can save you money.
Double-Check Payroll and Benefits
Avoid costly penalties and compliance issues by accurately paying employees and ensuring benefits are in order before the end of the year. Be sure to provide employees and contractors with required W-2 and 1099-MISC or 1099-NEC reports before the Jan. 31 deadline.
Human Resource Checklist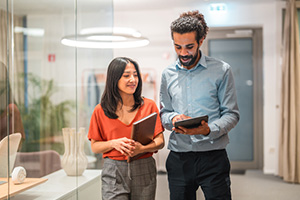 As you wrap up the year's financial tasks, don't forget the most important aspect of your business: your people. Your team is the lifeblood of your organization, and investing in their well-being is crucial for long-term success. Here are some essential human resource tasks to address now:
Review and Update HR Policies and Procedures
Ensure your employee handbook and all company policies are up-to-date. Incorporate any new laws that may have gone into effect during the past year. Don't forget to communicate any changes and distribute your updated handbook to all employees for their reference.
Evaluate Compensation and Benefits Packages
Assess your compensation and benefits packages to ensure they remain competitive and aligned with industry standards.
Review Employee's Equipment
Reviewing your employee's equipment before the end of the year helps ensure it is in good working order. Additionally, a thorough check can help identify potential security risks and budget for any necessary replacements or upgrades in the coming year.
Analyze Staffing Needs and Procedures
Evaluating your staffing needs allows you to identify any gaps or areas of overstaffing, so you can make necessary adjustments for the new year. You should also ensure your hiring and firing procedures are compliant with legal requirements.
IT & Cybersecurity Checklist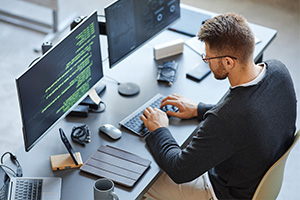 With data breaches and cybercrime on the rise, it's more important than ever for businesses to establish a strong security posture. Here are a few IT-related tasks to think about as December is near:
Perform a Risk Assessment
The first step to protecting your data and IT infrastructure is to identify the most sensitive and valuable data and assess the likelihood and impact of a security breach. This will help you prioritize your security measures and allocate resources accordingly.
Review and Back Up Your Data
Regularly backing up your data is essential for protecting it from loss or damage. Make sure that your backup systems are properly configured and tested, and that your backups are stored off-site in a secure location.
Evaluate and Maintain Security Controls
Review your current security and identify any areas for improvement. This may include updating your physical security like installing an intrusion detection system or implementing antivirus software. It's also important to regularly update your security throughout the year.
Train Employees on Cybersecurity Best Practices
Your employees are your first line of defense against cyberattacks. Make sure they are trained on how to identify and avoid phishing attacks, create strong passwords, and report suspicious activity.
Update or Obtain Cyber Liability Insurance
Cyber liability insurance can help to protect your business from the financial losses associated with a cyber-attack. Consider your risk profile and budget when choosing a cyber liability policy.
General Business & Marketing Checklist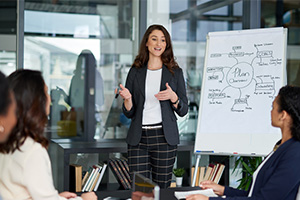 Lastly, use this time to wrap up loose ends and evaluate your business goals, marketing plans, and make any necessary adjustments for the coming year. Here is a checklist to help you get started:
The Final Holiday Push
If you haven't already implemented a holiday marketing campaign, now is the time to do it. The holiday season is a great time to use social media and email to reach your customers with special deals, seasonal products, gift-giving ideas, and year-end surveys. Get creative and have fun with it.
Review and Set Business Goals
Reflect on your business's performance over the past year and identify any areas where you can improve. Brainstorm what you want to achieve in the coming year in terms of revenue, sales, market share, and brand awareness with your team. Once you know your goals, you can develop a plan and budget to achieve them.
Create a Budget
A budget will help you track your income and expenses and make sure that you are on track to achieve your financial goals. Be sure to include both business and marketing expenses in your budget.
Develop a Marketing Plan
A marketing plan will help you identify your target audience, develop your brand messaging, and choose the right marketing channels to reach your target audience.
Audit Your Website
Make sure your website is up-to-date, mobile-friendly, and easy to navigate. Review your website content to make sure it is accurate and relevant to your target audience. You may also want to look at your social channels and see where you need to do a refresh.
Start the New Year Off Right with AIS Insurance
We know you've worked hard to build your business and we're committed to helping you protect it. Speak with one of our Commercial Insurance Specialists today at (855) 919-4247 for a quick and easy free quote. Our dedicated commercial insurance team can help you compare insurance rates and ensure you have the necessary coverage to safeguard your business.
---
The information in this article is obtained from various sources and offered for educational purposes only. Furthermore, it should not replace the advice of a qualified professional. The definitions, terms, and coverage in each policy may differ from those suggested here. No warranty or appropriateness for a specific purpose is expressed or implied.