4
minute read
Picture this: you're driving down the highway listening to your favorite playlist when suddenly, your car starts to make strange noises and begins losing power. You quickly realize your car is breaking down and that you need to get off the road, but how do you do so safely? Plus, who should you call first? Regardless of the reason, knowing what to do during a car breakdown is essential to keep you safe and get help as soon as possible. So, what should you do if your car breaks down on the highway?
Safely Pull Off the Road
A car breakdown can be frightening, especially if you've never experienced one before. You may begin to wonder what the problem is, how much it'll cost to fix it, or who to call for help. However, you must try your best to remain calm.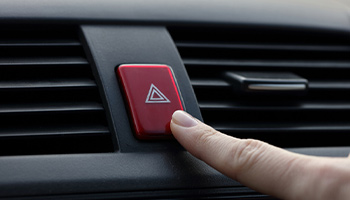 If your car breaks down the highway, you should turn on your hazard lights, take your foot off the gas, and attempt to pull over from traffic at the first sign of trouble. Although you may be tempted to slam on the brakes, doing so could cause you to lose further control of your vehicle. Instead, use your car's momentum to slowly reach the nearest shoulder if possible. Then, after your car is in a safe location, set your parking brake, turn on your hazard lights (if not already on), and use your phone to call for help.
If you cannot reach the shoulder and your car breaks down in the middle of the highway, remain in your vehicle with your hazard lights on and contact emergency services. You should never attempt to exit your vehicle in the middle of a road.
Who Should You Call for Help When Your Car Breaks Down?
Unless there is a fire, the Insurance Information Institute recommends that you stay in your vehicle with your hazards and seatbelt on after moving to a safe location. Should you need to exit the vehicle, do so on whichever side is not facing the road.
Once you are in a safe location, use your phone to call for help. Depending on your situation, here is who you should contact: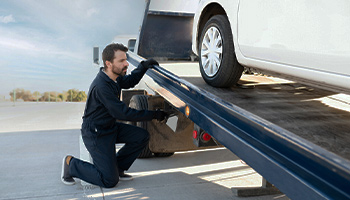 Auto insurance provider – If you carry roadside assistance with your insurance provider, call their roadside assistance service number.
Auto membership club – If you don't carry roadside assistance but subscribe to auto clubs such as AAA, give them a call to receive help.
Local tow truck service – If you are not a part of an auto club and don't carry roadside assistance coverage from your car insurance company, you'll need to call a local tow company to remove your vehicle from the highway.
Emergency services – If you have no other options or if you are in an emergency such as a car fire or if your car is blocking heavy traffic, call 911.
Freeway Service Patrol – If you live in California and your car breaks down on the highway during your busy commute, you may be able to receive free aid services from the Freeway Service Patrol (FSP). If the service is available in your area, they can provide a free gallon of gas, a jump, or change a flat tire. If FSP cannot get your car going, they will tow your vehicle to a safe location approved by CHP at no cost to you. You can reach FSP by dialing 511.
Preparing for A Car Breakdown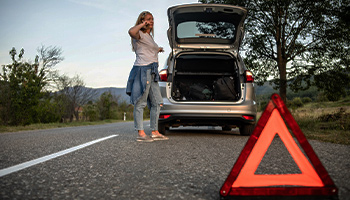 The easiest way to avoid car breakdowns on the road is to prevent them from happening in the first place. This means keeping your car in good condition by performing regular maintenance checks. That way, you can catch any potential problems early before they cause significant damage or breakdowns. Getting your car serviced at least once a year, checking your car's fluids, doing tire inspections, and keeping your battery clean are all ways to ensure your vehicle is in healthy working condition.
Even if you follow all preventive measures, your car may still break down on the highway due to unforeseen circumstances, such as bad weather, road debris, or a flat tire. Because of this, it's important to be prepared by carrying an emergency kit in your vehicle. If you're building your own kit, consider including the following items:
Battery jumper cables
Flashlight with extra batteries
Heavy duty gloves
Triangle reflectors or flares
Thermal or safety blanket
First aid kit
Cell phone charger
Notebook and pen
Toolkit with a screwdriver, pliers, and adjustable wrench
Drinking water and preserved food
Does My Auto Insurance Cover A Car Breakdown?
Your auto insurance policy may cover the cost of repairs if your car breaks down due to a collision or another covered incident on the highway. However, suppose your car breaks down due to a mechanical issue. In that case, you likely won't have any financial protection unless you carry mechanical breakdown coverage (often referred to as an "extended auto warranty"). This add-on policy protects you if your vehicle experiences covered mechanical problems. Additionally, if your vehicle is new, it may have some mechanical protection through the manufacturer's car warranty for a set timeframe.
If you're looking to add coverages such as roadside assistance or mechanical breakdown, AIS can help. Our team of insurance specialists can assist you with comparing quotes from our network of insurance partners. To learn more about the coverage options available to you, call us today at (888) 772-4247, or start a quote online.
---
The information in this article is obtained from various sources and is offered for educational purposes. Furthermore, it should not replace manuals or instructions provided by the manufacturer or the advice of a qualified professional. No warranty or appropriateness for a specific purpose is expressed or implied.