4
minute read
Keeping your car running at its best begins by performing routine car maintenance. From oil changes to tire replacements, regular service enables your vehicle to get from point A to point B safely. And although some jobs are best left to the professionals, you can perform plenty of repairs at home with just a few simple tools. Regardless of your mechanical experience, these DIY car maintenance projects will help you better understand your vehicle and help you save money.
Regular Car Maintenance You Can Do at Home
1. Check Your Tire Pressure
If you've replaced your tires before, then you already know it can be costly. To prolong the life of your car's wheels, regularly monitor your tire pressure. By performing this routine preventative measure, you'll also help improve your vehicle's driving performance.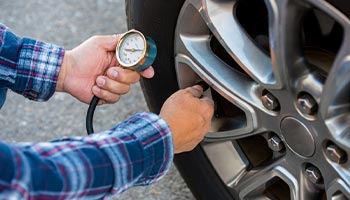 Once a month, use a pressure gauge to monitor your car's tire pressure. For accurate readings, take measurements in the mornings or when your car has been stationary for a few hours.
You can find your car's recommended tire pressure within your owner's manual or inside the driver's door pillar. It's best to follow the pressure listed on your vehicle's manual, as the number listed on the tires themselves are not vehicle specific. Most passenger cars typically require tire pressure to be between 32 psi & 35 psi.
2. Maintain Your Car's Battery Connections
If you begin to experience battery issues, you may quickly assume you need a battery change. Before replacing your battery, however, it's good practice to see if it is "leaking" or if the terminals are corroded.
When battery terminals begin to corrode, they can affect overall battery performance. If you see a material that appears like white or blue dust around your battery terminals, that means your battery is leaking acid. While this does not indicate that your battery is dead, it could signify that it is on its way out. Cleaning these terminals is a simple DIY car maintenance task you can do at home.
To clean your terminals:
Put on gloves and remove the battery cables starting with the negative (typically black) line.
Use a wire brush and corrosion removal fluid (baking soda and water) to neutralize and remove the corrosion build-up.
Rinse and dry with a rag and reinstall your battery cables, this time beginning with the positive (typically red) line.
You can typically find a battery cleaning kit at your local auto store that will include all required materials.
3. Check Your Fluid Levels
If you're confident working with your car, changing your vehicle's oil at home can be highly beneficial as it will help you save time and money. However, if that feels a bit too technical for you as a DIY car maintenance project, it's recommended to at least periodically check the oil and other fluids that your car requires. 
Some cars will have easy-to-read level gauges, while others will use dipsticks. Be sure to refer to the owner's manual to find the location and best way to check your car's various fluid levels, such as your oil, transmission fluid, coolant, windshield cleaner, and more.
4. Keep Your Lights Shining Bright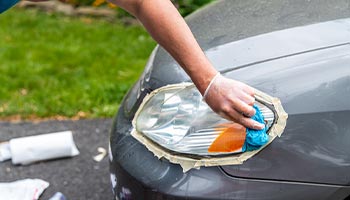 If one of your car's lights is out, it's crucial to replace the bulb immediately for your safety and to avoid a ticket. Luckily, most lights are simple to replace at home.
Your car's owner manual will have specific instructions on how to access each light, but remember, not all bulbs are the same. Pay careful attention to the type of bulb your car needs in order to purchase the correct one at your auto parts store.
Are your headlights foggy/yellowing? Over time, it's normal for headlights to fog due to exposure to the elements. Thankfully, restoring your headlights is a simple DIY car maintenance project that doesn't require much besides a bit of elbow grease. Visit our How to Restore Headlights at Home blog to learn more.
5. Replace Wiper Blades
When your wiper blades leave streaks behind, they significantly reduce your ability to see during harsh rain or snow. While not an issue on a sunny day, the last thing you want is to be trapped in a storm with low visibility.
To keep your windshield streak free, consider replacing or cleaning your wiper blades every 6 to 12 months. If you notice streaks, first use a microfiber cloth to clean off any dirt that may be stuck on your wipers. If streaks continue appearing, it's time for a quick change. Again, you'll need to refer to your owner's manual to know what size wiper blades you need. Most cars will have two different sizes.
Begin replacing your wipers by lifting the wiper arm and placing a thick blanket or towel over your windshield. This will prevent accidental damage should the bare wiper fall onto the glass. Installation directions will vary depending on your car's wiper design, but most replacements will simply need to be snapped into place. Detailed installation directions should be included on the back of each wiper's packaging.
6. Change Your Air Filters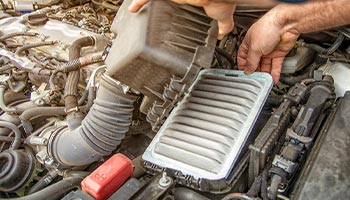 A car's engine is designed to intake air to burn fuel and push the car forward. To prevent dirt from entering the engine, your car has an air filter that should be replaced every 15,000 miles or so. If your air filter isn't replaced, it could affect engine performance and efficiency.
To replace, locate your engine's air filter housing underneath your hood. The air filter housing typically has a large pipe connected at one end that runs to the engine. Most filter covers will be attached by either two clips or screws. After removing any clips, carefully pull back the filter hood to expose the air filter. Swap the old filter for the new one, then close the housing unit and reclip to finish the job.
Keep Your Car Protected No Matter Where You Are
Having car troubles and being stranded without knowing what's wrong is never a pleasant experience. Thankfully, most insurance providers offer coverage types such as roadside assistance that can help you when you have mechanical trouble. This coverage add-on may cost less than you expect and can protect you from many situations, such as lockouts, dead batteries, flat tires, and more.
To learn more about the insurance coverages available to you, call one of our insurance specialists today at (888) 772-4247.
---
The information in this article is obtained from various sources and is offered for educational purposes. Furthermore, it should not replace manuals or instructions provided by the manufacturer or the advice of a qualified professional. No warranty or appropriateness for a specific purpose is expressed or implied.