4
minute read
Having a reliable tent whenever camping is essential. From keeping critters out to protecting you from the weather, your tent setup can make or break your camping trip. Over recent years, we've seen more campers choose to replace their standard tent with a rooftop tent attached to their vehicle.
While a bit more expensive, rooftop tents offer additional benefits, such as ease of assembly, that traditional tents do not. Are you considering switching to a rooftop tent? If so, this guide will walk you through some basic information to know before making your purchase.
The Pros and Cons of a Rooftop Tent
As the name suggests, a rooftop tent is a tent designed to fit on the roof of a vehicle. Like standard tents, rooftop tents come in various shapes and sizes to suit your needs. While many may benefit from purchasing a rooftop tent, it may not be the best option for all campers.
Pros of Rooftop Tents
Easy setup: Roof tents are known for their ease of assembly. Most models only require you to undo a few latches and then push upwards to set up.
Freedom: Having your tent on your vehicle's roof gives you more options for where you can safely camp.
Greater durability: Most tents are constructed from durable materials for added strength because they're designed for car roofs.
Sleep above the ground: By staying elevated, you won't have to worry about weather changes, crawling critters, or rocks.
Cons of Rooftop Tents
Cost: Rooftop tents are significantly more expensive than a standard tent (but cheaper than an RV or travel trailer). Expect to pay anywhere between $1,500 to $4,000 or more.
Gas Mileage: Because they're mounted on top of your car, your vehicle will likely experience a lower MPG due to the increased drag.
Rooftop Attachment: Installing and removing a tent between camping trips can be a chore.
How to Choose a Rooftop Tent
Before purchasing a rooftop tent, you'll need a roof rack on your vehicle. Without a roof rack, you'll have no means of adequately securing a tent to your car.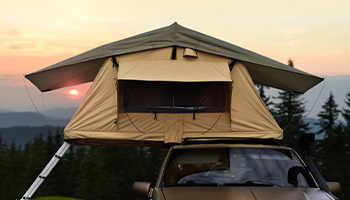 Besides personal preference, the rooftop tent you purchase will ultimately depend on your vehicle's weight capacity and roof dimensions. Because tents can be well over 100 pounds, understanding your car's limits will help narrow your options, especially for smaller vehicles. You'll need two of your car's critical weight limits before purchasing a tent: dynamic weight and static weight.
Your car's dynamic weight limit represents how much weight it can handle on its roof while it is in motion. The tent you purchase must weigh less than this limit to prevent accidents or damage to your car while driving. If you bought an aftermarket roof rack, you'll need to also check the rack's manual for the same specification.
Static weight is the amount of weight your car can handle while it is stationary. This number will always be higher than your dynamic limit and shouldn't be an issue as the roof is designed to withstand a rollover accident. However, it's still important to calculate the total weight, including the tent, the planned occupants, and their gear, to ensure you have enough support.
When purchasing a rooftop tent, your car's roof dimensions will also be a key factor. There are plenty of tents on the market for numerous vehicle makes and models , so take measurements and use them to guide your search.
Insuring Your Rooftop Tent
Purchasing a rooftop tent is a pricey investment, so having it insured is essential. When modifying your vehicle, you must speak with your insurance provider to protect your assets. Contacting your provider will get you the information you need regarding whether or not your rooftop tent can be covered under your current policy. Some insurers provide custom parts and equipment coverage that protect items you add to your car.
Additionally, a homeowners or renters policy could be another way to insure your rooftop tent. A typical homeowners/renters policy will protect your covered personal property, even if it was stolen from a vehicle or while you travel. However, some policies may require you to "schedule" high-value items to be covered, so always speak with an insurance specialist before making any changes to a policy.
3 Top Rated Rooftop Tents
Looking for a rooftop tent but not sure where to start? Here's a quick list of 3 highly rated rooftop tents to kickstart your search. 
1. Best Overall: iKamper Skycamp 2.0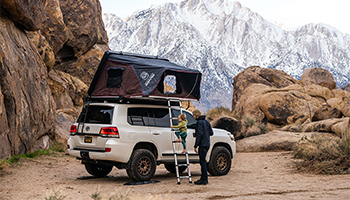 Price: Starting at around $3,700
As previously mentioned, rooftop tents can quickly get expensive. However, if you want the most value from your purchase, iKamper's Skycamp 2.0 is your best option.
Featuring a hard shell and pop-up design, the Skycamp 2.0 can sleep four and comes equipped with a king-size mattress. Known for their patented 1-minute setup design, iKamper has everything you need in a rooftop tent.
2. Best for Small Cars: Thule Tepui Low-Pro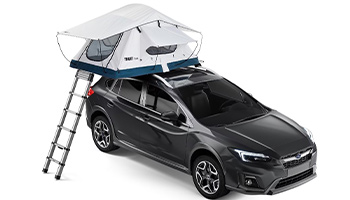 Price: Starting at around $1,300
Weighing less than 100 pounds, the Thule Tepui Low-Pro tent is a perfect option for those with a smaller car. With an exterior constructed of thermoplastics, this tent folds down to just about 10 inches, can sleep two, and will provide weather protection.
3. Best on a Budget: Smittybilt Overlander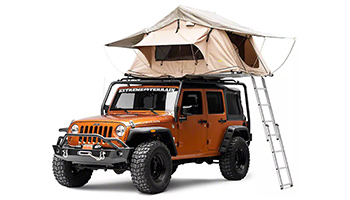 Price: Starting at around $1,300
If you're looking for a budget-friendly option, consider Smittybilt's Overlander tent. Big enough for two people, the Overlander is also waterproof and has integrated LED lighting.
Protect Yourself on The Road
Camping often takes us off the beaten path, which can also increase the likelihood of an accident or damage caused by debris. To protect you and your vehicle, having the proper auto insurance is essential. In addition, insuring your rooftop tent will help cover the cost of its replacement should it be stolen or damaged while you're out camping.
To learn more about your insurance options and how AIS can help, call our insurance specialists at (888) 772-4247.
---
The information in this article is obtained from various sources and offered for educational purposes only. Furthermore, it should not replace the advice of a qualified professional. The definitions, terms, and coverage in a given policy may be different than those suggested here. No warranty or appropriateness for a specific purpose is expressed or implied.