4
minute read
Only a handful of activities scream summer the way an annual road trip does. Whether in the family SUV or a two-seater coupe, a summer road trip lets you explore the country in ways that are impossible by air or train. And with 17 states having shorelines along the coast, what better way of welcoming the sun than by cruising down a highway by the water?
So, if you're ready to hit the road, here are five coastal adventures perfect for your next summer road trip.
1. Pacific Coast Highway (State Route 1), California
If you're on the West Coast, few drives can compare to what California's famous Pacific Coast Highway has to offer. Taking drivers from sunny Orange County to northern Mendocino County, there are plenty of attractions to visit along the way. We recommend choosing a destination up north to escape the busy cities.
Just north of San Francisco, you'll find Muir Woods where you'll be welcomed by endless redwoods, which can grow over 250 feet! As you continue north, you'll reach the Point Reyes National Seashore, a protected coastline with breathtaking views of the Pacific Ocean. About 30 miles north of Point Reyes, you'll come into Bodega Bay. This coastal area offers activities from beaches to hiking to spas and golf.
Nearby Attractions to Stop At:
2. The Olympic Peninsula Loop (Highway 101), Washington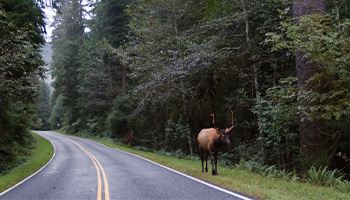 If you're a fan of lush green forests alongside a coastal background, then the Olympic Peninsula Loop is the road trip for you. This loop takes drivers all around the Olympic National Park in Washington. Once complete, you can then venture into the park to visit Lake Crescent, one of Washington's deepest lakes.
The entire loop is over 300 miles long and runs through forested areas, so it's best to stop somewhere along the way to experience all that the area has to offer. If you're coming from the south end of the loop, Port Angeles is a perfect halfway point located on the northern side.
Nearby Attractions to Stop At:
3. Miami to Key West (Highway 1), Florida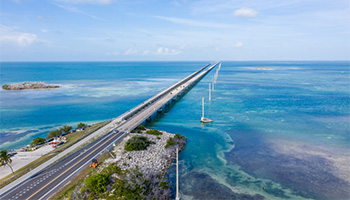 You may want to rent a convertible for this summer road trip that will take you to some of the best beaches in Florida. Using U.S. Highway 1, you can venture from Miami down to Key West on the iconic Overseas Highway, which consists of 42 bridges connecting the Florida Keys to mainland Florida. The total trip is around 160 miles, but you'll spend most of the drive on these bridges that offer stunning views of the water surrounding you.
While it's possible to complete the trip in a day, you'll want to stay in the area a bit longer. Once in Key West, be sure to take a photo at the southernmost point of the continental U.S., go snorkeling, or cool off at a pub on Duval Street.
Nearby Attractions to Stop At:
4. Washington D.C. to Nags Head, North Carolina (Highway 17)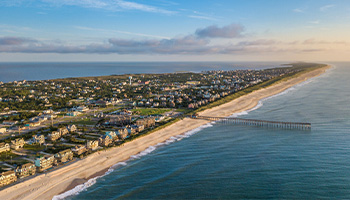 Who says you can't squeeze two getaways into one? After a day or two of exploring the nation's capital, you may be in the mood to escape the city and go to the beach. Using I-95 and Route 17, you can go from Washington D.C. down to the Outer Banks of North Carolina. Known for its beaches and beauty, the Outer Banks is a 200-mile stretch of barrier islands off the coast of North Carolina.
When leaving Washington D.C., head south towards Fredericksburg to get onto Route 17. On this route, you'll coast alongside the Rappahannock River and cross the York River and James River, which all empty out into the Chesapeake Bay. Once at Nags Head, be sure to visit the Bodie Island Lighthouse, one of the country's few brick lighthouses still in operation.
Nearby Attractions to Stop At:
5. Savannah, Georgia to Charleston, South Carolina (Highway 17)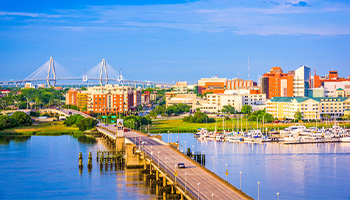 At the end of our list, we have another road trip route that utilizes Highway 17 on the East Coast. Ideal for those looking for a trip full of southern charm, this quick route takes you from the historic district of Savannah, Georgia, up to Charleston, South Carolina. Perfect for a weekend getaway, this trip will only take you about two hours to complete.
When heading up to Charleston, a nice side trip is to Hunting Island, which is about an hour north of Savannah. Known as one of South Carolina's most popular state parks, Hunting Island has over 5 miles of pristine beaches for visitors to enjoy. The park is also home to countless wildlife and a 19th-century lighthouse.
Nearby Attractions to Stop At:
Keep Your Vehicle Protected
Before heading off on your summer road trip, ensure your car is in good shape to prevent any delays. In addition, be sure to review your auto insurance policy to confirm you have the proper coverage. Adding roadside assistance to your policy could be helpful if you have a mechanical issue during your trip. To learn more about your available coverage options, call our insurance specialists at (888) 772-4247, or start a free quote online.
---
The information in this article is obtained from various sources and is offered for educational purposes. Furthermore, it should not replace manuals or instructions provided by the manufacturer or the advice of a qualified professional. No warranty or appropriateness for a specific purpose is expressed or implied.