5
minute read
Traveling to a new country and immersing yourself in a different culture is one of the best ways to spend a vacation. From trying new foods to exploring new destinations, traveling offers us a way to escape our day-to-day routines. However, it's easy to feel overwhelmed when planning an international trip. While some nerves are expected, careful planning will help make your trip abroad less stressful.
So before you hop on board your flight, here are six steps to follow when planning a trip abroad.
1. Choosing a Destination
Before taking a trip abroad, you'll first have to decide where to go. Luckily for you, there's a whole world waiting to be explored. If you're having a little trouble picking a destination, try answering this question: What comes to mind when you hear the word vacation? Some may picture themselves relaxing by the beach, while others may imagine themselves exploring cities and sightseeing.
Regardless of your ideal getaway, chances are you already have a destination in mind. If not, try basing your decision on the activities you'd like to experience. For example, you wouldn't want to go to an island known for its beautiful beaches if your preferred activity is deep forest hiking.
Once you know your destination, determine the time of year you will be traveling. Some destinations may only offer what you're looking for during a specific time of the year. Additionally, traveling to popular countries during peak season could mean paying higher prices and dealing with crowds.
2. Create a Budget
Once you have a place in mind, you can then move ahead with determining your budget. Depending on your trip, your plane tickets and accommodations will likely be the most expensive items, so you'll want to ensure that these are covered.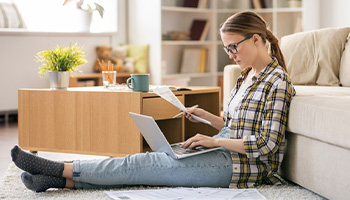 Extra factors to include in your budget are:
Transportation (rental, parking, insurance)
Dining (3 times a day)
Funds for activities
Shopping expenses
One-time costs (visas, passport renewal)
Emergency money
To make budgeting simple, we recommend choosing a set amount of money you'll be comfortable spending per day. Calculate this after determining your significant travel accommodations. For added security, overestimate your expenses to give you some financial leeway in the event of an emergency.
3. Have Your Documents in Order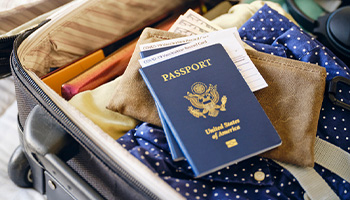 When traveling outside of the country, having your passport is crucial. Before booking your trip abroad, you'll want to ensure that your passport doesn't expire for at least six months before your planned departure. If your renewal is coming up, consider taking your trip after renewing your passport to avoid any potential mishaps.
You may need to obtain a visa depending on where you're heading. While a visa isn't necessary for many destinations if you're an American citizen, multiple countries will still require a visa.
As the world continues to battle COVID-19, you'll need to know your chosen country's travel restrictions and vaccine requirements. Using a travel map with updated information could be helpful when planning your trip, but always confirm any vaccine requirements with a country's official website or health department.
4. Book Your Flight and Accommodations
Okay, so you know where you want to go, your budget looks green, and your documents are all in order. Congrats, it's time to book!
At this stage, you should know what your plane tickets and basic accommodations will cost. While you may have limited options regarding your flight, you should have more variety regarding your accommodations.
You'll first have to decide whether you'd like to stay in a resort, hotel, Airbnb, or hostel. Looking at your budget will be key when choosing your sleeping arrangements.
Looking for something all-inclusive? Then you'll probably be happy going to either a resort or hotel. Need something a bit more inexpensive? Hostels are a great budget option. Airbnbs tend to fall somewhere between these options, but they can also get pretty pricey depending on their amenities and layout.
5. What About Insurance?
Travel Insurance
As you may already know, booking a vacation can quickly become expensive. With such large purchases, it's best to give yourself some financial protection by purchasing travel insurance. While travel insurance can vary depending on your provider, most policies will typically offer protection against situations involving trip cancelations, emergency medical expenses, and lost/stolen personal belongings.
There are multiple ways to shop for travel insurance online, or you can opt to purchase travel insurance through your booking site. But depending on what you carry in your wallet, you may already have coverage.
Some credit cards have built-in trip cancellation coverage, rental car coverage, and more. Keep in mind that you'll need to use the credit card with travel insurance to book your trip if you'd like to take advantage of its benefits. We recommend calling your credit card company to fully understand your travel benefits.
Auto Insurance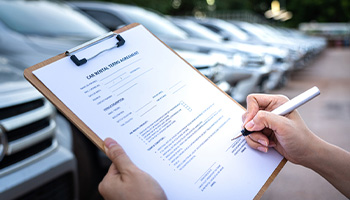 If you decide to rent a car, it's vital that you're also protected in the event of an accident, especially if the country you visit requires some form of auto insurance. Unfortunately, your home auto insurance won't extend your coverage while you're on your trip abroad. However, you still have a few options.
Once again, you may have built-in coverage depending on your credit card. Some credit cards come with coverage options that cover rental vehicle damage. Coverage can vary, so it's best to review your card's benefits, as some may only provide coverage for a limited amount of time. To use your credit card's benefits on your trip abroad, you must pay for the rental using the card.
If you're traveling to Canada, most auto insurance policies will cover you throughout your trip. If you're heading south to Mexico, you'll need auto coverage from a Mexican insurance provider. However, most American insurers have partnerships with authorized Mexican providers that could simplify the process. Be sure to speak with an insurance specialist to learn more about your available options.
Renters Insurance
Do you have a renters insurance policy with theft protection? If so, your personal belongings may be protected against theft, even when traveling. However, it's important to remember that every policy is different, and there are limits to the coverage. Speak with your insurance provider to learn more about what's protected under your policy.
6. Last Minute Details
It's the week of your departure and everything's booked, insured, and paid for—hooray! But, there are still a few last-minute details you'll want to take care of. Consider doing the following before leaving to have a seamless trip:
Inform your bank and credit card company that you'll be traveling out of state.
Make copies of your passport and store them in a different location than your passport.
Order foreign currency from your bank.
Inform your phone carrier of travel and add a travel plan, or purchase a local sim card when you arrive.
Stay Protected at Home
No matter where you decide to visit, keeping your home base protected with a homeowners or renters policy will give you peace of mind knowing you're protected against life's what-ifs. At AIS, we can help you find the coverage that works best for you. To learn more about your available insurance options, give our insurance specialists a call at (888) 772-4247.
---
The information in this article is obtained from various sources and offered for educational purposes only. Furthermore, it should not replace the advice of a qualified professional. The definitions, terms, and coverage in a given policy may be different than those suggested here. No warranty or appropriateness for a specific purpose is expressed or implied.