3
minute read
In life, it's important to take time off throughout the year to recharge. While taking a trip across the country is always fun, we sometimes forget that there is plenty of exploring to do in our home cities. Additionally, if you're limited on time, traveling somewhere far away can really cut into your available vacation time. Why stress planning an extravagant trip when you can have a relaxing staycation?
While you may think staycations are dull, there are plenty of ways to have one that is both exciting and relaxing. As with any vacation, the key is to have a plan with clear goals in mind. Doing so will help you get that vacation feeling without going far from home.
Benefits of a Staycation
Savings: With hotel reservations, car rentals, plane tickets, and more, traveling can quickly become expensive. However, with a staycation, most common travel expenses won't apply to you, which will help you save money.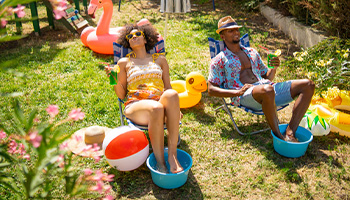 No baggage: Staying local means you won't ever overpack, or worse, underpack. One of the most significant stresses of traveling is making sure you have everything you'll need on the trip. Staycations mean you'll always be close to home, meaning you can ditch the bulky luggage and simply carry what you'll need for the day.
No travel: Traditional vacations often require loads of travel, and it can often be a pain to get to and from your final destination. Staying local helps avoid wasted time, allowing you to spend more hours doing what you actually want to do.
Giving back locally: With all the craziness we've faced over the past few years, it's crucial now more than ever to give back to our local communities. You can explore all the local small businesses you've been eyeing while in your neighborhood on a staycation.
Activity Ideas for the Ultimate Staycation
1. Become a Tourist in Your Local Community
If you live in a big city, a staycation is a perfect way to explore it fully. As locals, we often take for granted what others travel to our communities to see. Chances are you have plenty of exciting places to visit within your local area. When on a staycation, use the time to explore your city the way a tourist would. This could include booking local tours, going to museums, trying new restaurants, and visiting popular local attractions. To make it more fun, everyone in your family can take turns selecting new places to visit.
2. Turn Your Home into a Spa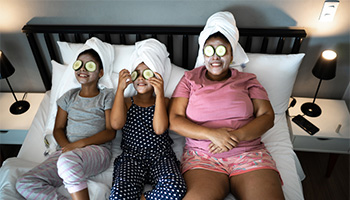 Nothing says vacation more than a spa day. While you may not be able to bring an entire spa into your home, a few quick purchases and some rearranging can turn any space into a personal spa. Try replicating a spa environment by picking up fresh bath towels, scented candles, bath salts, and relaxing music. Anything from a long relaxing bath to at-home facials with masks and creams will have you feeling refreshed—without any excessive price tags!
3. Room Service
One of the best things about staying in a hotel is having room service just a call away. If you're taking a staycation with a partner or others, consider choosing days where you'll serve each other room service. That way, everyone can feel like they're staying at a five-star hotel. The best part? You'll have complete control over the menu! Stay in bed as your partner or family member cooks breakfast, then return the favor the next day.
4. Take a Cooking Class Online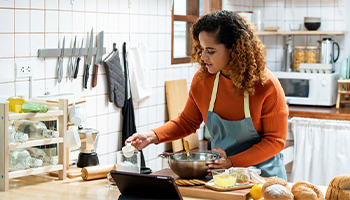 Part of what makes traveling so rewarding is learning about different cultures and experiencing something new, so why not do the same on your staycation? Instead of going out to eat, plan a day where you'll attempt to cook something new or join an online cooking class. The key is to pick something you usually wouldn't make. That way, it'll be a fun learning experience, and you'll walk away with a tasty reward.
5. Host a Wine or Beer Tasting Event
These days, you most likely have some craft breweries and wine stores nearby. Consider hosting a wine or beer tasting event to replicate the feeling of going out and "tasting" the town. We recommended choosing a theme or region to follow, such as local-only beer or wine from Napa Valley. To get the most out of your time, shop for your beverages while being a tourist in your local community. Then, once you're back home, sit back and unwind with friends and a drink of your choice.
Keep Your Home Protected
Whether you're at home or away, you always want your home protected from burglaries, weather events, or other covered damages. A standard homeowners insurance policy covers the physical structure of your home, permanent structures on your property, and personal property. If you have any questions regarding your homeowners policy, an AIS insurance specialist can help. Call us today at (888) 772-4247 to learn more.
---
The information in this article is obtained from various sources and is offered for educational purposes. Furthermore, it should not replace manuals or instructions provided by the manufacturer or the advice of a qualified professional. No warranty or appropriateness for a specific purpose is expressed or implied.