4
minute read
Seeing your child graduate and head off to college is an exciting moment in a parent's life. However, no matter where they're going, you likely have some questions regarding how the change will affect your auto insurance policy. In fact, college comes with many additional finances, so it's essential to understand your options regarding any potential savings. If you're preparing to send your child off to school soon, this guide will cover everything you need to know about auto insurance for college students.
Should College Students Purchase Their Own Auto Insurance Policy?
Whether or not a student will be required to purchase their own auto insurance policy while in college will depend on their permanent address and who owns the vehicle that they'll be driving.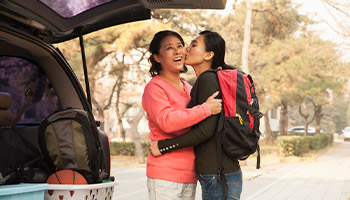 Generally, most insurers allow college students to remain on a parent's policy when they head to school if their parent's home address is still their permanent address. This is often the easiest option, but it can also be the cheapest route for a student driver. However, whether a student can remain on their parent's policy will ultimately depend on who owns the vehicle that the student will be driving:
Say the student's parents own the car (the title is in their name). In that case, both the student and the vehicle may be allowed to remain on the parents' policy.
If the car is jointly owned by the student and parents, both the student and vehicle may be allowed to remain on the parents' policy.
If the student is the sole owner, they'll likely be required to purchase their own policy under their name.
As with all major life events, be sure to speak with an auto insurance specialist before making sudden changes to your policy.
What about Out-Of-State College Students?
Most states allow out-of-state college students to stay on their parents' auto policy if their primary residence is still their parents' address. However, a state may require students to obtain their own policy or increase coverage to meet the state's minimum requirements.
Auto Insurance for College Students: Potential Coverage Options
If your or your child will be heading off to school soon, it's essential to review your current auto policy to ensure it provides the proper coverage you'll need aside from any state requirements.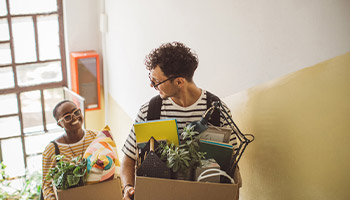 For example, if the student takes a car to school, consider where it will be parked. College campuses and towns tend to have many moving parts, making minor accidents or theft likely. As a result, opting for comprehensive coverage may give you added peace of mind. That way, you'll be covered against theft, vandalism, falling objects, and natural disasters.
Collision coverage is also good if the student is commuting to and from school. On average, young drivers are more likely to be involved in an accident than older drivers. Therefore, to keep their vehicle protected against any damage caused by an accident, consider opting for collision coverage.
Suppose you or your student is leasing or financing a vehicle. In that case, the lender may require the vehicle to have both comprehensive and collision coverage. If the vehicle is paid off, dropping these coverages may help you save on your premium. However, keep in mind that any damage caused will then need to be paid for out of pocket.
Auto Insurance for College Students: Available Discounts
When it comes to auto insurance, there are many potential discounts you can take advantage of to lower your premium.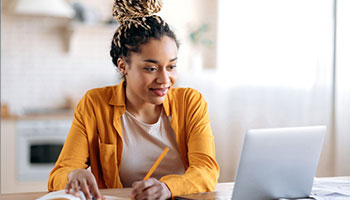 Good Student Discount: Most insurance providers offer discounts for students who receive good grades in school. Generally, to qualify for this discount, students must maintain a B average overall while being enrolled full-time. Please be aware that some providers have an age limit for this discount, often between 23 to 25 years old.
Distant Student Discount: If your student is away at school and leaves the car they usually drive at home behind, you may be eligible for a distant student discount. If your student is over 100 miles away, this discount could help you save while the car is non-operational. Some age restrictions may apply depending on your insurance provider.
Multiple Policy Discount: If your child must purchase their own policy, they could potentially save by bundling. Insurance providers often offer discounts to those who buy more than one policy. Examples include bundling an auto policy with renters insurance.
Anti-theft discount: Vehicles with anti-theft systems installed help reduce the chance of theft, making them less risky to insure. As a result, insurers may reward drivers that take the extra steps to protect their vehicles.
Vehicle Usage-Based Discounts: Insurance companies are increasingly adopting rates based on mileage verification in some states. This method uses devices to track your actual vehicle usage (telematics). Check if your company offers one of these discounts.
Speak With an Insurance Specialist
If you or your student is preparing to head to college, it's best to speak with an insurance specialist to ensure you have the proper level of coverage. A good specialist will know what questions to ask to keep you protected and may even be able to find potential savings. If you have any questions regarding auto insurance for college students, call an AIS Insurance Specialist today at (888) 772-4247.
---
The information in this article is obtained from various sources and offered for educational purposes only. Furthermore, it should not replace the advice of a qualified professional. The definitions, terms, and coverage in a given policy may be different than those suggested here. No warranty or appropriateness for a specific purpose is expressed or implied.