4
minute read
Looking for a great ATV riding getaway? Whether you're looking to take a riding vacation or hoping to check something off your bucket list, there are so many great places to ride around the U.S. No matter what type of off-roading vehicle (ORV) you have, we got you covered with terrains that you can go desert riding, rock crawling, river crossing, or mudding. Below are a few of the best ATV trails to try out in the U.S.
Best Off-Roading ATV Trails
There are hundreds of thousands of off-road trails for you and your ORVs to explore in the U.S. This list features a small handful of the best and most diverse terrain. Get ready to rev your engine!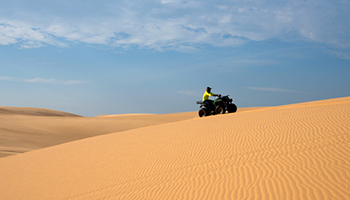 The Imperial Sand Dunes, also known as Glamis, is a California hot spot for every type of ORV rider. Formed by windblown sands, the dune system features a 40-mile long off-roading playground with dunes reaching 300 feet above the desert floor. The dunes are open year-round. But be careful, this natural sandbox gets well over 100 degrees in the summertime, so it's best to plan your ride for the fall, winter, and early spring months. A $35 per week permit is required from October 1 through April 15 each year in which you can RV or tent camp along the edge of the dunes.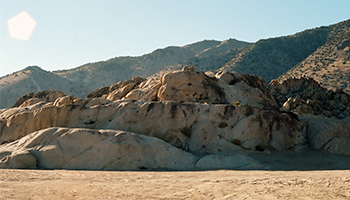 More officially known as the Hungry Valley Recreational Area, this bizarre landscape is a true geologic wonder that resembles something out of the planet. Its extensive trail is outfitted with enormous granite rock formations making it a popular play area for off-roading and rock crawling. There are no entrance fees and it's a perfect boondocking location. But keep in mind this area is in the middle of nowhere. So if you are planning to rip it up on the moon, prepare yourself with enough fuel, food, and water for your time here.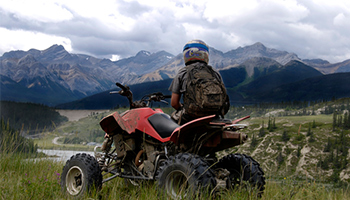 Don't feel like spending your time at a BLM campground? Head to the Cumberland Mountains and visit Ride Royal Blue Resort in Tennessee. Undoubtedly, it's the largest family-owned ATV resort and campground with over 600 miles of off-road trailing system. The trails are suitable for all skill-level where you'll be able to explore seven different waterfalls and get a chance to see the famous Hatfield Knob Elk Viewing area. It's not just for off-roading enthusiasts. If you happen to be an RV enthusiast, the resort has a full hook-up RV campsite in addition to cabins, restaurants, and general stores for fellow visitors.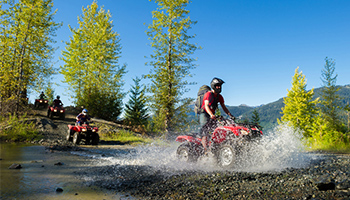 The Hatfield McCoy Trails is one of the most well-known and biggest ORV areas in the country. Also known as Trails Heaven, it features over 800 miles of trails split between eight trail systems. Here you'll be able to explore scenic mountains to twisting turns in the back-country woods, which will surely keep you riding for days. All of the trails are open year-round for ATVs, UTVs, and dirt bikes exploration. Additionally, many of the trails connect to West Virginia's ATV-friendly towns, where riders can grab a bite to eat and experience its hospitality.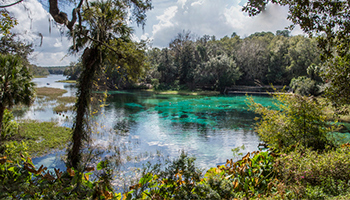 Located just north of Orlando, the Ocala National Forest offers more than 200 miles of ATV/motorcycle trails and another 81 miles of off-road trails for Jeeps and other 4WD vehicles. While there should be something for everyone, the trails are map out for slow speeds so riders can view and appreciate its scenery and wildlife. The best part of visiting the Ocala Forest is that it's open year-round and contains more than 600 lakes, rivers, and springs. That means after taking your ATV out for a spin, head to the waters for a swim to cool off!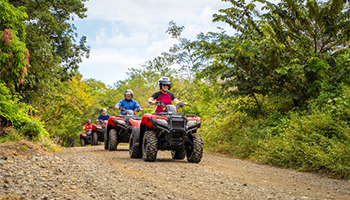 We're saving the best for last because this ATV trail is an off-roader's paradise! It's the largest and most popular trail system in the U.S. and ranked multiple times as the best ATV trail in America. With over 1,500 miles of dirt trails, which sweep through four south-central Utah counties, the Paiute and Gooseberry Trails take you on a variety of terrains ranging from flatlands to majestic summits at 11,000 feet. Plan on spending at least a couple of days or even weeks riding here because there are so many activities to do besides riding, like fishing, hiking, rafting, and exploring abandon mines and ghost towns. Along the trails, you'll find access roads into small towns with ATV-friendly hotels to accommodate your stay or small diners for a home-cooked meal.
Before You Go ATVing
When you find the perfect riding destination, be sure to complete an inspection of your ATV before you load up your toys. Here are a few things to check for:
Inspect your tires condition and air pressure.
Ensure all controls work smoothly (Throttle, Brakes, and Foot Shifter)
Check all lights and electrics.
Top off fluids and check for fuel or oil leaks.
Tighten lug nuts and bolts.
Adjust and lubricate your chain regularly.
Do You Need ATV Insurance?
Depending on where you live, your state may require you to register your ATV and/or provide proof of liability insurance. Even if you live in a state that does not require either, it's important to understand that ATVing can be dangerous to riders and those around them. Ensure you're protected in case of an accident by speaking with one of our licensed Insurance Specialists at (855) 919-4247. We'll help you find the right insurance to protect you, your loved ones, and your hobby crafts.
---
The information in this article is from various sources. This content is offered for educational purposes only.The definitions, terms, and coverage in a given policy may be different from those suggested here, and no warranty or appropriateness for a specific purpose is expressed or implied.