4
minute read
Have you noticed a surge of people opting to travel in an RV? Since the pandemic, vacationers have been flocking to rent or buy recreational vehicles as a safer way to travel. Perhaps you thought about experiencing the RV lifestyle yourself and would like to rent an RV for the first time. After all, nothing beats exploring the great outdoors than having your own set of home on wheels. In this guide, we'll break down a few things you should know before booking your first RV rental.
Choosing the Right RV
The first step in planning an RV trip is deciding which type of RV is right for your camping experience. RVs come in many different shapes and sizes, in addition to having various features and amenities. To help you narrow down your options, examine factors like rental cost, number of travelers and their wants, destination point, and length of your trip.
After discussing the needs of your group, decide whether you want to drive a motorhome or tow a travel trailer. By renting a motorhome, you have the option to tow a second vehicle, boat, ATV, or motorcycle behind it. If you feel more comfortable with a towable trailer, make sure you have a car with a high tow capacity. Here are the most common types of RVs to rent.
Class A — Largest and most luxurious motorhome resembling a coach or tour bus.
Camper vans/Class B — These are the smallest RVs, perfect for sleeping one or two people.
Class C — Has more space than a Class B and easier to maneuver than a Class A. A full kitchenette and bathroom are typically included.
Fifth Wheel — Offers the space and comfort of a Class A motorhome. However, these trailers are massive and require a special hitch onto the bed of a heavy-duty pickup truck.
Travel Trailer — Smaller than a Fifth Wheel and does not require a special hitch or heavy-duty truck.
Where to Book RV Rentals
RVshare, Outdoorsy, and RVnGO are some of the most popular peer-to-peer RV rental sites, where RV owners list their recreational vehicles for rent. Their unique marketplace provides a wide range of RV rentals, from luxury motorhomes to vintage trailers and retro vans. Campers can search online and filter RVs by price, type, size, amenities, and location. Because you are renting directly from an RV owner, it is a good idea to read the owner's profile and reviews before booking your rental to avoid any issues.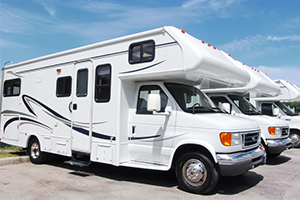 Cruise America and El Monte RV operate much like a traditional car rental agency. These rental companies own a fleet of newer RV models however, there is only a small selection of RV classes to choose from. Expect a traditional renting process, where you should read the fine prints and scope for hidden fees like cleaning and cancellation fees, extra mileage, equipment rentals, insurance, and more. An enticing offering not available on peer-to-peer rentals is the option to take a discounted one-way RV trip. Renters can then return the RV to a different location without paying additional fees. This is perfect for those who are on a time constraint and want to fly back home.
How Much Is It To Rent An RV?
The cost of renting a recreational vehicle depends on the type of RV, length of your trip, where you book it, seasonality, and your destination. In other words, there are a lot of factors involved in determining the cost of an RV rental. Not to mention, you must take into consideration the RV's gas mileage, insurance, campground and park fees, food, and more. But do not let the cost deter you from escaping to the great outdoors. The beauty of this form of travel is the flexibility of making your RV experience as grand or bare as you want it to be. Take a look at the average RV rental price from RVshare.
RV Type
Average Rental Price Per Night
Class A
$150-$250 (10+ years or older)
$350-$450 (newer)
Class B
$100-$200 (10+ years or older)
$200-$350 (newer)
Class C
$100-$200 (10+ years or older)
$225-$400 (newer)
Travel Trailer
$50-$125 (10+ years or older)
$125-$200 (newer)
Fifth Wheel
$60-$150 (10+ years or older)
$150-$300 (newer)
Research Campgrounds
So, you decided on the type of RV you want and where to book it. The next step in planning your RV vacation is figuring out where to stay overnight. There are tons of options to consider when booking a campsite. Some campgrounds range from luxury RV resorts with full hookups and beautiful views to bare-bones campsites with partial hookups and a simple place to park your RV. Want to save a few bucks and camp for free? Try boondocking at a remote location. The key here is to research your route and destinations ahead of time and plot your overnight stay in advance. Below are a few booking sites to consider.
Driving an RV for the First Time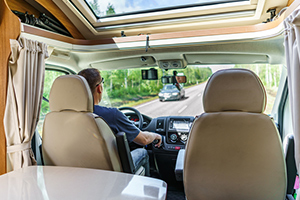 While you do not need a special license to drive a motorhome, there's an enormous difference in how each RV Class steers. If you are a first-time renter, we recommend limiting yourself to Class B, C, or small towable trailers since they're easier to maneuver versus a bus-size Class A or Fifth Wheel.  When driving, always break sooner than you think you need to, and check your route for low clearance. You certainly don't want to return the RV with a ripped-off roof. Additionally, be comfortable with driving slow. It's also a good idea to practice making turns, backing up, and parking before heading out on your trip.
Avoid These Rookie Mistakes When Renting
Get a walk-through from the RV owner or rental company and look for dents or damages.
Learn how to use electrical hookups, empty black and gray water tanks, and opening of the awning during the inspection.
Know the 2-2-2 rule. Drive less than 200 miles a day, arrive at camp by 2:00 pm, and stay two nights, or do not drive more than 300 miles in a single day.
Use walkie-talkies to communicate with someone guiding you from outside the RV when parking or reversing.
Pack light to ensure proper balance and weight distribution.
Consider your RVs gas mileage when budgeting.
Is Insurance Required?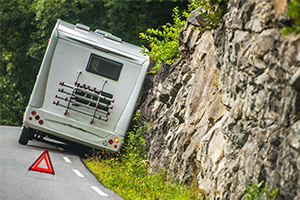 Before you rent an RV, make sure you have the proper insurance in case of an RV accident. Auto insurance policies may extend some level of coverage to your RV rental, but it is always best to call your insurance company for the final say. Give us a call at (855) 919-4247 to go over what coverage might be available through your existing policy. We'll help you determine if you need to purchase insurance from the rental company and answer any questions you have before hitting the road.
---
The information in this article is obtained from various sources and offered for educational purposes only. Furthermore, it should not replace the advice of a qualified professional. The definitions, terms, and coverage in a given policy may be different than those suggested here. No warranty or appropriateness for a specific purpose is expressed or implied.