5
minute read
Halloween means lots of sweet candy, scary thrills and unique costumes. Many people go all out when it comes to decorating their home for trick-or-treaters. While this is a great Halloween tradition, it should be performed with safety in mind. Depending on your neighborhood, you could get a hundred kids knocking on your door on Halloween night. You'll want to make sure they're as safe as possible on your property. You'll also want to make sure your Homeowners Insurance covers you in case any Halloween mischief occurs. We've listed several ways you can ensure that your home is safe for trick-or-treaters, while still creating a fun and spooky experience for everyone.
1. Clear walkways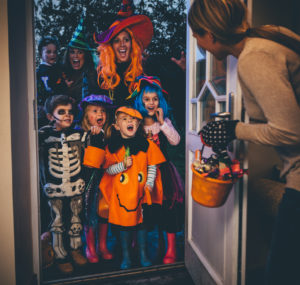 Trick-or-treaters will probably be too focused on their candy to pay attention to where they're walking. Make sure you remove all toys, stones, sticks and other objects from your front yard and all walkways. You want to be sure that there is nothing an unsuspecting trick-or-treater can trip over or slip on. Other hazards to be aware of in your front yard are sprinklers and hoses. Did you know that your Homeowners Insurance protects you if you if a mishap does occur and someone gets hurt on your property? Also, if your car or home is damaged on Mischief Night (the night before Halloween), your Homeowners Insurance and Auto Insurance should have you covered.
2. Create a well-lit path
It's never a bad idea to light up your porch for trick-or-treaters. Not only does this let kids and parents know that you're passing out candy, but it also decreases the chance of an accident. Since it will be Halloween, you can create a dramatic, fun and spooky display of lights to showcase your home. If you normally have motion-sensor exterior lights on the front of your home, make sure those are working, too. On this night, your lights will attract eager trick-or-treaters and deter vandals at the same time.
Line these orange pathway stake lights in your lawn along the path to your door. Also, this 3-pack of ghost, bat and jack-o-lantern string lights around your porch or wrapped on tree trunks.
3. Avoid any open flames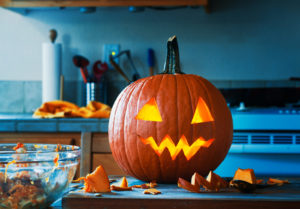 Everyone loves a warm and welcoming jack-o-lantern on their front stoop. However, using a real candle is a fire hazard and can be dangerous to candy seekers and your home. Costumes and Halloween decorations can easily catch on fire, so it's best to completely avoid using any traditional candles. Instead, use battery-powered, flameless candles. Stick multiple in your carved pumpkins for a spooky glow and place decorative ones around your porch to create dancing shadows and provide extra illumination.
Get a set of these gothic flameless candles to illuminate your front step with rainbow skulls. A 24-pack of black, flickering, batter-operated candles is also affordable and perfect to place inside your jack-o-lanterns.
4. Consider your Halloween decor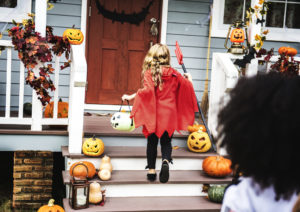 Having lots of fun and exciting decorations that pop up and scare trick-or-treaters will make for a great Halloween night. Just make sure that all of your decorations are safe. Instead of using shovels or pitchforks, switch to rubber or fake alternatives. Also opt for battery-powered decorations if possible. This will prevent you from overloading extension cords or overheating plugs and sockets.
Wreaths aren't only made for winter holidays. Hang a light-up skull wreath on your door for a spooky greeting. If your porch has enough room, have this harmonica-playing skeleton sit on chair and really creep trick-or-treaters out as they pass by. Both decorations are battery-powered, so you can place them anywhere without worrying about where to plug them in.
5. Keep pets safely locked away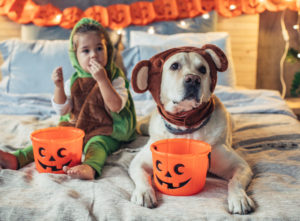 It's easy to assume that everyone loves a cute, cuddly puppy. But barking dogs can easily scare small children and even startle adults and preteens. You also don't want your pet to get out and get lost or run away. Make sure you have Homeowners Insurance if Fido has a history of being less-than-cuddly. Did you know that you're covered if your dog bites a trick-or-treater? Even if your pet is friendly, it's safest to keep them confined inside or in the backyard during trick-or-treating hours. This will prevent any mishaps, like tripping toddlers or scared kids running into the streets. Also, many people have allergies to cats and dogs so it's best to keep your pets away from any strangers, no matter how cute their Halloween costume may be.
Check out this Halloween-themed dog collar for if you decide to take your well-trained pet trick-or-treating with you. This will allow you to keep your dog close, controlled and dressed to impress as you go door-to-door.
6. Consider your candy choices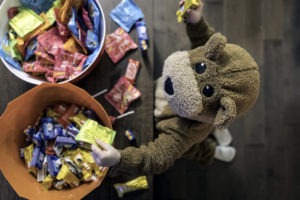 Other than decorating your home, buying bags of candy and passing them out to smiling faces might be the most fun part about Halloween. While you may want to be known as the house with the best treats, be wary of kids' allergies. Many children have nut allergies. Make sure to read the back of the candy bag for ingredients as an extra precaution so you're prepared with an alternative. You could also have stickers or small toys for children who have candy allergies but are old enough for the toys to not become a choking hazard. Also, never leave a bowl of candy out and unattended. While it's unlikely, someone could taint the candy. It's better for kids to skip your house this year than risk getting hurt.
These Halloween sticker packs come in bulk and are sold in-store and online just in time for the holiday.
7. Lock your doors and park your car in the garage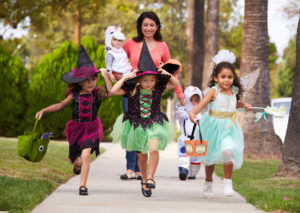 The risk of vandalism always increases on Halloween night and Mischief Night, or Halloween Eve. That includes a higher risk to your home and your car. If you plan on going out for Halloween, make sure all of your doors and windows are properly locked. It's also best if your car is parked securely in your garage rather than on the street or in the driveway. In general, you might want to consider investing in an alarm system or security cameras for the extra precaution. Did you know that if something is stolen from inside your car, you may be covered by Renters Insurance or Homeowners Insurance?
Insurance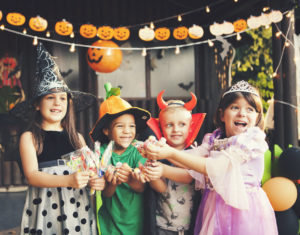 There are many simple ways you can ensure your house is safe for Halloween while still being the spookiest house on the block. Some other safety tips include securing any railings leading to your front door, avoiding glow sticks to prevent any accidental poisoning, and putting reflective tape on your children's Halloween costumes for extra caution when crossing the street.
While children may look forward to Halloween all year, you and your child shouldn't throw caution to the wind. Speak with an Insurance Specialist about your Homeowners Insurance and Auto Insurance before Halloween. You'll want to make sure your home and car are covered in the case of vandals or accidents.
---
The information in this article was obtained from various sources. This content is offered for educational purposes only and does not represent contractual agreements, nor is it intended to replace manuals or instructions provided by the manufacturer or the advice of a qualified professional. The definitions, terms and coverage in a given policy may be different than those suggested here and such policy will be governed by the language contained therein. No warranty or appropriateness for a specific purpose is expressed or implied.