3
minute read
People rent cars for a variety of reasons. Maybe you're going on a business trip, a family vacation or have your car stuck in the shop after an accident. Whatever the reason, almost everyone rents a car at some point in their lifetime. Luckily, car rental doesn't have to be a hassle. Check out these five ways to make your car rental experience a breeze.
1. Know Your Car Rental Payment Options
One of the biggest problems with car rental is that people don't realize there are specific payment requirements. Rental agencies generally require a form of payment that allows them to automatically recoup costs in common situations, such as the car not being returned on time. As a result, they'll probably ask for your credit card. In other words, you usually can't pay with cash for a car rental. So, it's best to call ahead and ask about your payment options.
Don't want to put your credit car down? If you have rental car coverage on your Auto Insurance policy, your insurance company may cover your rental car costs after an accident. If this is the case, you can have your insurance company set up a bill that they will pay the car rental company directly.
2. Have Insurance That Will Cover Your Cost
People often believe that their Car Insurance is tied to the driver. But in reality, it depends on both the insurer and the policy. You may have great Auto Insurance coverage, but it might only protect your personal vehicle. In other words, not all policies will cover your rental car. You may not have rental car coverage on your policy in the event your car is in the shop due to an accident.
If you do have rental car coverage on your policy, then your life will be much simpler after an accident that puts your car in the shop. You will be able to walk in, provide your claim number, rent a car and drive off if you have the right type of coverage. Not sure if rental car coverage is included on your policy? Speak with an Insurance Specialist at (855) 919-4247 to confirm or add it today.
3. Sign Up for Preferred Status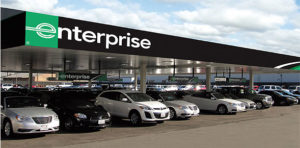 If you'll be using a specific car rental agency a few times a year or more, ask about their preferred status program. Joining a loyalty program can often be worth the money. As a preferred member, you get speedier service, access to different programs and your choice of cars. Different rental agencies have different programs, so look at your rental history and companies you prefer. Then call them about what they can offer you for being a loyal customer.
4. Have a List of Rental Cars You Want
One thing that can really help the car rental team get you out the door and into a car is when you know exactly what you're looking for as soon as you step through the door. True, not every rental car agency will have every car available. But, if you have a list of two to four cars that you'd like to rent, they'll usually be able to quickly put you in one of them. You can usually check to see which cars a company has on their website. Alternatively, check to see if your preferred rental company has a mobile app. You can use it to look at their inventory before you walk in the door. That way, you'll spend less time looking at cars on the lot and more time on the road.
Just be sure you check the limits of your rental car coverage first. Your Car Insurance policy may not cover the entire cost of the car rental. Depending on your policy limits, you may have some out of pocket expenses if the car you want to rent is more expensive than what your insurance covers.
5. Have Your Paperwork with You
It seems simple, but this really is a common problem for rental car outlets. Customers walk in the door without proof of insurance or any insurance claim information, and sometimes even without a driver's license! So, take a moment before you head out to get your paperwork in order. The fewer calls a car rental agent has to make, the less time will be spent hashing out the details.
---
This content is offered for educational purposes only and does not represent contractual agreements. The definitions, terms, and coverages in a given policy may be different than those suggested here. Such policy will be governed by the language contained therein. No warranty or appropriateness for a specific purpose is expressed or implied.