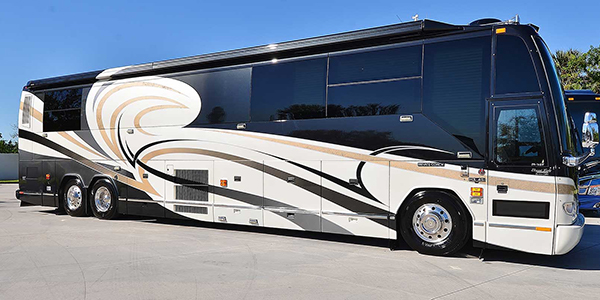 One type of RV that is becoming increasingly popular is the Bus Conversion motorhome. A bus conversion to RV is designed to travel millions of miles if it is well maintained. These types of RVs also come with many built-in safety features that do not have to be bought. One convenience that Bus Conversion owners will brag about is their load capacity, which is much higher than a standard motorhome's. You usually don't have to weigh the contents of your RV before you set out on your adventures.
However, Bus Conversions are often hard to define in the world of insurance so it's always good to work with an RV Insurance Specialist who is very familiar with what kinds of coverage a bus conversion requires. While many carriers refuse to cover these types of RVs, a reputable Insurance Specialist will know which carriers offer specialty RV policies that meet the unique needs of bus conversion owners.
We know that you made an investment in renovating your new home-on-wheel. Protect yourself with the right insurance.
If you haven't yet decided what kind of bus you want to convert to an RV, here is a basic primer:
3 Types of Bus Conversions
Pre-Conversion Bus
You must be insured even if you don't plan to take a long trip until you've renovated your new vehicle. If there is any kind of physical damage or vandalism/theft, you will be at a complete loss. While there are Seasonal RV Insurance products, there really are no temporary policies to transport your RV to a shop or home. You'll need to buy RV Insurance for at least six months. Remember that while buying only Liability Insurance is cheaper, Comprehensive Insurance is what will cover physical damage is something happens to your RV that duration of time that you're fixing it up.
Older Bus Conversions
Do you dream of having a huge bus, maybe even a tour bus, for your camping adventures? Many people renovate old buses and turn them into unique and luxurious RVs. If you're thinking of buying an older bus, know that they do come under great scrutiny by insurance companies, especially if they are older than 20 years old. You may need to have it inspected by a mechanic to ensure that the vehicle's systems are up-to-date and working properly.
School Bus Conversions
Yep, all the cool kids are doing it. It really is becoming very popular to take school buses and turn them into RVs but many RV Insurance companies try to avoid them due to the narrow axle on a school bus. The additional weight of a conversion can make the bus top heavy, which makes it more prone to rollovers. School bus conversions have a history of being the most accident-prone of the three bus conversion types. Keep that in mind and build it with safety in mind.
Are Bus Conversions More Expensive Than RVs?
Not necessarily. Of course, if you buy a professionally renovated bus that has all the conversions built on a Prevost chassis, it can cost you over $500,000. Many people opt to do their own conversions over buying bus conversions for sale. They do so using the expensive Prevost chassis or even other shells, such as those from GM, Eagle or MCI. The old Greyhound buses are a little less steep in price. If the conversion is done correctly by the owner and with savings in mind, a Bus Conversion can much cost less than a new motorhome. Also, Bus Conversions can also have a longer life than your average motorhome which will not run after 25 years (if it even lasts that long). Some Bus Conversions are built upon buses dating back to the 1950s!
What Should I Know About Doing My Own Bus Conversion?
Sketch a few options after flipping through a bus conversion magazine or two. Think about what you'll be using the bus for and consider the following as you map out your bus conversion floor plans:
How many people you need to fit (and sleep)? Will you need bunks to fit more people?
Consider whether or not you plan to boondock, or dry camp, without any amenities. These factors will determine what kind of power source you'll need and what size fresh-water tank would make sense.
How many bathrooms will you need? What kind of kitchen will you require and where do you want to put it (you'll need to check for a place to put a black or grey tank and pipes)? The same goes for bathroom(s). Your plan can only work if the bus is set up to make it happen.
Create a blueprint or a pencil sketch of what you want in the RV and which way you want beds to face, etc.
Figure out the electrical system in the bus conversion. Estimate how electricity you'll need and where you want to place outlets and switches. Do you have the expertise to do the electrical work on your own? If not, we advise against it. We highly recommend hiring a professional RV technician to set up your electrical system versus following guides. You could end up spending lots of money and destroying it by not knowing what you're doing.
After you figure out where your bathroom or bathrooms will be placed, decide if you've got the expertise to do your own plumbing and piping. Again, it's not advisable to learn as you go with an investment. Hire a professional RV technician or plumber to set up your water system.
RV Insurance
Once you decide what you need, it's good to get a few quotes based on the value and usage of your RV. You may even qualify for Seasonal RV Insurance if you only plan to use your Bus Conversion only a few months out of the year. Some carriers will only cover Bus Conversions for liability. Speak with a qualified and trustworthy Insurance Specialist to find out what your options are and to get your free quotes today: (800) 499-8943.
---
The information in this article was obtained from various sources. This content is offered for educational purposes only and does not represent contractual agreements, nor is it intended to replace manuals or instructions provided by the manufacturer or the advice of a qualified professional. The definitions, terms and coverage in a given policy may be different than those suggested here and such policy will be governed by the language contained therein. No warranty or appropriateness for a specific purpose is expressed or implied.