5
minute read
In recent years, California has become a popular state to park your RV. Whether it's for a weekend getaway, month-long vacation or full-time residency, California has so much to offer. From sunny skies and sandy beaches to mountain tops and stunning lakes, there are so many places to explore in the Golden State. Why wouldn't you want to go RVing full-time and permanently live in the great outdoors of California?
You might be skeptical about the cost of RVing full-time in California. However, making an RV your permanent residency is often cheaper than living in an apartment in California. It's also much more adventurous!
If you're truly considering living as a full-time RV resident in California, here are 5 main factors you need to consider.
1. Buying your RV
If you don't already own an RV, your biggest cost will most likely be the motorhome or travel trailer you buy. You should first decide on whether you want to purchase a new or used RV. Also determine which model is most suitable for your budget and lifestyle.
New
The first thing you should do when looking to buy a new RV is visit dealerships and RV shows. Take a long look around and step inside the different types of RVs. Really think about the top must-haves that you really could not live without. Will the RV you buy accommodate everything you need? If you're planning on truly RVing full-time, you'll most likely want a Class A, B or C RV that isn't detachable and probably won't raise your RV Insurance costs. Ideally, you'll want to purchase the RV without monthly payments, but this will ultimately depend on your budget.
Used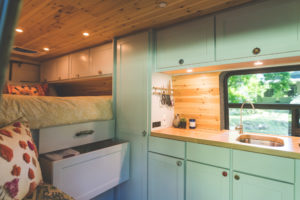 If you'd like to pursue a more affordable route, you might decide to purchase a used RV. In this case, you'll definitely want to make sure you do a lot of research. The RV should be in good mechanical condition and not have too much mileage on it. You also don't want an RV that's been beaten to death or left sitting for years. Make sure you're not going to be spending a lot of money on expensive RV maintenance later down the line. It might make sense to invest a little more in a used RV that is in good condition and fits your lifestyle needs rather than a cheaper option that seems less reliable. This can save you lots of money in the long-run.
2. Parking your RV
The next step is figuring out where in California you want to live and park your RV, at least most of the time. From Northern California to Southern California, there are many cities, climates and price ranges to choose from. When looking for your ideal long-term RV destination, consider the type of RV site, the amenities offered and the surrounding area.
Type
There are several types of RV sites that you can choose from if you're looking to park your RV somewhere long-term. There are three main types of RV sites, including RV parks, campgrounds and RV resorts. Most campgrounds have a limit on how many days you can stay, so you'll probably end up parking at an RV park or resort. Residential RV parks in California offer monthly, seasonal or annual lot rentals. However, many non-residential RV sites will also have limits, so make sure to check ahead of time and reserve your space if possible. Another option is finding a driveway to park in. Maybe a friend will let you park your RV on their property and use their utilities for some rent.
Amenities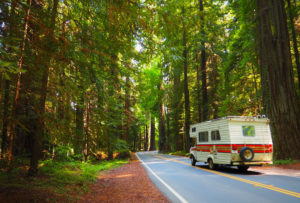 Certain amenities will become necessities when you're RVing full-time, so you need to make sure you have access to them at your RV site. Sites with full-hookups include the main amenities you'll need like water, electric and sewage. This will save you from spending money at water and dumping stations. A helpful tip is to choose an RV site with laundry accommodations. Save yourself the trip to the laundromat and utilize RV parks' on-site laundry services so you can avoid the hassle.
Location
Definitely consider climate and weather conditions when choosing your long-term RV destination. First and foremost, make sure your RV is built to withstand any harsh weather conditions if necessary. You may want to live in one part of California during the summer and then move to a spot that continues to stay warm in the winter. You should also research the surrounding activities and entertainment surrounding your RV site. There's so much California has to offer RVers. You could stay somewhere close to a bustling city with cool food spots and historical buildings, or you could park your RV somewhere away from the noise to enjoy hiking and fishing. One of the great benefits of living full-time in your RV is that you can always do both!
3. Cost Breakdown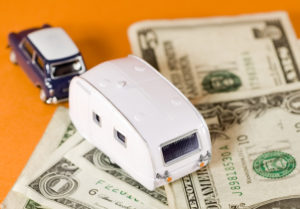 Many people thinking about transitioning to RVing full-time are concerned about the cost. We've put together a monthly cost breakdown for two people based on full-time RVers' typical living costs, so you can start figuring out your own budget. Remember that your monthly living costs will vary because every RVer is different. You should expect your costs for RV sites, gas and food to fluctuate month to month depending on where you're staying and how often you're on the road. You may spend barely $1,000 one month and over $3,000 the next just depending on location. It's helpful to remember that living in your RV full-time will be a continuous adventure and that you'll learn a lot as you go.
| | |
| --- | --- |
| RV Site | $450-$1,500 |
| Gas | $250-$400 |
| Groceries/Eating Out | $500 |
| Phone/Internet | $250 |
| RV Maintenance | $100 |
| RV Insurance | $100 |
| Monthly Total | $1,650-$2,850 ($2,250 on average) |
| Yearly Total | $19,800-$34,200 ($27,000 on average) |
 4. RV Insurance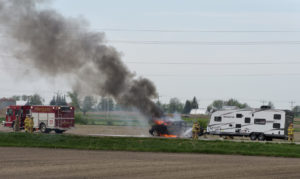 Even if you plan to RV occasionally or only use your trailer or motorhome seasonally, you should never rely on standard Auto Insurance for RV coverage. If your RV is both a dwelling and a vehicle, why would you only buy insurance created for an automobile? The more you use your RV, the more protection you should carry in terms of insurance coverage. The more your RV is on the road, the higher the chances that you'll incur some type of loss. The bathroom and kitchen in your RV also make it different from a car and pose new risks. It's always best to buy Specialized RV Insurance now, so that you don't have any out-of-pocket expenses later.
Keep in mind that your RV Insurance cost will vary greatly depending on what class type you have and how old it is. Your driving record and the coverages you choose will also affect your rate. RVing full-time as opposed to seasonally may also increase your premium. On average, RV Insurance costs about $800 per year in California for a Class C motorhome, but can go up to $4,000 per year for a luxury Class A motorhome.
5. Other Helpful Tips for RVing Full-Time
Before you take on the open road, check out some of our other tips for RVing full-time:
Invest in Roadside Assistance
Don't get stuck on the side of the road in the middle of nowhere. Quick RV Insurance offers affordable roadside assistance for your RV. Call (866) 501-7335 to speak with an RV Insurance Specialist about roadside assistance services today.
Have an Emergency Fund
It's always better to be safe rather than sorry. Make sure you have enough back-up money in case something important needs to be fixed or replaced in your RV.
Join an RV Club
For frequent and full-time RVers, there are many club memberships out there that can help save you money every year. Passport America and Escapees have affordable yearly membership subscriptions that provide you with discounts of up to 50% on thousands of RV parks and campgrounds across the country. Escapees RV Club is particularly handy for full-time RVers, as they operate 19 RV parks specifically for full-time residents.
---
The information in this article is obtained from various sources. This content is offered for educational purposes only and does not represent contractual agreements. The definitions, terms and coverages in a given policy may be different than those suggested here. Such policy will be governed by the language contained therein, and no warranty or appropriateness for a specific purpose is expressed or implied.