3
minute read
Whether a homeowner or renter, your home insurance is designed to protect your personal property from disasters such as fire or theft. However, many individuals don't realize that typical homeowner policies tend to have dollar value limits on certain valuables, such as jewelry. To help you better protect your personal property, we'll be covering the basics of jewelry insurance and the different options available to you.
Does My Home Insurance Cover My Jewelry?
As mentioned, standard homeowners, renters, and condo insurance policies provide some coverage for your personal property.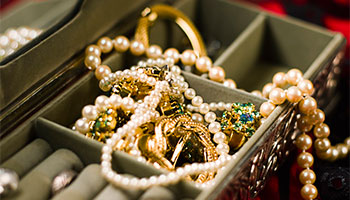 While every policy is unique, it's normal for personal property to be insured for 20-50% of your home's coverage limits. So, suppose your dwelling is insured for $400,000, and you have 50% personal property coverage. In that case, your insurer could pay up to $200,000 to replace your property after a covered loss.
Although jewelry is included in personal property coverage, insurance providers typically place sub-limits on valuables like jewelry and fine art. For example, according to the Insurance Information Institute, typical limits for jewelry tend to be around $1,500.
Depending on your jewelry collection, you may need more than $1,500 to replace your item. Additionally, your insurance provider will likely subtract your deductible from any claim payout, resulting in an even greater loss. For example, let's say your $1,500 ring is stolen, and you have a $1,000 deductible on your home insurance policy. After subtracting your deductible, you'll be left with a $500 payout from your provider.
If you own a small collection worth less than your policy's sub-limit, your home insurance should offer you adequate coverage. However, it's important to remember that filing a claim could result in a temporary increase to your insurance rate.
Will My Home Insurance Cover Lost Jewelry?
Losing an item isn't typically a covered peril by most home insurance policies, so you'll likely have no coverage if you accidentally misplace your jewelry. Thankfully, there are other insurance options available that can provide increased payouts and cover greater perils.
Increasing Coverage by Adding an Endorsement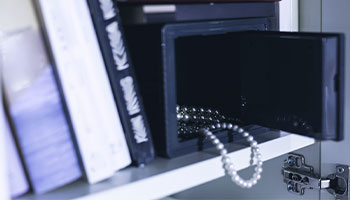 To fill in the gaps and provide the full coverage you need, insurance providers offer endorsements. Also referred to as riders, floaters, or scheduled items, these are specific items that you add to your existing home insurance policy.
To endorse a jewelry piece, you'll typically be required to appraise your item so your insurer can verify the item's value. Keep in mind that adding a scheduled item to your policy will likely raise the cost of your premium. Any rate change will depend on the amount of coverage added based on your jewelry's value.
If you have one or more pieces of jewelry worth more than your policy's jewelry sub-limit, consider adding those as floaters to your home insurance policy for greater protection.
Purchasing A Specialized Jewelry Insurance Policy
When you file a claim or schedule an item, your home insurance rate will likely be affected somehow. However, this can be avoided by purchasing a specialty policy, which AIS can help you with.
With a specialized jewelry policy, any claims made will stay off your home insurance record. Additionally, purchasing a jewelry insurance policy could offer the following benefits:
Greater coverage, including accidental loss, damage, and mysterious disappearance
Coverage for set pieces, such as one earring
Preventative maintenance, such as clasp replacement
Access to a network of reliable jewelry professionals if repair/replacement is needed
No deductible policy options
If you don't want any jewelry claims to affect your home insurance, or if you have an extensive collection, bundling a specialized jewelry insurance policy with AIS may be your best option.
How Much Does Jewelry Insurance Cost?
Policies can vary depending on your insurer, but you can expect to pay around 1-2% of the item's value for your jewelry insurance per year. So, if your ring costs $5,000, it could cost you around $50-$100 a year to insure.
How Does a Jewelry Insurance Claim Work?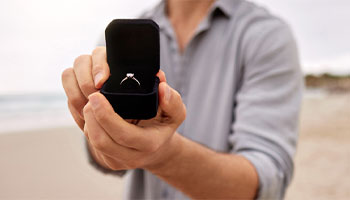 To avoid surprises when filing a claim, it's crucial to understand how typical jewelry insurers compensate their customers.
Most insurers offer "repair or replacement" policies, which means they'll work with a jeweler to replace lost or damaged pieces but won't provide a cash payout. This may be fine for individuals with new, standard-style jewelry but may be a problem for those seeking to insure a family heirloom that isn't easily replaceable.
Before agreeing to a policy, ask your agent about the payout policies to avoid potential confusion down the road.
Protecting Your Home and Valuables
Your homeowners insurance will protect your property from life's what-ifs: what if there's a structure fire? What if a car crashes into my wall? In these cases, your standard homeowners policy will cover the costs to repair any structural damage (up to your policy limits). However, for expensive valuables like jewelry, it may be worth purchasing a specialty policy, which AIS can help with.
If you have any questions or would like to bundle this specialty policy, give our team a call today at (888) 772-4247.
---
The information in this article is obtained from various sources and offered for educational purposes only. Furthermore, it should not replace the advice of a qualified professional. The definitions, terms, and coverage in a given policy may be different than those suggested here. No warranty or appropriateness for a specific purpose is expressed or implied.