3
minute read
When it comes to home maintenance, a roof inspection can be easy to overlook. If there are no leaks in the house, everything should be in good condition, right? Unfortunately, that's not always the case. While a leaking roof is a clear sign of damage, there could be additional problems that may not be as easy to catch.
Performing routine inspections and maintenance will not only help you catch issues before they get worse, but they'll also help you avoid costly repairs. Not sure where to begin? This roof inspection and maintenance guide will cover how to get started.
Why Do I Need a Roof Inspection?
Your roof is not just a passive feature of your home. Instead, it is one of your home's many systems, just like your HVAC or electrical system. Because of this, your roof requires proper inspections and maintenance to ensure it's in its best condition.
A roof inspection comprehensively examines your roof and its various components. After the inspection, you'll better understand your roof's condition and whether any corrective maintenance is required. Additionally, when selling or buying a home, roof inspections are important to certify the roof's state before closing.
A Roof Inspection and Maintenance Checklist
1. Check Your Roof Frequently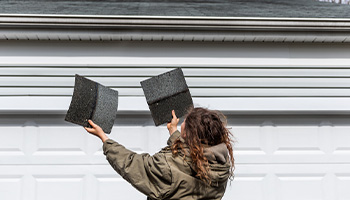 The easiest way to stay on top of your roof's condition is to frequently look it over, especially after harsh weather. The good news is that you don't have to grab your ladder to do so; your eyes and a pair of binoculars will do just fine. For your safety, it's best not to step foot on your roof unless necessary, as angled roofs and hidden weak spots can be dangerous.
From the ground, look at your roof for any signs of potential damage. Are any shingles out of place, curling, cracking, or hanging off? Do you notice any strange discoloration? Is there excess debris or nesting? When visually inspecting your roof, these are questions you should ask yourself. If something seems out of place, write it down for when you speak with a professional.
2. Look for Leaks Inside
After giving your roof a look over from the outside, inspect your ceiling from the inside. Signs of water damage are a good indicator of a leaking roof and should be repaired by a professional as soon as possible. Here are a few common signs of water damage to look out for:
Paint discoloration or stains on your ceiling
Flaking or peeling paint
A musty odor in specific rooms
Warped walls
If you have an attic, you should also give it a visual inspection from the inside to spot any issues. If there are leaks, use chalk or another identifier to quickly find a leak's source after a storm clears.
3. Keep Your Roof Clean
Over time, you may notice your roof begin to appear dirty with long dirt streaks or scattered debris. If so, consider planning a day to clean and rinse your roof. Excess debris on your roof can promote mold or algae, which slowly damage your roof's shingles.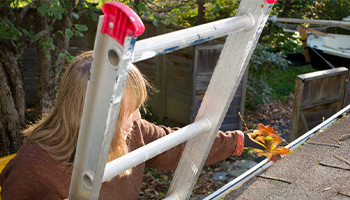 To clear off algae and dirt, we recommend getting on your ladder and spraying your roof using a roof cleaner that attaches to a garden hose. Avoid power washing your roof, as high water pressure could cause damage depending on your roof's material.
4. Clear Your Gutters
Although a dirty job, clearing your gutters is an essential part of roof maintenance. Clogged gutters block rainwater from flowing freely, making it easier for water to seep under your roof. To prevent damage, clean your gutters about twice a year—once in spring and then again in fall. Following this schedule will also help you stay on top of your routine visual inspections.
When to Call a Roof Professional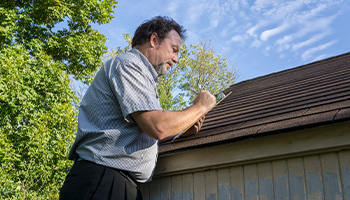 Suppose you find signs of damage or a cause for concern when performing your roof inspection. In that case, your next step is to call a professional roof inspector to get a thorough examination. A professional can spot any potential issues you may have missed and will provide recommendations on possible remedies.
To find a roof inspector, you can start by asking neighbors or associates who have recently sold or purchased a home. Alternatively, depending on your homeowners insurance provider, you may be eligible to receive discounted roof inspections. For example, certain homeowners in Southern California with a Mercury home insurance policy are eligible to receive discounted roof inspections and preventative maintenance from RoofRx.
Keeping Your Entire Home Protected
Whether moving into a new home or renovating, keeping your entire home protected with a homeowners insurance policy is essential. A homeowners policy will ensure you're financially covered against life's what-ifs. To learn more about how AIS can help you save on homeowners insurance, give us a call today at (888) 772-4247.
---
The information in this article is obtained from various sources and is offered for educational purposes. Furthermore, it should not replace manuals or instructions provided by the manufacturer or the advice of a qualified professional. No warranty or appropriateness for a specific purpose is expressed or implied.