4
minute read
As a homeowner, spotting potential upgrades throughout your home is easy. From replacing the bathroom vanity to redoing your outdoor lights, there are endless ways to give your residence a new look and feel. But depending on the remodel, home improvement projects can be a big (and costly) commitment. So what's a homeowner to do? 
When searching for a new home improvement project, it's best to choose a renovation that will ultimately increase the value of your home. Doing so will improve your living space and help you down the road should you decide to sell. If you're ready for a home improvement project of your own, here are five projects that are worth taking on. 
Five Home Improvement Projects That Add Value to Your Home
Earlier this year, the National Association of Realtors (NAR) released data highlighting the top projects that homeowners saw the most significant returns on. However, because nothing is certain, it's best to choose home improvement projects that matter most to you instead of basing your decision solely on a future resale value.
1. Hardwood Flooring
According to the NAR, improving a home's flooring is one of the best projects homeowners can tackle. By refinishing or installing new hardwood floors, you can quickly elevate the overall look of your home. Aside from its iconic look, hardwood flooring is also one of the most durable types of flooring one could have, making it a worthy investment. There are also a lot of attractive and affordable tile and vinyl "wood-look" flooring options.
When choosing this home improvement project, handy homeowners can save significantly by doing it themselves. If choosing the DIY route, remember to allow your hardwood flooring to acclimate in your household for at least three days. Doing so will prevent unwanted cupping or warping due to any environmental moisture.
Estimated cost: $3 to $12 per square foot, depending on wood quality.
2. Upgrade Your Kitchen
A kitchen is often referred to as the heart of a home, so keeping yours maintained is crucial. And if you plan to sell your home one day, having an updated kitchen could attract additional buyers.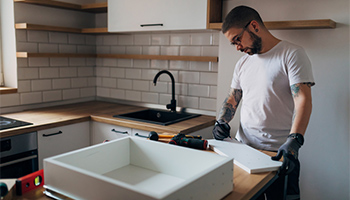 Remodeling your kitchen can quickly become expensive, so starting small is important. Start by updating faucets, installing new cabinet handles, and updating light fixtures with energy-efficient options. Additionally, a simple repaint or stain goes a long way if your cabinets are still in good condition.
If you have the budget, updating your kitchen's appliances to their modern counterparts can also offer a great ROI. Of course, buyers favor move-in-ready homes with stainless steel appliances. But upgrading appliances could also influence you to spend more time in the kitchen cooking for yourself and the family.
Estimated cost: $500 to $5,000 for minor upgrades and changes. Price can significantly increase depending on the scope of the project, or for fuller remodels.
3. Paint, Paint, Paint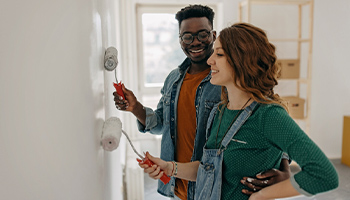 Sometimes a fresh coat of paint is all that is needed to bring an old room back to life. Whether reapplying your existing paint or choosing a new in-style color, repainting will perk up a room instantly. It's also a simple DIY project that most homeowners can easily take on without much equipment. If you're interested in selling in the future, consider opting for a light neutral color, as they tend to have the broadest appeal. 
When repainting a room, you can also use the time to declutter. Since you'll have to rearrange the furniture and appliances, it's an excellent opportunity to reevaluate the space and how it is used.
Estimated cost: $2 to $6 per square foot, depending on paint quality.
4. Renovate the Bathroom
Much like kitchen remodels, updating your bathroom is a home improvement project that will greatly pay off. And like the kitchen, minor upgrades will go a long way. For example, simply replacing your bathroom's mirror and lighting can make a huge difference. Mix in a paint refresh and new vanity, and you'll feel like you're stepping into a whole new space.
If you can take on a larger project, consider swapping your toilets and tub for their modern counterparts. Many home improvement stores may even offer installation services at an added cost. If your budget is limited, replacing old shower doors, reglazing your tub, or replacing the shower head can improve your bathroom's feel without breaking the bank.
Estimated cost: $500 to $5,000+. Price will ultimately depend on the project's scope.
5. Don't Forget About Outside
Improving your property's outdoor space can make your home feel much more inviting. Whether it's focusing on the front yard's landscape or adding space to relax in the backyard, outdoor improvements add major resale and comfort value to a home.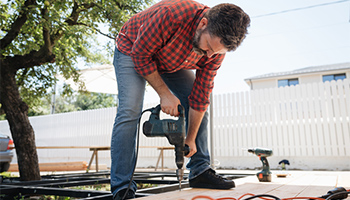 Adding outdoor furniture, potted plants, and a set of outdoor lights to the backyard is a small project that will encourage you to spend more time outdoors. For a larger project, consider adding an outdoor kitchen with a built-in grill and sink. Not only will this make your home more attractive to potential buyers, but it'll also create a new entertainment space for you and your family to enjoy.
For the front of the house, repaint your front door and add planters or window boxes to improve your home's curb appeal.
Estimated cost: $200 to $1,000+ for new outdoor furniture and lights. Final cost will ultimately depend on the scope of the project.
Keep Your Home Protected
No matter what your plans are, keeping your home protected with a homeowners insurance policy is essential. A homeowners policy protects your property from life's what-ifs. What if there's a fire? What if a car hits your home? In these cases, your homeowners insurance will cover the cost to repair any structural damage, minus your deductible and up to your policy limit. 
Planning to upgrade your home's appliances and systems? If so, you may want to consider adding a home warranty plan. Unlike a homeowners policy, a home warranty plan offers protection against wear and tear issues. Should a covered appliance malfunction, your home warranty plan will cover its repair or replacement.
To learn more about homeowners insurance or home warranty plans, visit our blog, or give our insurance specialists a call at (888) 772-4247.
---
The information in this article is obtained from various sources and is offered for educational purposes. Furthermore, it should not replace manuals or instructions provided by the manufacturer or the advice of a qualified professional. No warranty or appropriateness for a specific purpose is expressed or implied.