3
minute read
With miles upon miles of trails located throughout the country, driving all-terrain vehicles (ATVs) is an ultimate form of recreation. Yet with all their fun, ATVs can quickly turn dangerous without the proper precautions. Furthermore, they can also be expensive to replace. That's why carrying an ATV insurance policy is highly recommended and, in some cases, required. Follow this guide to learn more about ATV insurance and how it works.
What Exactly is an ATV?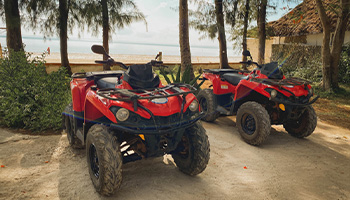 The legal definition of an ATV can differ depending on your state. Generally, however, the term "ATV" refers to an off-highway vehicle with 4 wheels, a straddle-style seat, and handlebars for steering. To accelerate, most ATVs come stock with a thumb throttle.
You may see ATVs also referred to as OHVs (off-highway vehicles) or ORVs (off-road vehicles). These terms tend to be used interchangeably but keep in mind that OHVs/ORVs may also refer to additional types of vehicles such as snowmobiles, side-by-sides, and more. However, these vehicles may have different insurance requirements, so always double-check with your insurance provider.
What is ATV Insurance?
Like an auto or motorcycle policy, ATV insurance offers financial protection against any injuries or damage caused by an accident. Unlike a typical auto or motorcycle policy, however, insurance for off-road vehicles isn't always required by law in most states. Still, it's worth considering purchasing a policy due to the rough terrain you may face while riding, which could lead to an accident resulting in damage or injuries.
It's a common misconception that your ATV may have some protection under your current auto or homeowners policy when out riding. While homeowners insurance may provide some protection (depending on your policy) if someone is injured on your property, these insurances won't offer any protection when riding on public lands or any grounds outside your property.
What is Covered by ATV Insurance?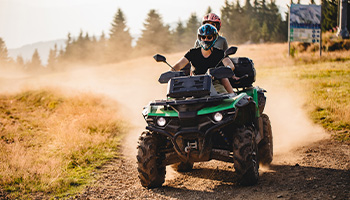 What is included in your ATV insurance policy will ultimately depend on your needs and state requirements. Here's a quick rundown of basic coverage types and what they mean:
Bodily Injury Liability: Covers injuries you cause to someone while riding your ATV.
Property Damage Liability: Covers damages to another's property if you're found liable in an accident.
Collision Coverage: Pays for damages upon impact with another vehicle or object.
Comprehensive Coverage: Pays for direct and accidental damage to your ATV that is out of your control, including theft, vandalism, weather damage, etc.
Medical Payments: Helps pay for medical costs incurred by those injured while riding the ATV.
Uninsured/Underinsured Motorist Coverage: This type of coverage helps to cover expenses when involved in an accident with an uninsured rider.
Which States Require ATV Insurance?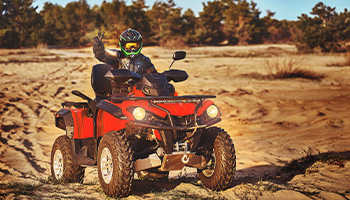 While most states don't require ATV insurance, there are few that do. Additionally, many parks that allow ATVs may require visitors to carry liability insurance. So, before heading to a new trail or park, be sure to check local laws regarding ATV insurance. If financing an ATV, your lienholder may require you to carry comprehensive and collision coverage until the loan is paid off.
As of this writing, the following states require ATV insurance:
Save on Insurance by Comparing Quotes
As with other insurance types, you'll find the best combination of coverage and price when you compare quotes. At AIS, our insurance specialists will assist you with comparing rates from our network of insurance partners, helping you find the best deal. Ready to insure your ATV? Give us a call at (888) 772-4247 today.
---
The information in this article is obtained from various sources and offered for educational purposes only. Furthermore, it should not replace the advice of a qualified professional. The definitions, terms, and coverage in a given policy may be different than those suggested here. No warranty or appropriateness for a specific purpose is expressed or implied.