3
minute read
Whether out in the open sea or on a calm lake, boating is an activity unlike any other. And with summer officially here, there's no better way of welcoming the season than by hitting the water with family and friends. No matter where you live, you're likely not too far from a body of water that is boat friendly. Have a sailing itch but aren't sure where to go? Follow this guide to learn more about five must-visit boating destinations to travel to this summer.
1. Lake Havasu, Arizona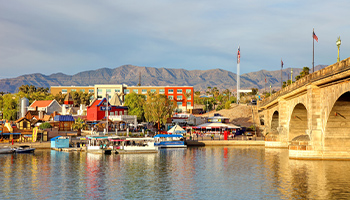 With over 300 days of sunshine a year, Lake Havasu should be on every summer boating destination list. Located in Mohave County alongside the California and Arizona border, Lake Havasu offers visitors over 60 miles of connected waterways to enjoy.
What makes Lake Havasu special is that it has no size or speed restrictions so you're free to do everything from jet skiing to leisurely canoeing. And with plenty of renting options to choose from, it's even possible to visit without a boat of your own. If renting, expect to pay anywhere from $400 to $600 per day, depending on the season.
Looking for a place to fish while the family relaxes in the water? You're in luck! Lake Havasu is also known as one of the best fishing locations in Arizona.
2. Newport, Rhode Island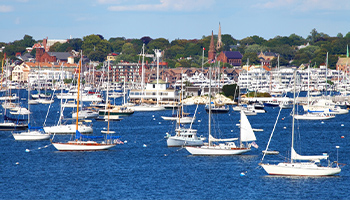 Many consider Newport, Rhode Island as the home of all things sailing. For years, the Newport Harbor served as the port of call for the America's Cup, an international yachting race. With its rich nautical history, it's no surprise Newport is one of the nation's top boating destinations.
When visiting Newport Harbor, you'll be welcomed by the sound of seagulls while entering a village-like community filled with vibrant shops and eateries. Time your visit right and you can experience the annual Newport International Boat Show, which is put on every September. With a balanced mix of land and sea activities to choose from, Newport should be a must-visit for those that find themselves in New England.
3. Fort Lauderdale, Florida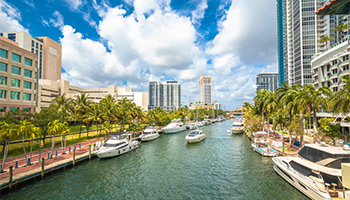 With over 300 miles of inland waterways, many refer to Fort Lauderdale as the Venice of America. And thanks to over 50,000 yachts that call the city home, it's also considered the world's yachting capital.
There's no shortage of activities when visiting Fort Lauderdale, whether it's snorkeling, scuba diving near coral reefs, or fishing. Choose to relax on the boat while catching dinner, or venture inland for additional activities in the Everglades. If visiting during October, be sure to check out the Fort Lauderdale International Boat Show, which is one of the largest boat shows in the world. If you're looking for a nearby city to visit when in Fort Lauderdale, Miami is less than an hour away by boat.
4. Lake Tahoe, California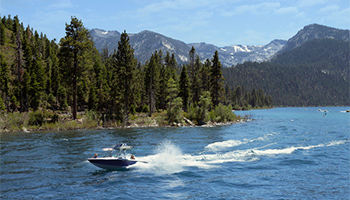 It's no secret that there's endless fun available to visitors of Lake Tahoe, which makes it one of the best boating destinations. Famous for its winter adventures, the lake is also a perfect place to take your boat out on the water. With its crystal-clear waters and mesmerizing views, you'll instantly fall in love with Lake Tahoe.
There's no shortage of fun in the area—from kayak rentals to jet skis, Lake Tahoe has something for the whole family. To keep the waters clean, you'll need to pay for a boat inspection pass that starts at around $60 per boat. There are also plenty of boat rental options to choose from for those looking for a relaxing weekend getaway.
5. Catalina Island, California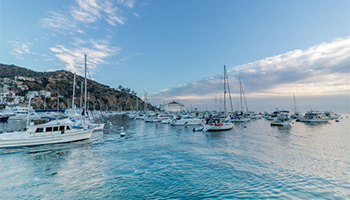 If you're looking for a place to escape the bustling cities of Southern California, consider venturing towards Catalina Island. Located just an hour's boat ride from the coast, Catalina Island is one of the best boating destinations in California. Take your boat on a quick adventure to the island or choose to take a charter, then rent a boat there. Either way, you can't go wrong.
Once on the island, there are loads of family-friendly adventures to choose from, such as kayaking, sailing, snorkeling, and much more. If you're looking for fun on land, the island also has plenty of activities to pick and choose from.
Keep your Boat Protected with Boat Insurance
Before making a trip out on the water, be sure that your boat is covered with the proper boat insurance. While not required by law in most states, carrying boat insurance could save you from having to pay thousands of dollars in the event of an accident.
A common misconception among many boat owners is that their homeowners insurance also covers their boat. While a homeowners insurance policy may provide some protection for a smaller boat while on your property, it may only offer minimal protection out on the water depending on the size of your boat. To learn more about insuring your boat, give our insurance specialists a call at (888) 772-4247.
---
The information in this article is obtained from various sources and is offered for educational purposes. Furthermore, it should not replace manuals or instructions provided by the manufacturer or the advice of a qualified professional. No warranty or appropriateness for a specific purpose is expressed or implied.