4
minute read
Ready to take the plunge and buy a boat? The first step in buying a boat is to determine what type of watercraft will best fit your needs and who you plan to bring along for the ride. You have a lot of options when it comes to choosing which vessel you like. But don't feel overwhelmed by the sheer size of different types of boats. Buying a boat should be an exciting and enjoyable experience with a little research. Let our helpful guide accompany you through deciding which boat is right for you.
Choosing the Right Boat Based on Boating Activities
Finding the right boat will be heavily based on the water activities you plan to do. Consider where you will use your boat. Do you expect to ride it mostly on a lake or in the ocean? Will you be using it for day cruising or overnight stays? Or how about participating in watersports, sailing, or fishing? Finally, think about how many passengers you plan on bringing aboard to enjoy the fun with you. Once you've determined your needs, you're ready to dive into which brand and model best suits your taste.
Boat buyers have more choices than ever before. To help you narrow down your decision and find the perfect watercraft, we categorized all the different types of boat by water experience. Keep in mind some vessels are more specialized than others. On the other hand, there are lots of models meant to be more general-purpose too. So, take the time to research which watercraft may best suit your idea of fun and lifestyle. The fun is waiting for you. All you need is the right boat and some water. Let's dive into all the nautical fun you can experience!
1. Freshwater Fishing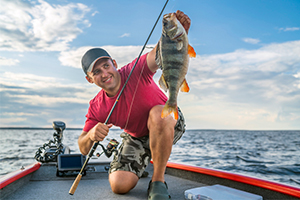 Enjoyed by first-timer and experienced boaters, freshwater fishing is one of the most popular outdoor activities in the nation. According to the U.S. Fish and Wildlife Service, over 40 million people fish recreationally in freshwater lakes, rivers, streams, and ponds each year. With the right vessel, you can cruise through greeneries, fish for Largemouth Bass, and relax with family and friends on the water. Here are some of the best boats for freshwater fishing.
| | |
| --- | --- |
| All-Purpose Fishing Boats | Aluminum Fishing Boats |
| Bass Boats | Bay Boats |
| Bowriders | Center Consoles |
| Deck Boats | Fish-and-Ski Boats |
| Jet Boats | Multi-Hull Powerboats |
| Pontoon Boats | Walkarounds |
2. Saltwater Fishing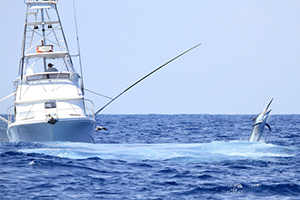 Moving away from the inland, saltwater fishing is done from a beach coast. The biggest difference from freshwater fishing is you never know what you'll catch or just how enormous a fish you may reel in. There are many features to consider when buying a saltwater fishing boat. To avoid corrosion from the salty sea, look for vessels with a solid stainless-steel construction. You should also find a boat with enough fuel capacity and ample room to store your fishing gear.
| | |
| --- | --- |
| All-Purpose Fishing Boats | Bay Boats |
| Cabin Cruisers | Center Consoles |
| Fish-And-Ski Boats | Flat Boats |
| Multi-Hull Powerboats | Sportfishing Yacht |
| Trawlers | Walkarounds |
3. Watersports
Are you looking to get your adrenalin pumping? These watercrafts offer some of the best on-water experiences for water skiing, wakeboarding, wakesurfing, kneeboarding and tubing. Get ready to get wet and go fast with these powerful engines made to create big wakes.
| | |
| --- | --- |
| Bowriders | Deck Boat |
| Personal Watercraft / Jet Ski | Pontoon Boat |
| Ski Boats / Wake Boats | Fish-and-Ski |
4. Sailing
If peaceful glides and calming water are more your taste, sailboats are perfect for you. Sailing is considered a green activity since it mainly relies on wind power for propulsion. Sailboats are classified into these three types based on their primary hull design.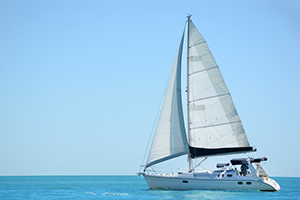 Monohulls — Single-hulled structures that have a large beam to provide stability while sailing. These are the classic sailing yachts you may have seen in old black and white photos.
Catamarans — Twin-hulled structures that are connected by crossbeams. Catamarans provide more stability compared to Monohulls.
Multi-hulls — May include anywhere between three to five hulls although, three is the most common. Also referred to as trimaran, these are considered the most stable sailing boats.
5. Day Cruising
Day cruising boats are ideal for sightseeing, traveling across the bay, and beach or island hopping. There are so many endless excursions you and your family may enjoy with this versatile type of vessel. The great thing about day cruising is this activity can be done from virtually any size boat. A simple and inexpensive watercraft can get the job done. Its only limit is most of these boats are designed to be used for a few hours to a day.
| | |
| --- | --- |
| Aluminum Fishing Boat | Bowriders |
| Cabin Cruisers | Center Consoles |
| Cuddy Cabins | Deck Boats |
| Fish-And-Ski | High-Performance Boats |
| Inflatables | Jet Boats |
| Motor Yachts / Power Cruisers | Pontoon Boats |
| Sailboats | Ski Boats/Wake Boats |
| Trawlers | Walkarounds |
6. Overnight Cruising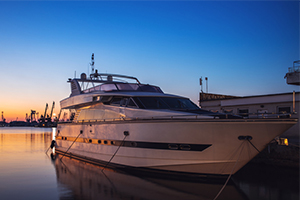 For longer outings and overnight stays on a boat, look for a vessel that has all the amenities you need for a long trip. Exploring the world and cruising off to faraway locations can be a remarkable journey, so choosing the right boat for your voyage is vital in terms of survival and comfort. Consider these boats as your home away from home or dive right into living in one of these boats full-time.
| | |
| --- | --- |
| Cabin Cruisers | Cuddy Cabins |
| Houseboat | Motor Yachts/Power Cruisers |
| Sailboats | Trawlers |
Protect Your Boat With Boat Insurance
After picking the perfect boat, don't forget to protect your watercraft with boat insurance. Speak with one of our licensed Insurance Specialists at (855) 919-4247 to learn more about getting the coverage you need to stay protected on the water. We'll help you compare multiple carriers at once to find you the lowest rate within minutes.
---
The information in this article is obtained from various sources and offered for educational purposes only. Furthermore, it should not replace the advice of a qualified professional. The definitions, terms, and coverage in a given policy may be different than those suggested here. No warranty or appropriateness for a specific purpose is expressed or implied.