4
minute read
AIS Stories is an ongoing blog series meant to highlight our talented and amazing team member's life outside of work. Our AIS team is made up of unique people with deep passions and varied interests.  We have skilled artisans, athletes, veterans, and much more. Their stories shine a light on what makes AIS a great place to work. Meet George K. — a frequent football tailgater who's sharing his best tips and favorite recipes on how to throw the ultimate tailgate party.
Dubbed the Master of Tailgating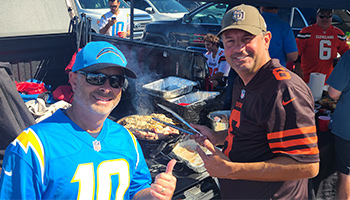 Football is back and that means it's tailgating season! There's no better party than the one that's hosted right outside of your team's stadium rooting for their victory. It's the fandom season where tailgaters from all over transform cold and lonely parking lots into warm and friendly communities of sports enthusiasts. And that's where George, our Vice President of Business Development, comes in. He's a massive sports fan who has been tailgating for the past 20 years — never ever missing a season. By following some of his tips, you can ensure that your game day will be a laid-back and stress-free gathering with friends and family for some delicious food, sports, and fun.
George's Best Tailgating Tips and Hacks
Tip #1: Plan ahead!
If there's a takeaway from this article, it should be this one. While a tailgate party doesn't need to be nearly as organized as a formal party, there's still a lot of planning that goes into a great tailgate. A successful tailgate requires a lot of items like food, beverages, chairs, tables, utensils, and much more. But you don't have to supply everything yourself, split up the responsibilities among your guests. It's a great way to share the work (and the cost). The more you plan ahead, the more enjoyable and laid-back your tailgating party will be!
Tip #2: Make a list and check it twice
It happens to all of us at least once where we think we brought everything only to find out you forgot something at home. Make a list of all the items you plan to take and check them off as you pack. Pack all your equipment and nonperishable food the night before, so you're ready to go early and get a great spot. If you forget something and you're already at the venue, don't be afraid to ask your neighbors to borrow an item! Consider using this tailgating checklist below to help you get started with your list. Having a checklist will ensure you've got everything you need to have a great time!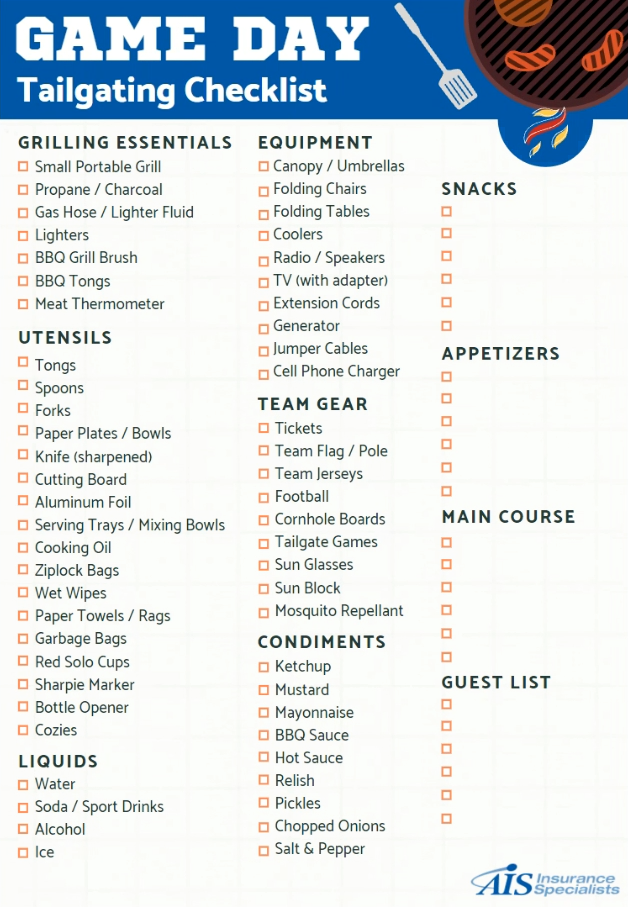 Tip #3: Prepare food ahead of time
To keep work to a minimum on game day and ensure you're not missing out on tailgating fun, do as much food prep as possible the day before. That means marinating any meat overnight, setting aside condiments, and storing cut-up ingredients in disposable containers or Ziplock bags so you don't have to bring dirty dishes home. When it comes to planning your food menu, keep it simple enough so your guest can assemble and eat with minimal prep and mess. Make sure to have separate coolers for your raw meats, vegetables/condiments, and drinks. As a bonus tip, chill your drinks in the fridge before packing them in the cooler and toss frozen water bottles in the cooler to keep your food cold. As the day wears on, you'll have cold water when the frozen water bottles melt, and they won't water down your ice chest!
Tip #4: Arrive early and scout for the best spot
Tailgating starts with your own personal game of competitive parking spot hunting. As a rule of thumb, arrive three to four hours before the game starts and always allow 30 minutes to set up camp. The earlier you arrive, the better chance you have of getting a spot close to the stadium, in a shaded area, or close to a restroom. Not to mention, more time to enjoy socializing! The key to the perfect spot is to find a space that gives you the most room. When you find it, be sure to ask if the spot is taken before parking since people like to reserve an extra spot for their party to arrive.
Tip #5: Have an awesome setup
Researched venue? Check. Packed everything? Check. Found the perfect spot? Check. Now, it's time to set up camp for some tailgating fun! The moment you find your spot, the first thing you'll want to do is heat up your clean grill. Charcoal can take a while to get hot so get it going ASAP. Next, set up your canopy, tables, chairs, coolers, and team decor. If you're a tailgating pro and all of the above seems like a breeze, bring out fun activities like cornhole and table games. If you really want to impress your party and neighbors, hook up a TV in the back of your car and put on the NFL RedZone. You can use your car or RV's battery by plugging a power inverter into your cigarette lighter or bring a generator to power the TV. Then stream the NFL RedZone using a Firestick and hotspot the internet with your phone.
George's Tasty Tailgate Recipes
No matter the outcome of the game, at least you'll be leaving the stadium having had delicious tailgating food. Growing up in his family's Greek restaurant in Southern California, George is sharing some of his favorite Greek recipes. Just don't be surprised when you start attracting fans of your own!
Sauted Corn With Feta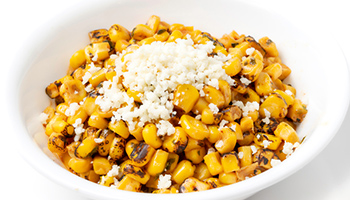 Ingredients
6 ears corn, shucked and kernels cut off
1 tablespoon of olive oil
2 tablespoons of butter
Salt and freshly ground black pepper
Feta cheese
3 cloves of chopped garlic
Instructions
Place olive oil, butter, and chopped garlic in a large saute pan over low to medium heat.
Once the chopped garlic is slightly brown, add the cooked corn kernels and stir for 1 to 2 minutes.
Add salt and pepper along with feta cheese. Stir for 30 seconds and serve immediately or store and serve cold.
Greek Lamb Chops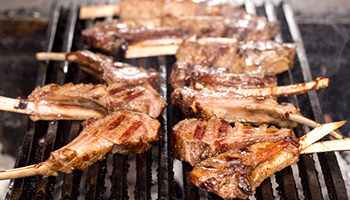 Ingredients
2 tablespoons fresh lemon juice
1 teaspoon extra virgin olive oil
½ teaspoon dried oregano
1 garlic clove, minced
8 (4oz) lamb loin chops, trimmed
½ teaspoon salt
¼ teaspoon pepper
Instructions
Combine lemon juice, olive oil, oregano, and garlic in a large Ziploc bag.
Add lamb to bag, turning to coat. Seal and marinate overnight in the refrigerator.
When you're ready to grill, apply a thin layer of oil on a paper towel and coat your grill grates. Heat your grill over medium-high heat.
Remove lamb from marinade and discard marinade.
Sprinkle lamb evenly with salt and pepper.
Add lamb to grill and cook for 3 minutes on each side or until you reach the desired degree of doneness.
Let rest for 5 minutes before serving. Sprinkle extra oregano or lemon juice for added flavor.
Happy Tailgating!
---
AIS is an Equal Opportunity Employer. The purpose of our AIS Stories series is to showcase our amazing team. George was also featured in our B2B article series. Read what he has to say about developing good habits for business development success here.