6
minute read
What's on your backyard BBQ menu this Memorial Day weekend? We have some deliciously festive Memorial Day recipes that are simple and sure to keep everyone satisfied. Plus, each recipe is easily adjustable to be made in either small or large quantities. Which one will you try for the first holiday of the summer?
Simple Crowd-Pleasing Appetizers
Best Ever Guacamole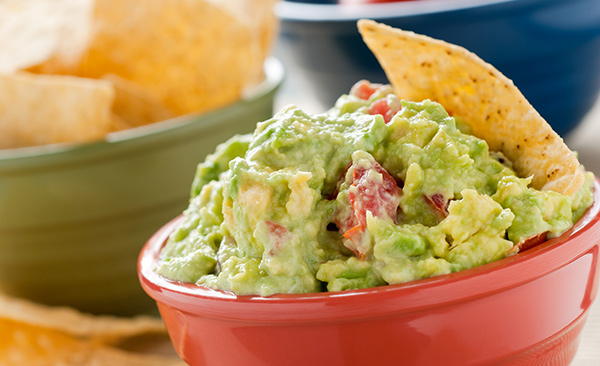 Don't we all love chips and homemade guacamole? This recipe uses fresh ingredients and has just enough kick to tickle your taste buds. Plus, it's pretty affordable and super simple if you already have most of the ingredients in your spice rack. If you want to make the dish more festive, pair your guacamole with a mix of red, white, and blue tortilla chips.
Ingredients:
3 Haas avocados, seeded and peeled
2 Roma tomatoes, seeded and diced
1 lime, juiced
1/2 medium onion, diced
1/2 jalapeno pepper, seeded and minced
1 tablespoon chopped cilantro
1/2 teaspoon cayenne
1 clove garlic, minced
1/2 teaspoon kosher salt
1/2 teaspoon ground cumin
Directions:
First, place the scooped avocados and lime juice in a large bowl. Toss to coat. Drain, and reserve the lime juice in a separate bowl once all avocados have been coated. Add the salt, cumin, and cayenne to the avocados and mash. Then, fold in the onions, tomatoes, cilantro, and garlic. Add one tablespoon of the reserved lime juice. If preferred, let sit at room temperature for one hour before serving. Pair with your favorite tortilla chips.
Recipe by: Food Network
Summer Deviled Eggs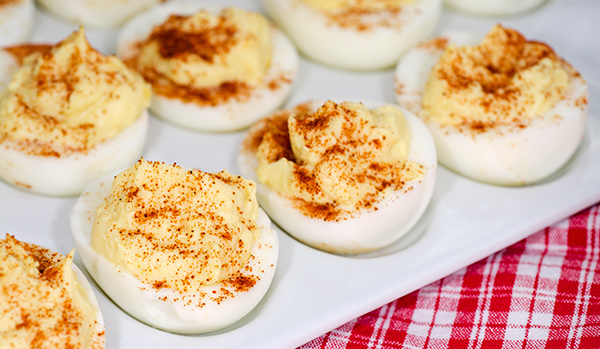 These deviled eggs are a delicious way to add some color to your guests' plates. They're also a great, easy appetizer you can bring to your family or friend's backyard BBQ. To make this dish more festive for Memorial Day, you can stick American flag toothpicks into each egg, too.
Ingredients:
6 large eggs
1/4 cup mayonnaise
Kosher salt
Freshly ground black pepper
1 teaspoon hot sauce
1 teaspoon Dijon mustard
Finely chopped chives, for garnish
Smoked paprika, for garnish
Directions:
Place eggs in a large saucepan and cover with cold water. Set pan over medium-high heat and bring water to a boil. Turn off heat, cover pan with a lid, and let sit for 11 minutes. Drain, rinse eggs under cold water, and peel. Then, halve the eggs lengthwise and scoop out the yolks into a medium bowl. Add mayonnaise, hot sauce, and Dijon mustard to the bowl. Mash the yolks with the back of a fork and stir until mixture is smooth. Season with salt and pepper. Spoon mixture into the middle of each egg. Garnish with chives and paprika before serving.
Recipe by: Delish
Mini Caprese Skewers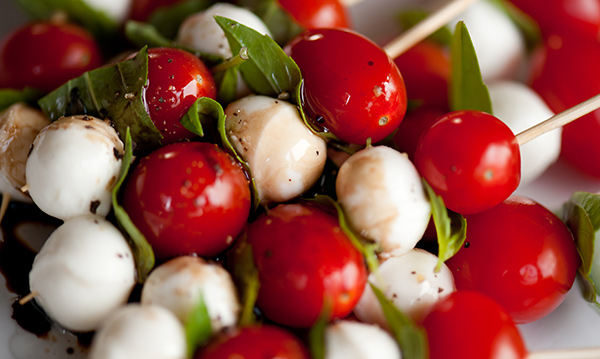 If you're short on time, these caprese skewers are fast to make and easy enough that your kids can help, too. Stick with a Memorial Day theme and use star toothpicks to add some blue to these red and white skewers.
Ingredients:
20 grape tomatoes
10 oz. mozzarella cheese, cubed
2 tablespoons extra virgin olive oil
2 tablespoons fresh basil leaves, chopped
1 pinch salt
1 pinch ground black pepper
20 toothpicks
Directions:
Toss tomatoes, mozzarella cheese, olive oil, basil, salt, and pepper together in a bowl until well coated. Skewer one tomato and one cube of mozzarella cheese onto each toothpick.
Recipe by: AllRecipes
Entrees Everyone Will Remember
Juicy Turkey Burgers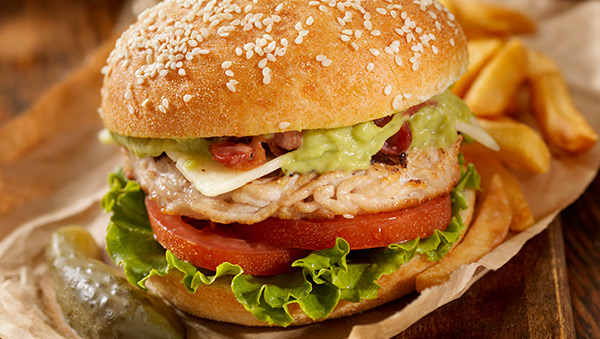 Nothing hits the spot at a backyard BBQ quite like a cheeseburger. Turkey patties are a healthier option that can still be juicy and flavorful. Plus, they grill fast and are completely customizable with whatever toppings you desire.
Ingredients:
1 1/3 pounds 93% lean ground turkey
2 cloves garlic, finely chopped or grated
1/2 medium yellow onion, finely grated & squeezed of excess moisture
2 tablespoons mayonnaise
2 teaspoons Worcestershire sauce
1 1/2 teaspoons kosher salt
1/2 teaspoon ground black pepper
Vegetable oil, for grill
For serving: burger buns, cheese of choice, toppings of choice (e.g. lettuce, tomatoes, thinly sliced onion, pickles, etc.), condiments of choice (e.g. mustard, ketchup, etc.)
Directions:
Line a baking sheet or large plate with parchment paper, wax paper, or aluminum foil. Set aside.
Grate the onion into fine, shredded pieces. Once grated, use a paper towel to soak up excess moisture from the onion. Too much moisture will make the turkey burger mixture difficult to handle.
To mix the turkey patties, add the ground turkey, grated onion, garlic, mayonnaise, Worcestershire sauce, salt, and pepper to a large bowl. Using your hands, mix until just combined. Overworking the turkey burger mixture will lead to tough burgers, so take care not to overmix. To form the patties, divide the turkey burger mixture into four even portions, about 1/3 pound (5.3 ounces) each. Lightly coat your hands in oil and form each portion into a 1-inch thick patty. The mixture will be very wet at this point, so just aim to form them into the general shape & size you're after. Set them on the prepared baking sheet. Transfer the baking sheet with the turkey burger patties to the freezer to chill. Chill for at least 20 minutes.
Prepare the grill as the turkey burgers chill. Preheat the grill for medium-high direct heat grilling, about 450 degrees F. Just before placing the burgers on the grill, carefully and generously oil the grates.
Remove the turkey burgers from the freezer. At this point, they should be easier to handle. Finish forming them into 1-inch thick patties, using your thumb to create an indent in the center of each patty. Firmly press each turkey burger patty down onto the prepared grill grates. Grill the turkey burgers for six minutes per side, or until a thermometer inserted in the center of the turkey burgers registers 160 degrees F. If preferred, add cheese on top of your turkey patties when there are two minutes left of grilling time.
Once done, allow the turkey burgers to rest for a few minutes before serving.
Recipe by: Plays Well With Butter
Grilled Buffalo Chicken Wings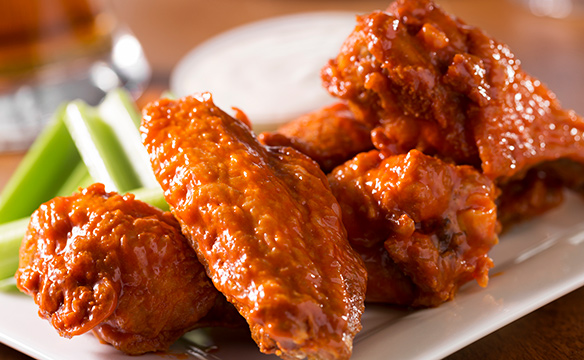 Consider this fiery chicken wing recipe if you don't want to make the typical burgers and hotdogs at your Memorial Day BBQ. The best part is that you can add your own twist on it by using your favorite hot sauce.
Ingredients for the Wings:
3 lbs. chicken wings (if whole, cut into sections and discard the wing tips)
1 1/2 teaspoons kosher salt
1/2 teaspoon black pepper
Vegetable oil, for grill
Ingredients for the Buffalo Sauce:
1/4 cup plus 2 tablespoons Frank's Red-Hot Original Cayenne Pepper Sauce (or similar brand)
1/2 teaspoon onion powder
1/2 teaspoon chili powder
6 tablespoons unsalted butter
1 clove garlic, minced
1/4 teaspoon kosher salt
Directions:
Heat the grill to medium-high. Season the wings with salt and pepper. Carefully coat the grill grate with vegetable oil. Grill the wings, covered, flipping occasionally, until they are golden brown, crispy and completely cooked through, about 20 minutes. Keep a close eye on the grill; if there are flare-ups or the wings begin to burn, move the wings to a cooler part of the grill or reduce the heat. You don't want grill marks on the wings; just a nice and even golden-brown color.
While the wings are cooking, make the sauce. Combine the butter and garlic in a microwave-safe bowl. Cook for about one minute in the microwave until the butter is melted. Stir in the hot sauce, salt, onion powder, chili powder and sugar. Set aside.
Coat the cooked wings in the sauce and serve immediately. Alternatively, serve the wings plain with the sauce on the side.
Recipe by: Once Upon a Chef
Perfectly Patriotic Desserts
5-Step No-Bake Cheesecake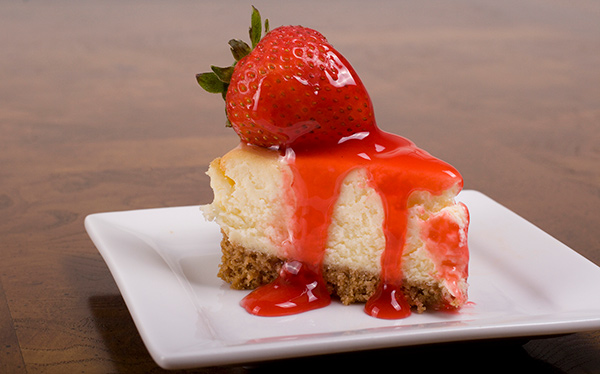 What's better than a tasty dessert with no bake time? Simply pop in this dish in the fridge the night before your BBQ and you'll be good to go! We recommend adding strawberry and blueberry toppings to make this cheesecake truly festive and even more delicious.
Ingredients:
1 package cream cheese (8 oz.), softened
1 cup sour cream
1/2 cup sugar
2 teaspoons vanilla extract
1 container non-dairy whipped topping or Cool Whip (8 oz.)
1 Graham cracker crust
Pie filling, for topping (optional)
Directions:
To make the cheesecake filling, beat together the cream cheese, sour cream, sugar, and vanilla until the mixture is smooth. Gently fold in the whipped topping/Cool Whip. Pour the cheesecake filling into the Graham cracker crust and smooth the top with a spoon or spatula. Cover with plastic wrap and refrigerate for at least four hours to allow it to set, preferably overnight. Just before serving, top with your favorite cheesecake topping.
Recipe by: Insanely Good Recipes
All-American Banana Split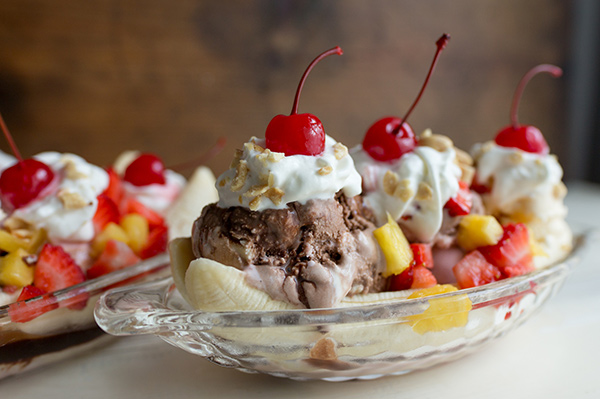 This is a super fun dessert option if you're going to have a lot of kids at your Memorial Day get-together. You can even set up a mini banana split dessert bar in the shade so everyone can cool down after spending the day in the summer heat. Don't be afraid to mix up the toppings as you please!
Ingredients for One Banana Split:
1 medium banana, peeled and split lengthwise
1 scoop each vanilla, chocolate and strawberry ice cream
2 tablespoons sliced fresh strawberries, pineapple chunks, or fruit of choice
1 tablespoon chopped peanuts or nut of choice
1 tablespoon chocolate syrup or syrup of choice
2 tablespoons whipped cream
2 maraschino cherries with stems
Directions:
Place banana in a dessert dish. Then, add scoops of ice cream inside the banana. Add desired fruit toppings over the ice cream. Add whipped cream. Top with cherries. Serve immediately.
Repeat the process for each banana split.
Recipe by: Taste of Home
Backyard Safety Reminders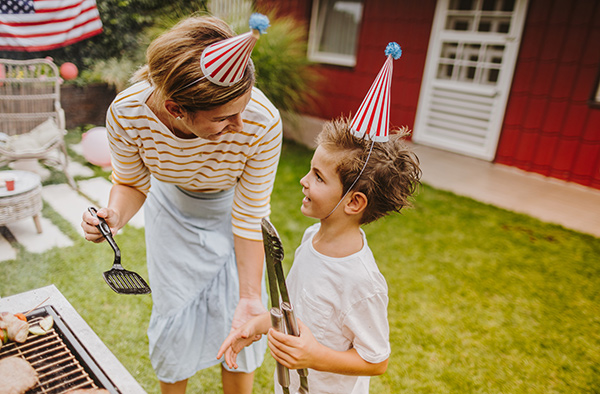 Always be careful when using your grill for the first time this summer. Starting your grill without a proper clean can be a dangerous fire hazard as grease buildup over time can cause flare-ups and even a full-blown fire. Check out these tips on how to clean your grill the right way.
Additionally, make sure you have a Homeowners Insurance policy in place to cover your home and personal property. Luckily, most standard Home Insurance policies cover fire damage and injury. Not sure how your coverage works in the event of an accident? Speak with an Insurance Specialist at (888) 772-4247.
---