3
minute read
Why do they call Missouri the Show Me State? Maybe it is because there are so many things to show people. A driver in Missouri might say, "Show me a resort getaway like Branson, a college town like Columbia, or a government hub like Jefferson City. Show me northern towns like St. Joseph or Hannibal. Show me southern cities like Springfield or Cape Girardeau. Show me BIG metropolises like Kansas City to the west or St. Louis to the east. Then show me all types of land from rich, agricultural farms to the Mark Twain National Forest to the mighty Mississippi River."
And the driver would be able to see all of those places without leaving Missouri. Assuming that he or she had the proper auto insurance, of course.
Is Missouri Auto Insurance Expensive or Inexpensive?
State law requires all drivers in Missouri to have two types of auto insurance. The first kind is liability insurance with minimum limits of $25,000 bodily injury per person, $50,000 bodily injury per accident, and $10,000 property damage. The second is uninsured motorist insurance with minimum limits of $25,000 bodily injury per person and $50,000 bodily injury per accident.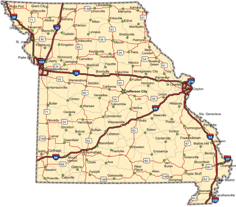 At about $743 a year, the cost of auto insurance in Missouri is fairly low compared to the rest of the nation. But how do these premiums vary within the Show Me State.
ValuePenguin, a cost comparison Web site, decided to find out. The researchers came up with a fictional 30-year old man who drives a Toyota Camry between 10,000 and 15,000 miles per year. He has a clean driving record and good credit, and he owns his vehicle instead of leasing it. Then ValuePenguin queried five different auto insurance companies for average annual auto insurance rates for slightly-above-minimum coverage in 81 different Missouri cities.
Cheapest Auto Insurance in Missouri
When all the data came in, the researchers noticed a correlation between cheaper auto insurance and cities which had low crime rates and/or low population densities. That's a big reason why the least expensive premiums on average came from… Jefferson City, the state capital. Drivers there pay about $672 a year for their auto insurance, which is 9.5% less than the state average. In second place was Rolla, which sits halfway between St. Louis and Springfield, where the average annual rate was $694. Close behind in third place was St. Peters, on Interstate 70 in St. Charles County, with an average figure of $698. Rounding out the top five were Columbia, the home of the University of Missouri, at $701; and Sedalia, home of the Missouri State Fair, at $703.
Costliest Auto Insurance in Missouri
What about the other side of the coin? Can you guess where Missouri drivers pay the most for auto insurance coverage on average?
You'll probably come up with the most expensive place; it's a big city with a high crime rate. That's right – St. Louis drivers by far pay the most for auto insurance with an average annual premium of $1,032 – which is a whopping 34.6% above the state average. In second place is Spanish Lake, which sits about 12 miles north of downtown St. Louis, with an average annual rate of $967. Kansas City, the largest municipality in Missouri, sits in third place with an average yearly premium of $962. In fourth place is another city north of St. Louis, Ferguson, with an average premium of $960; followed in fifth place by Old Jamestown in St. Louis County at $910.
You Can Reduce Your Missouri Auto Insurance Premium
It's also important to realize that auto insurance can vary greatly from person to person, as well as insurer to insurer. In fact, it's not uncommon for the same driver to be quoted several widely different auto insurance rates from multiple companies.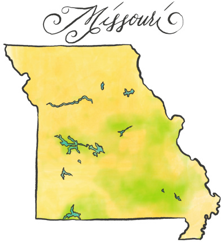 That's why it's essential that Missourians do some shopping around for auto insurance coverage. Auto Insurance Specialists has been helping drivers across the nation lower their yearly auto insurance premiums for more than 40 years. And if you let AIS find you a lower rate, you could very well save hundreds of dollars per year on your auto insurance.
Are you saying, "Show me?" Then log on to www.AISInsurance.com or call (888) 772-4247 and get an auto insurance rate quote today!
Written by Chris Martin
The information in this article was obtained from various sources. This content is offered for educational purposes only and does not represent contractual agreements, nor is it intended to replace manuals or instructions provided by the manufacturer or the advice of a qualified professional. The definitions, terms and coverage in a given policy may be different than those suggested here and such policy will be governed by the language contained therein. No warranty or appropriateness for a specific purpose is expressed or implied.