5
minute read
From extreme flash floods to powerful winds, storms have recently torn through many states. Whether you live somewhere that only gets a few inches of rain or somewhere that receives rain in torrents, you might be wondering if your Homeowners Insurance policy covers flood damage. It's important for you to know that most standard Homeowners Insurance policies do not, in fact, cover flood damage done to your home. This means that your best bet is to add Flood Insurance to your policy. 
While nature and its forces are out of your control, you can control what is covered on your Homeowners policy. If you're questioning whether or not you need Flood Insurance, the answer is probably yes. Even if you do not live somewhere with heavy rains, it's still a good idea to have Flood Insurance. A flood in your home can be caused by anything from a pipe bursting to someone unknowingly clogging a toilet.
Although flood damages are not typically covered on a standard Homeowners policy, wind damages usually are. Read below to learn more about what's covered and what's not covered by Homeowners Insurance.
Flood Insurance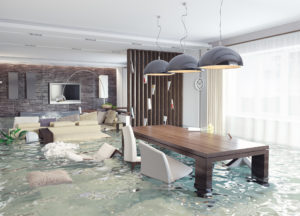 As a homeowner, you don't want to make the common mistake of assuming that your Homeowners policy covers damage caused by flooding. Even if you're not near a large body of water or don't live in a state prone to hurricanes, flooding can happen to anyone at any time. A typical Homeowners Insurance policy does not include Flood Insurance. However, any kind of flooding, even an inch of it, can cause serious and expensive damage to your home. Homes on both the East and West Coast (particularly coastal California, Florida and the Carolinas) incur the risk of elemental threats like wind, fire or water damage. You may think there is no apparent risk of flooding in your home. But surprise rains or a blocked drainage system can be a disaster to a home in any neighborhood.
There is also typically a 30-day waiting period from when you purchase Flood Insurance to when your policy actually goes into effect. Therefore, you'll want to purchase this type of single-peril policy far in advance. Do not attempt to add it right before a storm because it will be too late.
Damages Covered By Flood Insurance:
Flood damage caused by a storm
Flood damage caused by a hurricane
Flooding caused by overflow of inland or tidal waters
Flood damage caused by melting snow and ice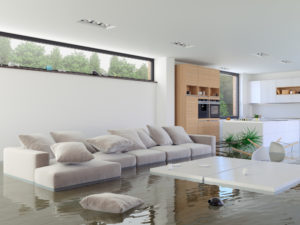 According to FEMA, Flood Insurance can also be broken up into two categories: Building Property Coverage and Personal Contents Coverage. Building property coverage typically protects the physical structure of your home and its foundation. This includes plumbing, electrical systems, central air and heating systems, furnaces and water heaters, built-in appliances, attached bookcases, a detached garage, cabinets and paneling. Personal contents coverage typically protects clothing, furniture, electronics, some portable appliances, washers and dryers, curtains, certain valuables (up to a certain limit), and freezers and the food within.
Damages Not Covered By Flood Insurance:
Outdoor property such as decks, patios, landscaping, fences, wells, septic systems, hot tubs and swimming pools
Moisture or mold/mildew damage that could have been avoided by the homeowner
Currency, precious metals and paper valuables
Living expenses such as temporary housing if the flood damage deems your house unlivable
If you're also worried about flood damage happening to your car, you can find ways to avoid it here and also learn what type of Auto Insurance will cover any damage that does occur.
Wind Insurance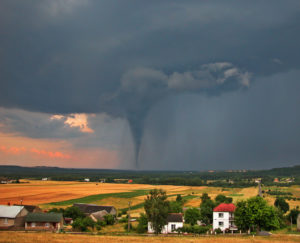 On the plus side, most standard Homeowners Insurance policies do cover damage to your home caused by wind. However, many insurers charge a special wind deductible to those homeowners who live in hurricane-prone states. This is particularly true if you're on the East Coast. This wind deductible is normally calculated as a percentage of your home's insured value. This is atypical, as you'd usually find a specified dollar amount on a standard Homeowners Insurance policy. If you live in a state that is at high risk for hurricanes, you may want to add additional wind coverage to your policy.
Damages Typically Covered By Homeowners Insurance:
Wind damage caused by a windstorm
Wind damage caused by a tornado
Damage to your roof caused by wind
Damage to your property caused by a tree falling due to wind
Roof Damage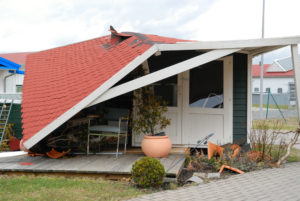 Filing a claim for roof damage caused by wind can be tricky. You should know that if you have roof wind damage, your insurance company has a legal obligation to repair or replace your roof, whichever costs less. However, there are some problems that can occur with roof repairs. First, the shingles on your roof may have discolored with age. If you add new parts to your roof, it could lead to cosmetic problems. However, replacing the entire roof may be outside of your due compensation. Since most insurers are aware of this problem, they will try to compromise between cosmetic value and roof repairs. Second, roofs that are too old to be repaired will most likely be completely replaced. As a homeowner, you may decide to replace the rest of your roof while taking advantage of the insurance compensation covering the replacement of the damaged part of your roof.
Fallen Tree Damage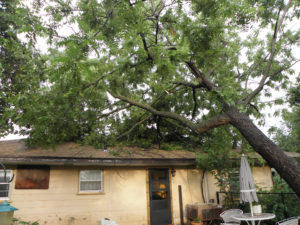 The other tricky wind damage claim can be regarding fallen trees. Whether or not your Homeowners Insurance covers a fallen tree mostly depends on what caused the tree to fall and what kind of damage resulted from it. If an otherwise healthy tree has fallen due to wind, a standard Homeowners policy may help to repair damage to your home or other insured structure on your property. However, let's say the tree was rotting and ready to fall down before the wind knocked it over. Your insurance most likely will not cover any damages. Or, maybe a tree fell down on your property that did not cause any damage to your home, fences or other structures. If that's the case, you will be on your own to pay to remove the fallen tree.
Make sure you understand what your Homeowners policy does and does not cover in regard to wind damage. If you're uncertain, speak with an AIS Insurance Specialist at (855) 247-5298.
Know Your Policy
Homeowners Insurance varies depending on what state you live in. You need to make sure you completely understand your policy and what it covers. Coverages in certain states, like Texas and Florida, are different when it comes to wind and flood damage. Insurers may charge extra to cover wind damage. Or you may have to purchase Wind Insurance separately from your standard Homeowners policy. Since coverages vary from state to state, it's best to totally understand your Homeowners Insurance. And in most cases, it's a good idea to add Flood Insurance to your policy just to be safe.
Anti-Concurrent Causation Clause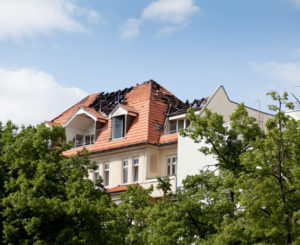 Your Homeowners policy may also differ if you live in an area or state that is prone to storms and hurricanes. Some policies may have an anti-concurrent causation clause. This clause states that if two disasters occur simultaneously and the homeowner is only covered for one disaster, then the insurer does not have to cover all damages. For example, let's say a windstorm blows your roof off, but also causes your home to flood. In this case, your insurer can refuse to cover any damages at all if you don't have Flood Insurance included on your policy. Check with an agent to find out whether or not your policy includes this clause.
Deductible
There's one more thing you should also keep in mind. You'll typically have to pay your deductible before your Homeowners Insurance or any supplemental policies will help pay for a covered loss. It's also a good idea to make sure your deductible isn't so high that you would have to pay a large sum before your policy would pay out for a claim. Always make sure you know what your deductible is.
Insurance
Our agents at AIS can help you better understand what your Homeowners Insurance policy covers and what you need to buy separately. We'll make it easy for you to compare Flood Insurance quotes no matter which state you live in. Call (855) 247-5298 today so AIS Insurance can help you find the right policy at the right price.
---
The information in this article is obtained from various sources. This content is offered for educational purposes only and does not represent contractual agreements. It should not replace manuals or instructions or the advice of a qualified professional. The definitions, terms and coverage in a given policy may be different than those suggested here. Such policy will be governed by the language contained therein, and no warranty or appropriateness for a specific purpose is expressed or implied.