5
minute read
If you've never been to a collector car auction but plan to go to one this year, you are definitely in for a treat. Imagine a car show featuring unique vehicles that you not only get to admire but can potentially purchase, too. Sounds like a classic car lover's dream come true, right? And don't worry, not all of the cars will be auctioned off at a ridiculous price. There will be a lot of cars for sale for every taste and budget.
The Barrett-Jackson Scottsdale Car Auction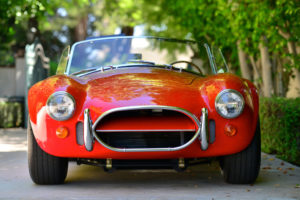 Lucky for you, one of the most popular annual classic car auctions is just around the corner. The Barrett-Jackson Car Auction starts on January 12 and goes on until January 20, 2019, in Scottsdale, Arizona. The car auction is home to some of the most coveted collector cars on the market and the preview docket can be found here. Some collector cars to note are the '12 Lexus LFA Arburgring Edition, the '06 Ford GT Heritage Edition and the '54 Corvette Custom Convertible.
Buying a Classic Car at Auction
Buying a car in general can give some people anxiety. So, it's easy to be overwhelmed by the idea of bidding to buy a classic car at an auction. Is this the first car auction you're attending? Well, if you plan to make a bid you should make sure you know what you're doing. The auction market can be intimidating for beginners and it's easy to make a costly mistake. Still, don't let that stop you from going after your dream car. If you're considering going to a car auction to purchase the car of your dreams, we've got some tips for you below.
Before the Auction:
Do your research. Before going to the car auction, you should already know what car make and model you're looking for. Bidding blindly is a surefire way to overpay for a car that turns out to be something you didn't even want. Learn everything you can about the classic car you're interested in beforehand. The internet is the easiest way to access information about a car's history, value, recent auction prices, production numbers and more. Other great resources are forums, clubs and even the owner. Another informed resource is a mechanic who specializes in the marque you want.
Read the auction catalog listings. It's a good idea to research the car auction you'll be attending, too. Auction companies often include photos and descriptions with their listings, as well as an estimated selling price and some of the car's history. You might be able to determine how many models will be there and what their price range will be.
Determine your budget. Make sure you know what your budget is before you head to the auction. Remember to consider expenses beyond the cost of the car, including the cost of shipping it home. There's also the buyer's fee, which is typically ten percent of the winning bid.
Know how to decode. You'll want to learn how to decipher the Vehicle Identification Number (VIN) for any car you're considering. This helps determine originality and whether you're looking at a clone or the real deal. The difference in value between the two can easily amount to tens of thousands of dollars. For most brands, VIN decoders can easily be found online.
Have a backup plan. Unless you're after a rare exotic car, it's always good to have a second, or even third choice to bid on. Larger auctions will often have more than one example, or a similar option, of a popular collector model. Having a backup choice will help you avoid getting into an expensive bidding war or coming home empty-handed.
Pre-register to bid. Don't spend your time in line going though paperwork. Pre-register to bid so you can focus on enjoying yourself at the auction.
At the Auction:
Arrive early. It's important to show up early because you'll want to allow yourself enough time to carefully inspect any vehicles you're considering. Don't be afraid to bring along a professional appraiser or knowledgeable friend with you. If you don't have someone at hand, bring guidebooks, pricing information and basic inspection tools like a flashlight, magnet to check for filler and hand-held mirror to peer into tight spots. Take your time looking over the car and talk to the owner if you can. Ideally, you'll want to hear it run and even go for a test drive if possible.
Ask a professional. Larger auction houses may offer concierge services. If so, you'll be able to talk to someone knowledgeable about the car you're looking for before the auction starts. They might even be able to arrange a pre-bid test drive depending on the auction company and the value of the car.
Be assertive. If you're a bidder, that means you want to be as close to the auction block as possible. Sit or stand somewhere that you can't be missed, and where you won't lose sight of the classic car you want. Be assertive when raising your paddle or calling out your bid. This will ensure that there's no doubt of your intentions.
Stay focused. While auctions can be a lot of fun and full of energy, there are also many distractions. If you're serious about bidding on a car, it's necessary to stay focused on the job at hand. Stay alert, pay attention and be ready to bid once your car crosses the block.
Buy the best car you can afford. While you'll want to stick to your budget, a collector car auction isn't the place to get stingy with your cash. It's wise to spend a little extra for a model that's in better shape. You can bet that a scruffy auction car will probably require more work than you think. Plus, if the classic car you buy is already in good condition, you can start enjoying it immediately.
Avoid a bidding war. You don't want to regret your car auction experience by overpaying. All it takes is two people who really want the same car for things to get out of hand. You also don't want to try an impress anyone. There's a lot of money going around at any collector car auction, so overpaying for something won't be impressive to those around you. Know when to let go and move on to your second or third choice.
Stay until the end. Many times, the end of the auction is when the best deals happen. Wait until after the headline cars have been sold and the crowd has thinned out. You may just discover a deal that you weren't expecting.
Take care of the details. You should know whether or not you'll be trailering your classic car home or shipping it. If you're shipping it, make the arrangements as soon as the deal is closed. Auction companies work with reputable shippers who usually have representatives on site to help.
Classic Car Insurance
If you've won the auction and purchased your dream classic car, make sure you protect it in all situations. AIS Insurance offers Classic Car Insurance that will give you better peace of mind that your new vehicle is appropriately covered. In many cases, your standard Auto Insurance policy won't fully cover your classic car. In addition to the regular coverage provided by a standard Auto policy, Classic Car Insurance may include Agreed Value Coverage, Spare Parts Coverage, Trip Continuation Coverage and more.
Surprisingly, Classic Car Insurance can be more affordable than your regular Auto Insurance. This is because classic car owners don't typically drive their vintage vehicle every day making them lower risk. Owners also tend to be extra careful when they do drive their vintage cars. This decreases the risk of an accident, which in turn can reduce your Classic Car Insurance rate.
Hagerty Insurance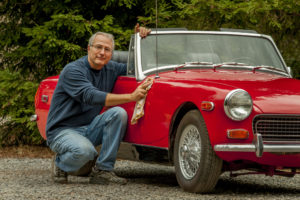 One of our trusted Classic Car Insurance partners is Hagerty. They offer coverage catered explicitly for your classic car. You can even join the Hagerty Drivers Club which provides a 24/7 roadside assistance program specifically for collector cars. Since they specialize in these types of vehicles, they have services to help you find rare parts, and you'll always be dealing with people who understand your car needs.
If you want to know more about Classic Car Insurance and how to get the best rate from Hagerty, speak with an Insurance Specialist today at (562) 345-6161.
---
The information in this article was obtained from various sources. This content is offered for educational purposes only and does not represent contractual agreements. It should not replace manuals, instructions or the advice of a qualified professional. The definitions, terms and coverage in a given policy may be different than those suggested here.