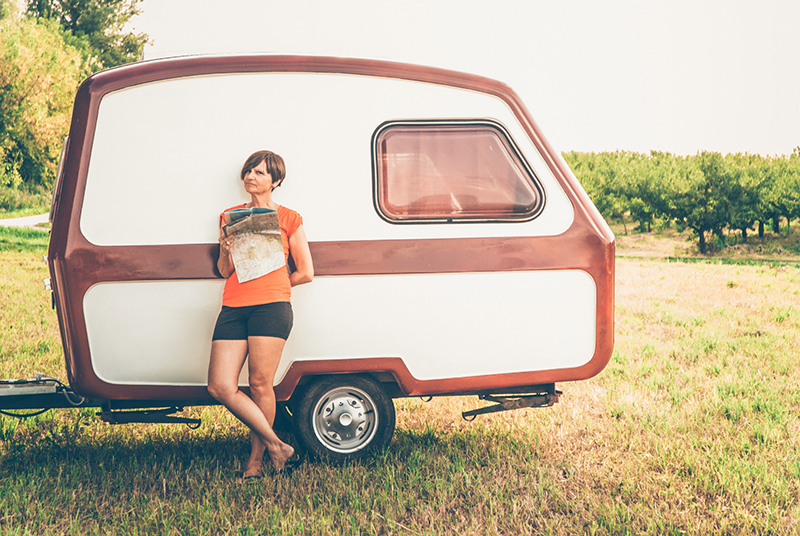 If you thought that millennials are just sitting at home on their iPhones all day—think again. Interestingly enough, the younger generation of 18 to 34-year olds are very into exploring the great outdoors. In fact, campground spaces and RV sales have steadily increased over the past few years, with millennials making up 38% of campers in the U.S. This has caused a huge growth in the RV industry and RV shipments are expected to surge to their highest level ever according to a forecast by the Recreation Vehicle Industry Association. Typically, baby boomers, or those ages 51 to 69, are considered the largest RV group, but millennials are definitely taking over.
With this shift in the RV industry, leading companies like Thor Industries and Winnebago Industries have started catering their motorhomes to fit millennial needs. As more and more millennials start to live and work out of their RVs full-time, features like Wi-Fi connection, solar power, stainless steel appliances, and even retractable TVs are on their RV must-have list. A survey done two years ago by KOA found that younger campers value Wi-Fi almost as much as toilet paper.
Long gone are the days of giant motorized homes with few amenities. Young RV buyers are looking for easily towable trailers that are eco-friendly, fuel efficient, and more affordable than motorhomes. The Recreational Vehicle Industry Association currently accounts "towables" as 87% of the RV market and that percentage will probably continue to increase. This may also explain why Airstream is opening three new plants in Ohio, to create even more of those iconic aluminum trailers hipsters love. You no longer need a pick-up truck to haul your trailer, as RVs are now lighter and can be pulled by most small SUVs. Not only are trailers more compact and towable, they have more affordable base prices. Check out a few of the best-selling trailers below.
Airstream Basecamp
A popular model for millennials right now is the Airstream Basecamp, which starts at about $36,000 and can be towed behind a small SUV. The RV comes with one giant panoramic window, solar power, Italian cabinetry, and a Bluetooth speaker system. It's basically a millennial's dream tiny-home for an even dreamier price. Made by Thor Industries' Airstream brand, the Basecamp is a great starting trailer for the young traveler.
Winnie Drop
Another camper that tends to catch the eye of millennials is Winnebago's Winnie Drop. It is an adaptation of their first travel trailer built in the 1950s and features a compact, easy-to-tow design, optional slide outs, and several floorplans to choose from. The best part? The base price is only a little more than $13,000, leaving a bigger budget for customization and travel options for the first-time RVer.  It's a great option if you're not totally ready to invest in the digital nomad lifestyle.
Micro Minnie
For a compact trailer that has more of an in-between price point for millennial campers, there is the Winnebago Micro Minnie model. It's lightweight, has plenty of galley space, includes a fully equipped kitchen, and starts at only $22,000. This model seems a little more luxurious than the Basecamp or Winnie Drop, as it fits a queen bed and double door refrigerator.
Like RV manufacturers, private campgrounds have also started to step their game up by adding millennial desired amenities like free Wi-Fi, full-amp hookups, and slide-out access to their sites.  Most young campers are working from their RV while traveling from destination to destination, so they need Wi-Fi to run their business from remote places. This work-as-you-go trend may be due to the fact that as millennials head into the workforce for the first time, they discover that RVing is a great way to travel, save money, and eventually figure out where to settle down.
While baby boomers are still a key target market for RV manufacturers, millennials are definitely becoming a main focus. This is because RV customers tend to make several purchases throughout their lifetime and RV companies know that catching customers when they're young is important.. A young RVer's first purchase will usually be a smaller, less expensive model. As they start having children, they might pur
chase a larger unit to fit family and friends. Once they retire, couples tend to down-size again for weekend getaways and road trip vacations.
Millennials are already known for taking the less traditional path when it comes to joining the workforce. Maybe your college student will be asking you to help them buy a new RV instead a new car after graduation. If they do, make sure they have the right insurance coverage.
Insurance on Travel Trailers
Just as one should with a full-size motorhome, a travel trailer should be covered by Specialty RV Insurance. Auto Insurance is simply inadequate if you want to protect your asset, which is what any trailer or motorhome is. Speaking with an experienced RV Insurance Specialist about your budget and how often you plan to use your RV is advised. For multiple quotes call today: (866) 501-7335.