2
minute read
Just like any other vehicle, an ATV requires insurance. It's true that you may not be legally required to carry ATV Insurance. This is because they are not legal to drive on the streets. But, you should still carry some coverage so that you're financially protected in the event of an accident or mishap. Keep in mind that different areas have different laws regarding ATV Insurance, so make sure you know the rules before you hit the trails.
What Happens in an ATV Accident?
You may think that you won't ever get into an ATV accident because you're always safe and careful when riding. However, they are called accidents for a reason. You never know when something could go wrong, so it's best to prepared with Liability Insurance.
Similar to an Auto Insurance policy, the Liability coverage on an ATV Insurance policy covers bodily injury and property damage to the other party if you cause an accident. If you do not have any coverage, you will be financially responsible for paying all costs out of your own pocket.
Collision & Comprehensive Coverage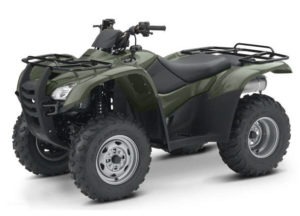 Also like Auto Insurance, you can add Collision and Comprehensive coverage to your ATV Insurance policy. If you only carry Liability Insurance, then only the other person's costs will be covered. However, with Collision coverage, your costs are covered, too. This includes bodily injury or property damage that occurs to you in a collision with another person or an object.
Let's say you don't get into an accident, but your ATV gets stolen or vandalized. Do you really want to pay to replace the entire vehicle or repair the damage yourself? Most likely not. That's where Comprehensive coverage comes in. This protection covers loss caused by anything not collision-related, including theft, vandalism, fire, etc.
Keep in mind that both of these add-on coverages are usually subject to a deductible.
Uninsured/Underinsured Motorist Coverage
One other important coverage to consider adding to your policy is Uninsured/Underinsured Motorist coverage. Because ATV Insurance is not a legal requirement in many places, you can be sure that many ATV drivers do not have coverage. So, what if another driver without insurance hits you and hurts you or damages your bike? They may not be able to afford the costs, which means you'll be forced to pay for them yourself.
No one wants to do that.
So, it may be worth it to you to add Uninsured/Underinsured Motorist coverage to your ATV Insurance policy. It most likely only costs a few extra dollars and it will provide you peace of mind that you're financially protected. Keep in mind that this coverage may vary by state or carrier.
Get A Free ATV Insurance Quote
For more information about ATV Insurance, speak with one of our Insurance Specialists at (855) 919-4247. We can answer all your insurance questions and provide you with a free quote in minutes. You may be surprised to find that ATV Insurance is more affordable than you think. Also, be sure to ask about any bundles or discounts available.
---
The information in this article is obtained from various sources. This content is offered for educational purposes only. It should not replace the advice of a qualified professional. The definitions, terms and coverage in a given policy may be different than those suggested here. Such policy will be governed by the language contained therein, and no warranty or appropriateness for a specific purpose is expressed or implied.