3
minute read
In the world of construction, unexpected risks and unforeseen accidents can disrupt even the most carefully planned projects. That is where builder's risk insurance steps in. Whether constructing a new building or renovating a house project, this specialized policy acts as a safety net, protecting you from financial harm against accidents during your projects. We'll dive into the intricacies of builder's risk insurance – what it encompasses, who should consider it, and how it can help you.
What Is Builder's Risk Insurance?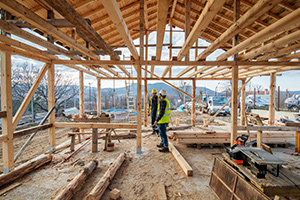 Builder's risk insurance, also referred to as "course of construction insurance," is a specialized type of property insurance. It's designed to protect your buildings during construction or renovation against fire, storms, hail, high winds, vandalism, and explosions. In other words, if an unexpected incident damages the structure or materials at your construction site, this insurance steps in to cover the cost needed for repairs or replacement, thus ensuring your project proceeds smoothly. Builder's risk policies are available for new construction projects, remodeling, and installation work for residential and commercial needs. In addition, some policies may extend coverage to construction materials, documents, data, and temporary structures.
Who Needs Builder's Risk Insurance?
Any person or company with a financial interest in the construction project or renovation can benefit from this coverage. In fact, your clients might require this coverage before your work begins. People who might benefit from this insurance may also include:
Homeowners/property owners
House flippers
Builders
General contractor/subcontractors
Architects/engineers
Development and investment companies
What Does Builder's Risk Insurance Cover?
Builder's risk insurance is a key insurance policy in the construction industry offering essential protection for projects while also extending coverage for: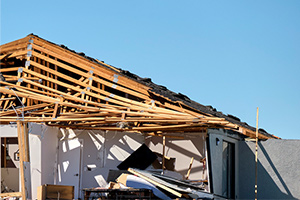 Damages to buildings or structures: This covers damage to under-construction buildings and temporary structures such as storage buildings, fencing, scaffolding, retaining walls, and more.
Comprehensive general liability: Protects against claims of bodily injury suffered by non-employees on your construction site.
Equipment coverage: In case of equipment damage or loss, this coverage ensures the cost of repair or replacement.
Material and supplies: Construction materials used to build the structure that are damaged or stolen. Depending on the policy, it may also provide coverage for documents and data such as blueprints or project plans.
Ordinance and law cost: Absorbs extra expenses due to building codes and laws during reconstruction.
What Does Builder's Risk Insurance Not Cover?
Not all scenarios fall within the scope of a builder's risk insurance policy. For instance, earthquakes and floods are not covered and require a separate insurance policy. Here are some common causes that are often excluded:
Acts of terrorism and war
Workers' compensation claims
Damage due to a faulty design
Employee theft
Mechanical breakdowns
Rust and corrosion
Wear and tear
It's important to highlight that a builder's risk policies do not provide coverage for damages after a project is finished. Once construction wraps up, your coverage ends. At that point, you can get coverage that's similar to builder's risk insurance by purchasing:

Commercial Property Insurance: Helps cover repairs or replacement of business structures and physical contents in case of fire, theft, hail, explosion, vandalism, or other covered accidents.


Inland Marine Insurance: This type of coverage helps reimburse the cost related to equipment loss, theft, and damage and covers materials, products, and tools while they're in transit.


General Liability Insurance: Protects your business when it becomes liable for bodily injury or property damage to another party. It also covers legal fees, medical expenses, and settlements awarded to the injured party.

How To Find the Right Builder's Risk Insurance Policy
Finding the right builder's risk policy is similar to purchasing other insurance policies. It involves deciding what coverage you need and comparing rates from multiple insurance providers. Each policy's exclusion list can vary, so it's important to understand the coverage offered to avoid unforeseen setbacks. Here's a step-by-step guide to discovering the best builder's risk insurance policy tailored to your project: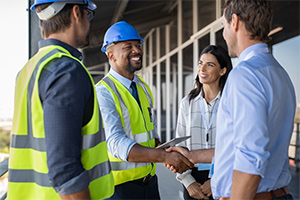 1. Assess your needs: Consider your project's size, location, materials, and risks. This evaluation lays the foundation for determining how much coverage you need.
2. Compare policies: Research and get quotes from multiple insurance providers to compare coverage options and rates. Carefully review policy terms, limits, and exclusions to ensure the policy aligns with your project's needs.
3. Consult with a professional: An experienced insurance agent can provide valuable insights into your coverage needs and guide you toward the most suitable coverage for your project's protection.
At AIS Insurance, we offer specialized builder's risk insurance policies to safeguard your construction projects from unexpected risks. With our team of experts, finding the right builder's risk insurance policy has never been easier. Speak with one of our Commercial Insurance Specialists today at (855) 919-4247 for a swift and seamless free quote. Our specialists can provide you with a quick builder's risk insurance quote to ensure you have the necessary coverage to safeguard your business and projects.
---
The information in this article is obtained from various sources and offered for educational purposes only. Furthermore, it should not replace the advice of a qualified professional. The definitions, terms, and coverage in a given policy may differ from those suggested here. No warranty or appropriateness for a specific purpose is expressed or implied.