3
minute read
Let's be honest here. There are two types of people in this world when it comes to how they view the fuel gauge on their dashboard. As soon as the needle hits the half-tank mark, the first type of driver starts looking for a gas station. The second type of driver will wait until the gas light warning turns on and play the risky game of "I think I can make it." So, how confident are you with knowing your car's limit before being stranded on the side of the highway? Take a look at how many miles a car can really go on an empty tank, plus ways to improve your gas mileage.
How Far Can You Drive After the Gas Light Turns On?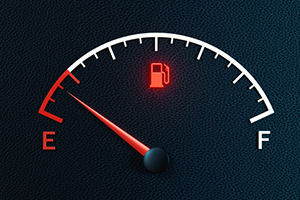 According to YourMechanic, you may be able to drive between 25 to 100 miles after the gas light turns on. However, it is best to consult your owner's manual for a more accurate reading since smaller vehicles are more fuel-efficient than larger cars. Automakers want to ensure your safety by warning you about low fuel levels before being stranded on the road. Keep in mind that the miles you can drive on empty depends on the type of car you own, how you drive, and road conditions.
Below is a list of the top 15 bestselling cars and how many miles each one can go after the gas light turns on. For the complete list, visit YourMechanic's chart here.
| Make / Model | Miles Remaining |
| --- | --- |
| Chevrolet Silverado | 25 |
| Chevrolet Equinox | 50 |
| Ford Fusion | 35-80 |
| Ford F-150 | 35-80 |
| GMC Sierra | 64-92 |
| Honda Accord | 70-93 |
| Honda Civic | 59-80 |
| Honda CRV | 62-78 |
| Jeep Cherokee | 66-93 |
| Nissan Altima | 81-114 |
| Ram 1500 | 63-87 |
| Toyota Camry | 65-91 |
| Toyota Corolla | 60-84 |
| Toyota Rav4 | 57-74 |
| Toyota Tacoma | 63-75 |
The Dangers of Driving With the Gas Light On
Being stranded with no gas station in sight and waiting for help could be dangerous. You could be stuck in the scorching heat for hours or be alone at night in the cold. Not to mention, where your car breaks down is a safety concern. For example, running out of gas on a freeway with cars whizzing past you at high speed or broken down on a blind turn, where a vehicle could rear-end you is always a safety hazard. You never want to put yourself in that situation so, get in the habit of thinking the gaslight is a final warning sign rather than driving around with it on.
Driving on reserve may also damage your vehicle. Once fuel levels are low, your vehicle may start picking up debris from the bottom of the gas tank. This can cause severe and costly damages to the fuel filter, pump, and even the catalytic converter. Although you may not ruin your car the first time the gas light appears, it is harmful to do regularly overtime.
5 Tips to Improve Your Gas Mileage
It's not the best scenario to hastily search for the closest gas station and be at the mercy of whatever they are charging. Luckily, there are plenty of handy apps like GasBuddy, GasGuru, and even the GPS app, Waze, that provides you with the location and prices in your area. If you find yourself running low on gas, here are a few tips to stretch out your liquid gold.
Roll up your windows to reduce wind resistance and drag.
Turn off air conditioning and all electronic accessories.
Use engine stop-start or any eco-features your vehicle may have.
When possible, drive at around 40 MPH, which is the optimal fuel-efficient speed.
Drive with a light foot and maintain a constant speed.
Do You Have Roadside Assistance?
Most Auto Insurance companies offer roadside assistance coverage that you can add to your Auto Insurance policy. For a few extra bucks a month, roadside assistance coverage typically offers fuel delivery, dead battery replacement, lockouts, flat tire replacement, and towing services. Speak with an Insurance Specialist today at (855) 919-4247 to get a free quote and learn more about the benefits. If you have an existing policy with AIS, you can also submit an online request to add the coverage here. Get the peace of mind you deserve and get protected today.
---
The information in this article is obtained from various sources and offered for educational purposes only. Furthermore, it should not replace the advice of a qualified professional. The definitions, terms, and coverage in a given policy may be different than those suggested here. No warranty or appropriateness for a specific purpose is expressed or implied.