5
minute read
Carolinians should be aware that Hurricane Florence is approaching with wind speeds of 130 mph that will likely exceed 157 mph by Thursday. Florence is expected to strengthen from a Category 4 to a Category 5 storm by the end of the week. This means devastating winds, storms, rains and floods are expected to hit an area as big as the entirety of the state. Other states expected to get hit hard include Virginia, South Carolina, Maryland and others if rainfalls extend the flooding.
The National Hurricane Center (NHC) is calling Hurricane Florence a "life-threatening storm surge" for inhabitants of the Carolinas and Virginia. The flooding that is expected is also predicted to move inland, possibly as far in as western Pennsylvania. By Friday, Hurricane Florence will begin to slow down but the affected areas may be uninhabitable for weeks, even months.
As of Tuesday, September 11th, evacuations were under way in both Carolinas and Virginia with over 1 million people being ordered out of their homes. Category 5 is the highest level a storm can reach. This metric is used to measure property damage and coastal flooding. At 157 mph+, not only will homes, nearby trees and powerlines face damage, but the damage may also leave the area affected for weeks or longer.
To put Hurricane Florence in perspective, it was a Level 5 hurricane that devastated Haiti. The area that is now getting hit by Florence has never experienced a Category 5 storm. North Carolina only experienced a Category 4 storm back in 1954.
What's the Difference Between a Category 4 and Category 5 Storm?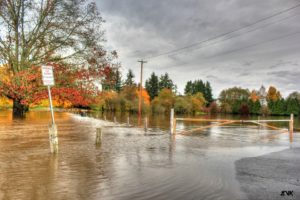 Residents in the Carolinas were being evacuated as early as Tuesday while Hurricane Florence was still a Category 4. Because of the storm's force and range, people, livestock and pets are in danger, especially if they are struck by objects carried by the wind.
While a Category 4 storm is powerful, a Category 5 one is brutal. Honestly, most framed homes will be destroyed. Expect total roof-and-wall collapse too, not just roof damage. Trees will fall, leaving cars prone all throughout the affected areas. Power poles will also fall and isolate the devastated region. There will be power outages for weeks, maybe even months. Carports and sunrooms will be leveled. Well-constructed homes may withstand force winds but will likely be damaged as well. Chimneys may collapse. Windows may get blown out. Roofing, siding, fences and canopies are also prone to severe damage or may turn into dangerous projectiles if they detach. It's not unheard of for trees to become uprooted by force winds. Water filtration systems will also fail, making safe drinking water in the area very scarce.
Businesses will be hit hard too. Without proper Business Insurance they will have a hard time rebuilding, and the area may be devastated economically for years to come as a result of failed businesses.
If your home is in danger as Hurricane Florence approaches, hopefully you had Homeowners Insurance and Flood Insurance far in advance. For more on how to protect yourself during this deadly storm, visit here.
The Biggest Problem: Where to Go
While state and local authorities have been adamant about evacuating locals, they give little advice as to where to go to take shelter. It's clear that there will be devastating and life-threatening flooding, even as you move inland, but there is little guidance given other than to take refuge on higher ground. Also, the concept of higher ground will continue to diminish after days of pounding rain, when the flooding spreads further out from North Carolina's coastal regions. Some meteorologists even predict that the rain may spread as far as the Washington, D.C. metro area.
The best thing you can do is to get as far inland as possible until further notice. Finding friends and family, a hotel or motel room or a shelter outside of vulnerable areas is your best option. Remember that local shelters have limited space, even though local schools and city facilities are being used as a last resort destination for those fleeing the storm. This is a seriously threatening storm that should not be taken lightly or reduced to a beach threat.
Shelters Taking Hurricane Florence Evacuees
NORTH CAROLINA:
Dare County: Knightdale High School located at 1001 Bryan Caulk Lane (Pet-Friendly) opening Tuesday, Sept. 11 at 2 p.m.
Gatesville: Gates County High School (88 US Hwy 158) opening at 5 p.m. on Wed.
Nash County: Shelter locations will be Nash Central High School at 4279 Nash Central High Road in Rocky Mount and Southern Nash High School at 6446 Southern Nash High Road in Bailey.
Wilson County: Opens Wednesday, Sept 12 at 6 pm Fike High School, 500 Harrison Drive
SOUTH CAROLINA:
Colleton County: Colleton County High School (150 Cougar Nation Drive, Walterboro, SC 29488)
Darlington County: Darlington Middle School located at 150 Pinedale Drive, Darlington opening at Wednesday at 7 p.m.
Dillon County: Dillon Middle School, 1803 Joan Drive
Florence County: Wilson High School, 1411 E. Old Marion Highway, Florence; South Florence High School, 3200 S. Irby Street, Florence; Lake City High School, 652 N. Matthews Road, Lake City
Horry County: Aynor Middle School 400 Frye Road Galivants Ferry; Conway High School 2301 Church Street Conway; Loris High School 301 Loris Lions Road Loris; North Myrtle Beach High School 3750 Sea Mountain Hwy, Little River; Palmetto Bay Elementary School 8900 Hwy 544 Myrtle Beach; Whittemore Park Middle School 1808 Rhue Street Conway
Georgetown County: Pleasant Hill Elementary School, 127 Schoolhouse Drive, Hemingway; Andrews Elementary School, 13072 County Line Road, Andrews
Marion County: Marion County High School, 1205 S. Main Street
Marlboro County: Blenheim Elementary/Middle School, 143 Highland Street
Williamsburg County: C E Murray High School, 222 C E Murray Boulevard; Kingstree Senior High School, 616 MLK Jr. Avenue; Hemingway High School, 402 S. Main Street
VIRGINIA:
Chesapeake: As a last resort, shelters will open Wednesday evening
Gloucester County: Peasley Middle School, Route 606 (Ark Road) and Route 614 (Hickory Fork Road) in Sassafras. Opening Thursday at 6 a.m.
Hampton: Phenix School, 1061 Big Bethel Rd, 23666 (General Public, Medical Needs); Bethel High School at 1067 Big Bethel Road (Residents with Pets)
James City County: Shelter openings can be found on their Facebook page.
Newport News: Denbigh High School, General, (259 Denbigh Blvd.); Medically High School, Medical and General, (275 Menchville Rd); Warwick High School, General and pets, (51 Copeland Lane)
Norfolk: City shelters to open Wednesday, September 12, at 1 p.m. More information is available on Norfolk's Facebook page.
Portsmouth: I.C. Norcom High School, Medical, (1901 London Blvd.); Wilson High School, General, (1401 Elmhurst Lane); Churchland Middle, Dog and Cat, (4051 River Shore Road)
Suffolk: Shelters are not open.
Virginia Beach: Kellam High School (2665 W Neck Rd); Corporate Landing Middle School (1597 Corporate Landing Pkwy); Old Donation School (4633 Honeygrove Rd); Fieldhouse (Medically friendly shelter) – (2020 Landstown Centre Way)
Virginia Beach: Landstown High School (2001 Concert Dr); Green Run High School (1700 Dahlia Dr); Tallwood High School (1668 Kempsville Rd)
York County: Tabb High School (4431 Big Bethel Road) opens at 2 p.m. on Wednesday.


---

This content is offered for educational purposes only and does not represent contractual agreements. The definitions, terms, and coverage in a given policy may be different from those suggested here and such policy will be governed by the language contained therein. No warranty or appropriateness for a specific purpose is expressed or implied.