6
minute read
Have you planned your California road trip getaway yet? Whether you want to go somewhere fast-paced and exciting or somewhere tranquil and relaxing, we've got you covered. Near or far, there are so many great places you can go when you're driving from California. Round up your friends and pack your bags, it's time for a road trip!
California Road Trip Destinations
Lake Tahoe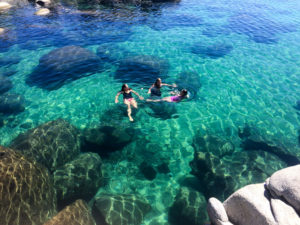 Lake Tahoe has been a spring break hotspot for more than 50 years due to its vast beauty and plethora of fun activities. From camping and paddle boarding to hiking, you can jam-pack your spring break with outdoor adventures that are fun for everyone. Where else can you try your luck at a casino, sunbathe by the pool, and strap on your snowboard all in one day? If you're coming from Los Angeles, you have about an eight-hour drive. If you're already in NorCal, then you're probably only a couple of hours away!
Are you interested in pitching a tent or laying out by the hotel pool? Lake Tahoe has a wide range of accommodations to choose from. All you have to decide is where to park your car or RV. Lake Tahoe really has everything. You can get a taste of the great outdoors, the wide variety of food and the upbeat nightlife with just one drive.
Santa Barbara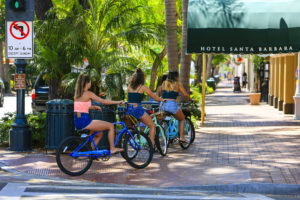 A gorgeous beach city, Santa Barbara is your perfectly laid bacl vacation destination. Relaxing on the sand should definitely be at the top of your California road trip bucket list when visiting. Don't forget, Santa Barbara also has the popular Funk Zone district to explore. The Funk Zone consists of tasting rooms, art galleries, quirky cafes, boutique shops and more. The district is made up of converted warehouses decorated with contemporary art and graffiti murals. It's also a hot spot for winemakers (and wine tasters), young chefs and great restaurants. There are even custom surfboard shops for the beach bum traveling with you.
There are more relaxing options, too. Take a stroll through the Botanical Gardens or visit the Santa Barbara Museum of Art. This spring break destination is only a couple of hours from Los Angeles and about five hours from San Francisco. It's totally worth a trip no matter where you're coming from.
Yosemite National Park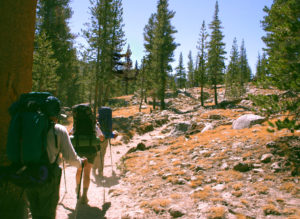 Do you and your friends really want to escape the city and get in touch with nature? Then Yosemite National Park is the best California road trip destination to consider for spring break. Spring is one of the best times to visit Yosemite because it is the perfect season for waterfalls! The snow from the mountains starts to melt during this time, filling small creeks, unnamed waterfalls and cascades with water all along the Valley rim. Besides pitching a tent, BBQing, and telling ghost stories, you can go hiking from Yosemite Valley, Wawona, and Hetch Hetchy when the trails become snow-free in April. There are a few options for first come, first serve campsite spots. However, when it snows it's probably better for you and your friends to check into a nearby hotel and explore the national park during the day.
Las Vegas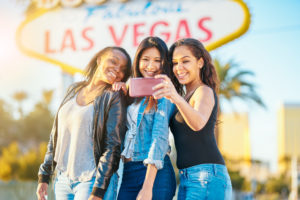 From day clubs and exquisite buffets to casinos and a thrilling nightlife, Las Vegas will always be a city that provides a unique getaway for those who are 21 and older. You can find themed hotels like Caesars Palace and The Venetian for a wide range of prices and a wide variety of amenities. Spring is actually one of the best times to go to Las Vegas. The weather is starting to warm up without reaching the scorching temperatures of summer.
From Los Angeles, the drive is only about five hours. On the way, you can stop at the Seven Magic Mountains free outdoor art exhibit for a cool photo-op. Popular attractions around the Las Vegas Strip include watching the Fountain Show at the Bellagio, going on the High Roller Ferris wheel, and going for a ride on the Stratosphere coaster. You can also visit the Sprinkles Cupcake ATM or go on a Gondola ride at The Venetian. In Las Vegas, the possibilities are endless!
San Francisco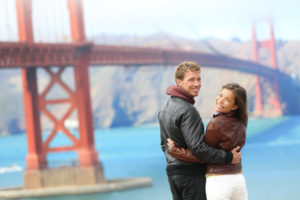 San Francisco is such a unique, fun place to explore with friends. Do you love food, art and architecture? Then San Francisco is definitely the place to end up on your California road trip. Whether you already live in the area or you're making the seven-hour drive from Los Angeles, this exciting city has plenty to offer. There's no better way to start your spring break than by hiking through Mount Tamalpais State Park. From there, you can see a dramatic view of the city and the Golden Gate Bridge. Next, you can head to the Santa Cruz Beach Boardwalk for shops, food and more. In the city, explore tasty coffee shops, go bar hopping or head to Fisherman's wharf for a delicious clam chowder bread bowl with a view of the Bay. Visiting Ghirardelli Square for hot cocoa or taking a ferry out to Alcatraz are also great experiences for those who are visiting San Francisco for the first time.
Road Trip Check List
When you're planning your California road trip, don't forget to make sure your car is just as ready as you and your friends are. Luckily, we've made you a check list. Check everything off and you can get to your destination without any proverbial bumps in the road. We know everyone just wants to have fun, but it's also important to be safe and prepared. Your adventure will be more enjoyable if you have the peace of mind to have the best spring break ever—worry-free.
1. General Maintenance Check & Oil Change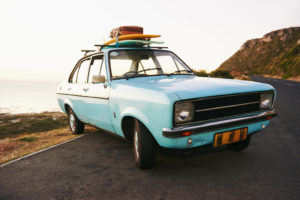 First, it doesn't hurt to do a general maintenance check on your car before embarking on a road trip. If it's been six months or you've put 5,000 miles or more on your car since its last service, it's time for an oil change. Any local auto shop will probably be able to change your car's oil. Check online to see if there's any coupons or discounts being offered before you go in. Also, see if they'll check your brakes, headlights, taillights and tires. You'll want to make sure everything is running smoothly and that there's nothing out of whack.
2. Auto Insurance Coverage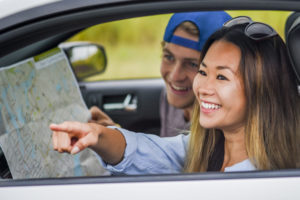 If you plan on going out of state or having your friends drive your car on a long California road trip, make sure you and your car have the right insurance coverage. Not sure what type of Car Insurance you have? Speak with an Insurance Specialist at (855) 919-4247 before you go on your spring break road trip. You'll want to be covered all the way from point A to point B, and everywhere in between.
3. Pit Stops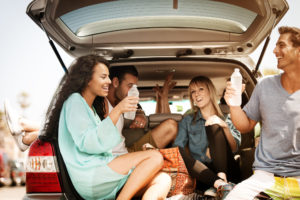 If you're looking for a California road trip destination that's more than a couple hours away, make sure you plan out any pit stops. With a full car, someone is bound to have to go to the bathroom a few hours in. Make sure you know where the pit stops are and what areas to avoid stopping in. Some places could be more dangerous than others. It's always better to stop in a populated area than a deserted one. If you're going somewhere far, it's best to start out with a full tank of gas so you don't have to stop frequently to fill up. Take the car that gets the best gas mileage. You can split the gas money between friends or chip in with snacks and water.
4. Weather Forecast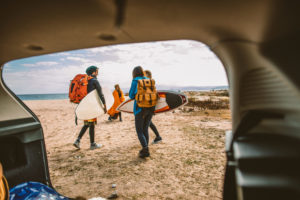 Definitely check the weather forecast in whatever city you're visiting. Just because you're planning a California road trip, it doesn't mean it'll be sunny everywhere you go. Prepare for any cold weather, rain or snow, especially in areas you plan to go camping or hiking in. Also, check the weather forecast during the same dates from the previous years if you're really worried that the weather might rain on your spring break parade. If you're going to Lake Tahoe or Yosemite, your car might need snow chains. If you're going to Santa Barbara or Las Vegas, don't forget to pack a swimsuit! Looking at the weather forecast in advanced might even make you change your mind on where you and your friends want to spend your spring break.
Wherever you're headed on your California road trip, do your research first. All the places we mentioned have something for everyone. Still, doing a quick online search before starting your drive can ensure you don't miss out on anything. Also, do you research on your car before starting your road trip. You can have a fun and exciting spring break while still being safe on the road!
---
The information in this article is from various sources. This content is offered for educational purposes only and does not represent contractual agreements. The definitions, terms, and coverage in a given policy may be different from those suggested here and such policy will be governed by the language contained therein. No warranty or appropriateness for a specific purpose is expressed or implied.