5
minute read
Our giant neighbor to the north sometimes gets overlooked as an idyllic vacation destination. More Americans head south to Mexico, especially during the colder months. However, there's more to Canada than the charming accents and maple syrup. For nature lovers, there's so much to explore. The national parks here are divine and the country is celebrating the 150th anniversary of Confederation. That means over 171 of these parks, environmental conservation areas and historic sites are free to enter.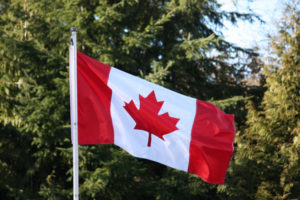 Canada also offers the perfect escape from the heat waves of July and August. Whether you have an economy car, SUV or RV, a trip north may be just what you need. The best part is that unlike the way Mexico Insurance is necessary, there is no additional insurance required for driving into Canada. All you need to do is to inform your Insurance Specialist at (855) 919-4247 about your plans. You will be sent a special entry card to get into Canada, but you won't need to purchase any additional coverage for it.
Banff National Park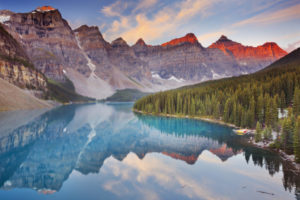 Banff National Park is the first established national park in Canada. As the flagship park, it is visited by more than three million visitors each year, and we expect that number to be even greater this year due to free entrance. Banff National Park boasts a beautifully clear glacier lake, unmatched views of the Rocky Mountains and some of the best skiing in all of Canada. Lake Louise is also one of the top honeymooning destinations in the world. If you love hiking, cycling and camping, this may be a great destination for you and loved ones. Also, you can't pass up river rafting. If you're into rock climbing, you'll have to visit Yamnuska Mountain. Here, you'll also find caribou, wolves and grizzly bears. Bring the bear spray when you go hiking and read this article on how to avoid wildlife attacks! You'll find an array of resorts and inns nearby at different price ranges.
Jasper National Park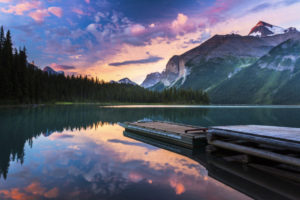 Jasper National Park is the largest national park in the Canadian Rockies. It extends 36,000 feet to include the Canadian Rocky Mountain Parks World Heritage Site. Here, you can choose from a network of trails that all lead to blankets of green forest or glimmering lakes, Maligne Lake being the most famous one and where you'll find Canada geese. The Royal Astronomical Society of Canada has recognized the famous Dark-Sky Preserve here, where you can do the most amazing star gazing imaginable. If you're into hot springs, Jasper National Park has them as well as waterfalls. Among the wild creatures that call this park home, you'll find elk, caribou, moose deer, lynx, grizzly bears, fox, black bears, cougars and wolverine.
Waterton Lakes National Park
If you live in Montana, you know that this park borders Glacier National Park. The ecosystem in Waterton Lakes Nation Park has the greatest biodiversity of any other park. Here you'll find an array of wildlife, flowers and grizzly bears included. This is also the only national park in the world designated as a World Heritage Site because it is a U.S-Canada peace park and a biosphere reserve. If you love boat rides, you have to visit Waterton Lake, which is the deepest lake in the Canadian Rockies. A piece of trivia: This park was the subject of the film, National Parks Project. Animals that live in Waterton Lakes include, wolverines, bald eagles, moose, coyotes, beavers, bobcats, as well as grizzly and black bears.
Pacific Rim National Park
The Pacific Rim National Park is divided into three parts. The first is the West Coast Trail, a famous stretch of miles of hiking terrain that overlooks the Pacific Ocean. The second is the Long Beach region that follows the shoreline. Many people pitch a tent or go swimming and surfing at this extremely popular spot and boasts 94 campsites. The last part is the Broken Group Islands, which are only accessible by boat. You'll see waterfalls as you float along rainforests and sandstone cliffs. If native culture interests you, you can enjoy cultural experiences with the Nuu-chah-nulth people who have lived here for hundreds of years. In this park you'll also find raccoon, deer, cougars, wolves, black bears and mink.
Fundy National Park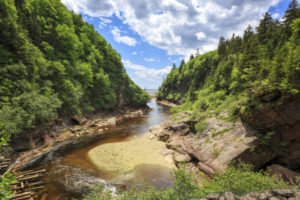 At Fundy National Park, you will experience the highest tides in the world that you can kayak through. You can also dive down to the sea floor in between each high tide. Snorkeling with the rare Bay of Fundy Atlantic salmon is always amazing. Waterfalls and streams are everywhere here so if you love the water, you must visit here. If you love birds, you must visit the Acadian Maritime Forest, which inhabits 260 different species of birds. Family activities include lawn bowling, fishing, biking, tennis and golf. This park boasts a reputation as one of the last remaining wilderness areas in southern New Brunswick. The great part about Fundy National Park is that even in the middle of summer, most of the trails are fairly empty because so few people know about this amazing place.
Gros Morne National Park
If you're into nature photography, there is no better destination. If you love hiking or just want to see some incredible views of nature, Gros Morne National Park should be on your bucket list. The park is named after its highest peak from which you can take in the incredible landscape full of lakes, cliffs, beaches, bogs and more. The terrain is also home to moose, the Artic hare, caribou and all sorts of exotic sea life. If you like boating, you'll want to take the boat tour along West Brook Pond. The beaches of the Shallow Bay near Cow Head are amazing too — and so are the nearby restaurants. There is great music and theater in the vicinity too, for those of you seeking a little culture in between adventures.
Riding Mountain National Park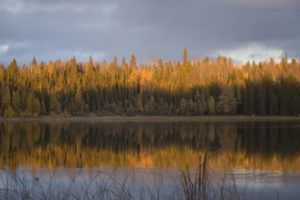 If you're looking to see wildlife, the Riding Mountain National Park is home to a diverse group of animals including bison, black bears, wolves, moose, lynx and elk. For bird lovers, there are more than 260 species here, including the Canadian geese. The park is divided into zones: the aspen parkland, mixed-wood forest, and the rare deciduous forest, where trees shed their leaves annually. In each zone, you'll find three distinct ecosystems. Cycling, biking, and boating (fishing too) are favorite activities on one of several lakes and rivers. You'll find the cutest A-frame cabins to lodge here too. That's right: No tents needed.
Yoho National Park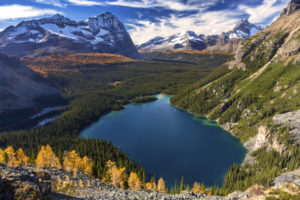 Of all the national parks we recommend here, Yoho National Park is probably the quietest and most serene. If you're looking to just relax and take in the beauty of nature, this is the destination for you. Here, you'll see the incredible Emerald Lake, the Natural Bridge and the Takakkaw Falls, which is over 1,200 feet high. There are more than 200 miles of hiking trails here, surrounded by lakes and thick forest. You can sit and just take it all in or get closer glimpses of this paradise during a long stroll. You'll want to also go canoeing at Emerald Lake, where you can rent a canoe for $60 an hour. Or, paddle board around the park for the most scenic ride ever. If you want more of an adventure, go white-water rafting at Hicking Horse River.
Tips on Driving in Canada
Keep in mind that speed limits are measured in kilometers (i.e 100 kmh is 62 mph). Don't get a ticket!
It is illegal to talk or text while driving in Canada, so blast the music and avoid being chatty.
On highways, pass on the left.
Trucks are barred from the far left lane.
Be wary of wildlife on the road.
---
The information in this article is obtained from various sources. This content is offered for educational purposes only and does not represent contractual agreements, nor is it intended to replace manuals or instructions provided by the manufacturer or the advice of a qualified professional. The definitions, terms, and coverage in a given policy may be different than those suggested here. Such policy will be governed by the language contained therein, and no warranty or appropriateness for a specific purpose is expressed or implied.